1971-S $1 Silver, DCAM PR69DCAM
Certification #71711971,
PCGS #97428
Expert Comments
Ron Guth
Up until 1971, the Mint made only Proof Sets and Mint Sets as special collectibles for sale to the public. With the introduction of the Eisenhower Dollar in 1971, the Mint offered 40% silver versions of the new Dollar in Uncirculated and Proof condition, but only from the San Francisco Mint. The Proof versions were sold in a hard plastic case inside of a brown slipcover box. The 40% alloy, the special case, and the opportunity to purchase s aingle Proof coin for the first time in more than a century proved a considerable draw, and collectors snapped up more than four million of these innovative coins.
The majority of the 1971-S Proof Silver "Ikes" remain in superb condition, however examples in the top grade of PR70DCAM are extremely rare relatiive to the total population.
Designer
Frank Gasparro/Michael Collins & James Cooper
Diameter
38.50 millimeters
Metal
Outer layers - 80% Silver, 20% Copper; Center - 79% Copper, 21% Silver
Region
The United States of America
Price Guide
PCGS Population
Auctions - PCGS Graded
Auctions - NGC Graded
Rarity and Survival Estimates

Learn More
65 or Better
32628
All Grades
32628
60 or Better
27734
65 or Better
R-2.6
All Grades
R-2.6
60 or Better
R-2.7
65 or Better
1 / 4
All Grades
1 / 4
60 or Better
1 / 4
65 or Better
1 / 11
All Grades
1 / 11
60 or Better
1 / 11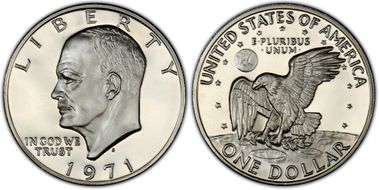 #1 PR70DCAM PCGS grade
#1 PR70DCAM PCGS grade
#1 PR70DCAM PCGS grade
#1 PR70DCAM PCGS grade
#1 PR70DCAM PCGS grade