1921-S 50C VF30
Certification #37598682,
PCGS #6585
Expert Comments
David Hall
The 1921-S is the "key" date of the Walking Liberty half dollar series. But interestingly, it is not the rarest Walker in G or VG condition, and it is not the rarest Walker in Gem condition. The mintage of the 1921-S is a little more than double that of the 1921 and 1921-D. And indeed the 1921 and 1921-D are rarer in G and VG condition, as are the 1917-S obverse and even the 1938-D (which is rare in circulated grades, but not so rare in mint state). But apparently the 1921-S was not saved at the time of issue because when you get to grades VF20 and higher, the 1921-S becomes the rarest and most expensive Walking Liberty half dollar. And the 1921-S is by far the rarest Walker in mint state condition. It is not, however, the rarest Walker in Gem condition as the 1919-D is marginally rarer. But both the 1921-S and 1919-D are extremely rare in MS65 or better condition with just a handful of each known to exist in Gem condition.
The typical mint state 1921-S has soft frosty luster with somewhat of a satin look. That is of course unless the coin has toned, and there are probably as many toned mint state specimens as there are mostly white ones. Strike can be somewhat soft on this issue, though it is not the severe problem you see with the 1919-D and the S-Mints of the 1940s.
Designer
Adolph Alexander Weinman
Diameter
30.00 millimeters
Metal
90% Silver, 10% Copper
Region
The United States of America
Price Guide
PCGS Population
Auctions - PCGS Graded
Auctions - NGC Graded
Rarity and Survival Estimates

Learn More
65 or Better
27500
All Grades
300
60 or Better
20
65 or Better
R-2.7
All Grades
R-6.4
60 or Better
R-9.1
65 or Better
4 / 66 TIE
All Grades
1 / 66
60 or Better
2 / 66
65 or Better
4 / 66 TIE
All Grades
1 / 66
60 or Better
2 / 66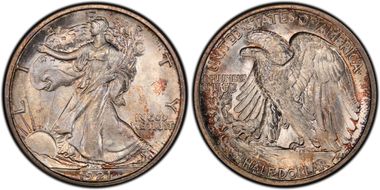 #1 MS66 PCGS grade

Gerald Forsythe Collection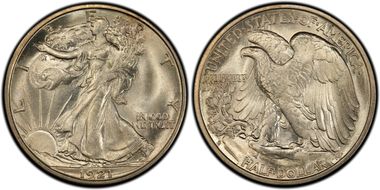 #2 MS65+ PCGS grade

Ron Bauer Walking Liberty Half Dollars Collection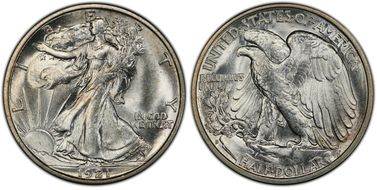 #2 MS65+ PCGS grade

George Edward Collection - Stack's/Bowers 8/2013:2258, $108,687.50 - Heritage 1/2014:5273, $105,750 - Duckor Family Collection of Liberty Walking Half Dollars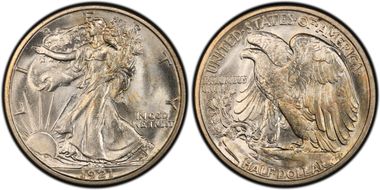 #4 MS65 PCGS grade

Legend Numismatics, sold privately in 10/2011 - Eugene H. Gardner Collection - Heritage 6/2014:30582, $88,125
#4 MS65 PCGS grade

Ally Collection - Heritage 7/2002:8528 - Anne Kate Collection - Bowers & Merena 11/2006:3319, $161,000 - Heritage 8/2012:5168, $73,437.50