PCGS Banknote Pack Grading Instructions
GUIDELINES FOR SUBMITTING FOR THE PCGS BANKNOTE PACK HOLDER:
---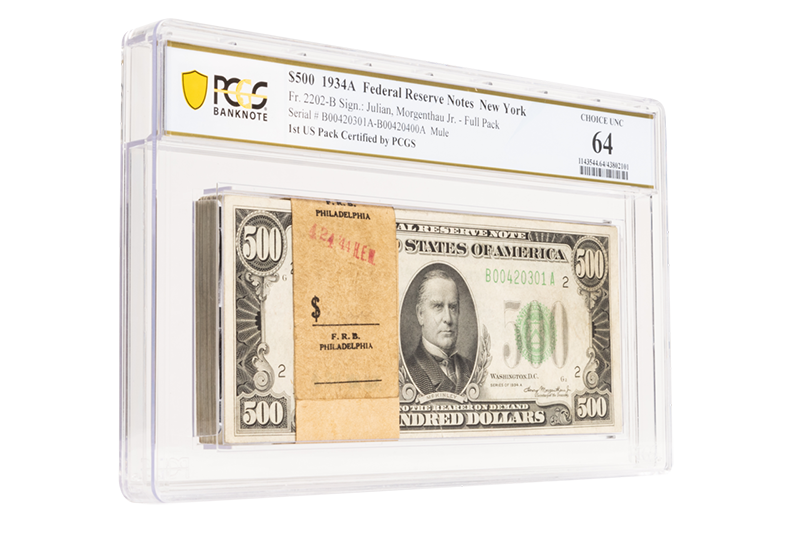 PCGS is proud to announce its newest innovation designed to certify and protect complete packs of banknotes. This new holder can accommodate full (100-piece) and half (50-piece) consecutive packs of small-size U.S. banknotes.
Each pack certified by PCGS is graded as a whole unit and receives a single grade based on the condition of the entire pack. The grade on the pack does not reflect or guarantee each note will individually grade lower, higher, or equal to the single grade assigned to the whole pack.
Submitting is easy. You simply select the appropriate service level based on the declared value of the pack and desired turnaround time, and then add the banknote pack holder fee per pack.
Pack Holders are a $60 fee in addition to the service level fee.
Pack Holders are only available for complete consecutive full (100-piece) or half (50-piece) packs of small-size U.S. currency. Any packs short of the count or non-consecutive/mixed will be returned ungraded.
In Section 5, please select one service level based on the declared insurance value of the pack(s) and desired turnaround speed.
Additionally in Section 5, mark the "Other" service level line and write in "PACK HOLDER +$60."
No minimum amount of packs is required per submission form.
Pack grading is valid for all service types, including grading, regrade, and crossover:

Cannot mix service types, one service type per submission form

Pack submissions cannot be mixed with other single notes.
Collectors Club Vouchers are permitted for pack grading to cover the Regular service level grading fee but do not cover the $60 fee for the pack holder.
For Section 8, include the service level fee and the pack holder fee per pack.
PCGS Banknote Submission form can be downloaded here.
Turnaround time will be based on the selected service level. The turnaround time is estimated and will vary by demand.
Standard shipping and handling fees apply.
This service is valid for submissions processed at PCGS headquarters.
These offers are valid for current Collectors Club members and Authorized Dealers in good standing.
You must be a PCGS Collectors Club member to submit directly to PCGS. To join the PCGS Collectors Club, click here. For any other questions, please contact PCGS Customer Service Monday through Friday 7:00 AM to 5:00 PM PST at 1-800-447-8848.