Walter Breen's Encyclopedia of United States and Colonial Proof Coins 1722-1989
Walter Breen
1795
Half Cent. No unequivocal evidence of presentation pieces with lettered edge (struck on Oct. 27 and Dec. 3, respectively with date 1795 and 1,795) or with plain edge (mostly struck in 1796). Copper was given very little attention in those days. The John G. Mills example, so claimed, is untraced.
Cent. Only two lettered edge coins show the slightest evidence of presentation piece status and about both of these there is some question. One of them is a Sheldon 75, double leaf at top of r. branch, still preserved in the Smithsonian, without edge lettering of its own, but struck over a Talbot, Allum & Lee token retaining traces of the edge lettering of the latter; it is presumably more like a set-up trial to test die alignment than like a true presentation piece. It is in gem mint state, well struck and with extremely wide borders. Presumably it was saved from the time of issue (probably when the new reverse die was placed in the press late on Oct. 27, 1795) by Adam Eckfeldt. Weight, 147.4 grains; standard for the TA&L tokens 153, standard for the cent then 208.
The other possible presentation piece is a Sheldon 76a (ONE CENT high in wreath), with lettered edge but on a wide thin planchet. This is in the Calif. Specialist collection, ex Dr. Sheldon, and is magnificently struck and centered, retaining almost perfect original color. It is barely possible that this was an experimental coin made on Dec. 27 or 28, 1795 before the decision of Elias Boudinot (with Henry Voigt and Adam Eckfeldt) to abandon edge lettering with the drop in official weight from 208 to 168 grains apiece. I have seen the coin but do not know its weight. If an experimental piece, it would presumably have preceded the famous 1795 cents with vertical edge reeding; but when this experiment too was abandoned (probably on the realization that copper was no longer a precious metal and thus did not need the protection of an edge device) the cents went into circulation.
No plain edge cents show the slightest evidence of presentation piece status.
Half Disme. All collectors are warned: a hoard of uncirculated 1795 half-dismes turned up some time in the late 1870's or early 1880's, consisting of the commonest varieties (Valentine 5, a few V-6, and principally V-4, quite a few of the V-4's showing the heavy rim break over TY and adjacent star). Some ofthe hundred or so pieces from this find have vaguely shiny or partly mirrorlike surfaces, but they are generally weak in centers, central hair and breast feathers being flat. Nevertheless, at least two true presentation pieces of this date exist, and more probably remain to be discovered.
- Valentine 1; Breen I-A; Newlin 7. First star between 2nd and 3rd curls; F rests on leaf. Lohr: 235 (S 10/56) may qualify.
- Valentine 8; Breen 6-C; unknown to Newlin. Top of hair almost touches E; no berries below wings, inside or outside wreath. The unique presentation piece is now in the Eliasberg collection. The variety is Rarity 7.
- V-4; B.8-E; N-1. B E apart, TY low, last star just touches tip of bust point; rev. outer berry between UN. Perfect die. (This is the variety that often shows the rim break over TY and right.) Jackman: 634, ex Winsor collection; proof surfaces, exceptionally sharp strike as preceding. This may be the Eliasberg coin.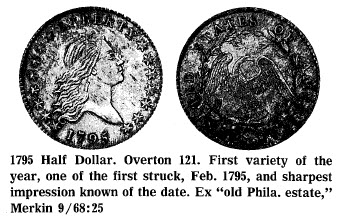 Half Dollar. The solitary coin nearest to qualifying as a presentation piece for this year is an Overton 121 (BeistIe 18-P=HaseItine 18), obv. quickly identified by having Y cut over a star, and vertical die file mark hanging from next to bottom curl; recut CA. Though this piece shows no mirrorlike finish in fields, it was carefully positioned and given two blows in perfect alignment. As a result, it appears in exceptionally high relief, all hair and breast feathers sharp, three claws needle sharp and the other two visible (claws are seldom discernibleon even uncirculated 1795 halves of any die variety). Very faint doublings show on some left stars. The first die variety of the year, retaining reverse B of 1794, and one of the first few 1795 half dollars made, apparently during the first week of February 1795. It was in Merkin's Sept. 18, 1968 sale, bringing $5,000. I am reliably informed that it came from an old Philadelphia collection of illustrious antecedents. Probably it was made on the occasion of first striking half dollars dated 1795, just after the Feb. 4 delivery of 18,164 halves dated 1794 (exhausting the mint's stock), and while the last reverse die of 1794 remained in the press. This die variety is a high Rarity 6, Sheldon scale.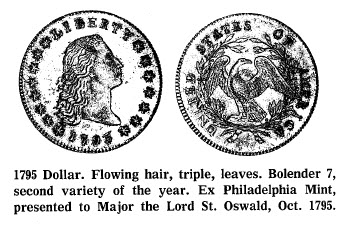 Dollars. Flowing hair design. The one with the best claim appears to be the Major the Lord st. Oswald specimen of 'Bolender 7: triple leaves under wings, inner and outer berries opposite each other below D. Deeply toned but evidently originally made on a burnished blank from dies which had been polished and were still new; exceptionally sharp strike, all stars sharp, all central hair sharp, most feathers sharp, border deep and well centered; quite possibly given two blows as with the above mentioned dollar. Presented to St. Oswald on the occasion of his visit to the Philadelphia Mint about October 1795, at which time he also obtained some regular U.S. coins of recent issue, including several mint red cents of 1794 of the late style or Gardner type, and various other uncirculated coins of 1794-95. This piece was not struck on the occasion of his visit; it may have been one of several presentation pieces struck around the beginning of dollar coinage, May 6-16, 1795. St. Oswald: 141, LM 10/73:451. The mating sequence established by die break evidence gives the order (in Bolender numbers as "19", 7, "21," 8, "20," 2, "17," 10, 16, 1, 13, "18," 12, 6, 5, then 11, 3, 9, 4, followed by the two draped bust varieties. As other possible presentation pieces include the Earle-Clapp-Eliasberg B-2, and perhaps Frank Stirling's B-13, it would appear that presentation pieces may have been issued on several occasions, principally during May-June 1795. Other similar pieces may exist from other dies. I have seen a couple of B-5's (the common Three Leaves coin with a small rod-shaped die cut behind head) which may qualify at this level, as well as two or three examples of B-1, the common Two Leaves coin with obv. date 1795 over 1195. One of the B-5's: R. L. Miles: 1527 to "LSD"; ct. (Boeing-) Bridgman: 690 (Chapman, 1891), with slightly flat dentils left of 1.