Commemorative Coins of the United States
Q. David Bowers
Chapter 8: Silver Commemoratives (and Clad Issues)
1936 Elgin Centennial Half Dollar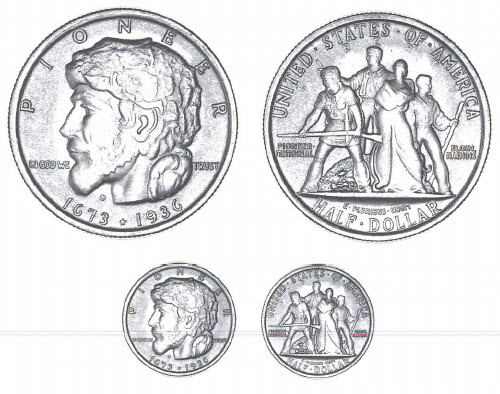 L.W. Hoffecker Scores Another Coup
The fact that commemorative half dollars pertaining to Elgin, Illinois were distributed by L.W. Hoffecker, a rare coin dealer located in distant El Paso, Texas, immediately arouses suspicion. In this case, unlike the Old Spanish Trail coins distributed by Hoffecker, the main recipient of the profit was to be a legitimate civic project: to erect a statue. Hoffecker was in the right place at the right time, and acting as distributor he turned a profit, somewhat modest in this instance, on the sale of each coin.
The Elgin Centennial half dollar wasn't Hoffecker's idea. It started out when Trygve A. Rovelstad, a sculptor who lived in Elgin, sought financing for a monumental statue, the Pioneer Memorial, to be erected in an Elgin park, but was unable to raise the necessary funds. He learned of recent issues of commemorative half dollars, and being an artist himself, decided that such a coin could provide the money needed. On May 27, 1935, a bill was introduced into the House of Representatives, which provided: "That, in commemoration of the one hundredth anniversary of the founding of the city of Elgin, Illinois and the erection of the heroic Pioneer Memorial, there shall be coined by the director of the Mint (not more than) ten thousand silver 50-cent pieces ... of a special appropriate design containing a replica of the Pioneers .... Such coins herein authorized shall be issued at par and only upon request of the chairman of the coinage committee, Elgin Centennial Monumental Committee. Such coins may be disposed of at par or at a premium by said committee, and all proceeds shall be used in furtherance of the erecting of the Pioneer Memorial.
How Hoffecker Became Involved
The above news appeared in The Numismatist in July 1935. Among those reading the notice was L.W. Hoffecker, who addressed an inquiry on July 11, 1935, to the Elgin Centennial Monumental Committee, stating that he had learned of Elgin's intent to issue a half dollar and asking questions about how it would be distributed. Hoffecker informed the Committee that he had just finished "getting a bill passed for the Old Spanish Trail coin and we are now working on the plaque from which to make the dies."! (Quotations in the Elgin half dollar section of the present book arc taken from letters lent to the author by Gloria Rovelstad and from correspondence in L.W. Hoffecker's files in the Bowers and Merena Galleries Reference Collection.)
Although Trygve A. Rovelstad had the best of intentions, his bill was getting no-where in Congress. Hoffecker provided many useful tips. On September 26, 1935, he wrote a lengthy letter to Rovelstad to explain that it took expertise such as he possessed to shepherd a commemorative bill through Congress. Hoffecker noted that for his own issue of the Old Spanish Trail half dollar a personal visit was held with President Franklin D. Roosevelt, an arrangement "that saved us," implying that he could do the same for the Elgin bill.
So confident was Hoffecker that he could work effectively with Rovelstad, that he told the sculptor how to proceed, although at this time the legislation was still in committee in Congress. From the same letter: "After your bill is signed by the president, you will be asked to submit your design to the Commission of Fine Arts for their approval. This design should be an ink drawing about 10" in diameter. After they approve the design you will then be asked to submit plaster casts of both sides of the coins. These should also be 10" in diameter, and this is where your trouble commences. (At this point Hoffecker had not met Rovelstad and did not know he was a sculptor. Rather, Hoffecker knew him only as a member of an Elgin committee desiring to issue a commemorative coin.)
"These sculptors all want to incorporate their own ideas in the design and ask any-where from $400.00 to $1,000.00 for their work, telling you what trouble it is to get the approval of the Commission of Fine Arts and many other things which do not exist.... (A portion of this same letter, relevant to making the models for the Old Spanish Trail half dollar, is reprinted under the 1935 Old Spanish Trail section in the present work.)
"I enjoyed the distribution of [the 1935 Old Spanish Trail] coins very much; would like to tackle another sale. Would your Committee entertain an offer to handle the entire issue? Understand that I am not a dealer and therefore there would be no complaints about your turning the issue over to me. (This statement is a lie. Hoffecker had been a rare coin dealer since the 1920s.) I would agree to sell them at not more than $2.00; to string the sale out say for three months to give the collectors a chance ahead of the dealers so as not to cast any reflection on your Committee. I can satisfy you as to my responsibility. In fact, if we agreed on about what your expenses would be in disposing of these coins, I will agree to put up the money for the entire issue ....
Chapter 8: Silver Commemoratives (and Clad Issues)