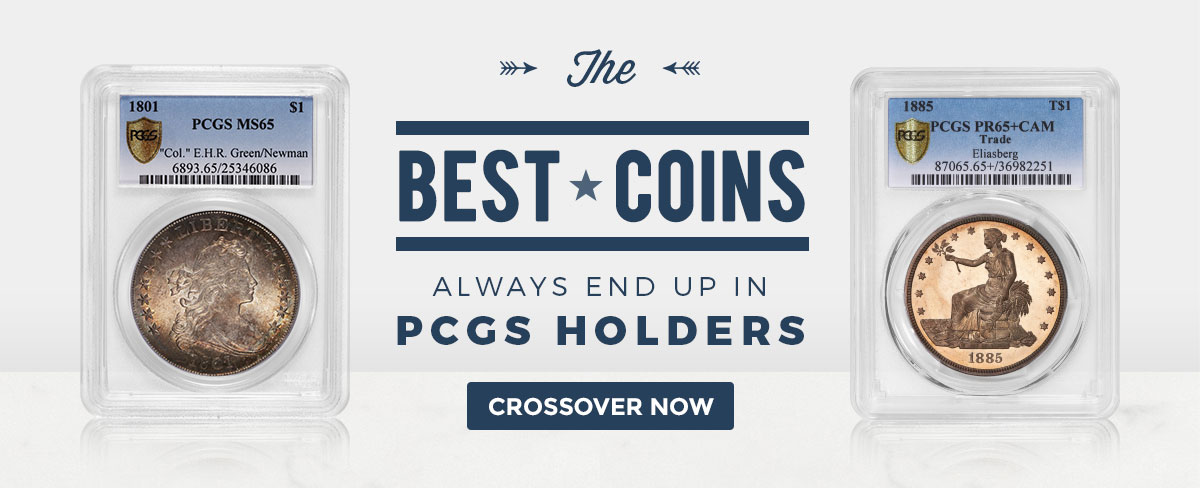 PCGS CROSSOVER SPECIAL
RETURNING TO LONG BEACH, CA
Attention all PCGS Authorized Dealers and Collectors Club Members! PCGS is excited to announce the highly popular Crossover Special is returning to the West Coast. Submit your crossover coins at the upcoming Long Beach Expo: Coin, Currency, Stamp, and Sports Collectible Show.*
Pay $10 for each crossover coin that does not end up in a PCGS holder. The standard grading fee (plus one percent Guarantee Premium) will apply to all qualifying coins that cross into a PCGS holder.
Valid for on-site grading service levels (excludes Show Express).
Take advantage of this offer!
*Submit your U.S. crossovers for on-site grading and only pay $10 per coin for any coins that do not cross! For coins that cross into a PCGS holder, the selected show service level fee and Guarantee Premium fee will apply. Crossover submissions are not guaranteed to be completed and returned at the show. Standard handling fee applies for all orders, a $2 order transport fee and standard return shipping fees apply for all on-site orders not picked-up at the show. This Crossover Special is valid for all on-site grading services except for Show Express. Not available for office service level submissions. Prior approval required for all world coins before submission.
HOW IT WORKS
SUBMIT Your NGC, ANACS or ICG coins for PCGS Crossover
Specify one of these options below in the minimum grade column on the submission form
CURRENT Requests that coin cross at grade listed on holder
ANY Requests that coin cross at any numerical grade (01-70)
DETAILS Requests Genuine
with Details
LOWER Specify lower acceptable grade than listed on the holder
Does the coin cross to your specification?
Coin is removed from current holder and crossed over to PCGS holder; you are charged the standard grading fee + 1% Guarantee Premium.
Coin is returned to you in its original holder, you are charged $10 per coin and the Guarantee Premium does not apply.
Program Rules & Requirements
You cannot specify a higher minimum grade.
You cannot specify a minimum details grade for genuine coins.
First Strike or equivalent will not be recognized.
If you leave the minimum grade column blank, PCGS will assume the minimum grade is the grade currently on the holder.
FEES
If the coin crosses, you will be charged the standard grading fees and you will also be charged a Guarantee Premium based on the value of the coin. If the coin does not cross, you are charged $10 per coin and the Guarantee Premium would not apply.