GreatCollections Coin Auctions has sold more than $250 million worth of certified coins and is one of the largest specialist numismatic auctioneers in the United States.
Founded in 2011 by Ian Russell and Raeleen Endo, GreatCollections conducts auctions each week, with coins ranging in value from $25 up to over $250,000.
Recent realizations include the all-time world record price for a PCGS-graded 1895 Proof Morgan Dollar, which sold for $205,312 and almost $16,000 for a common date Morgan Dollar graded PCGS MS-66, which exhibited attractive toning.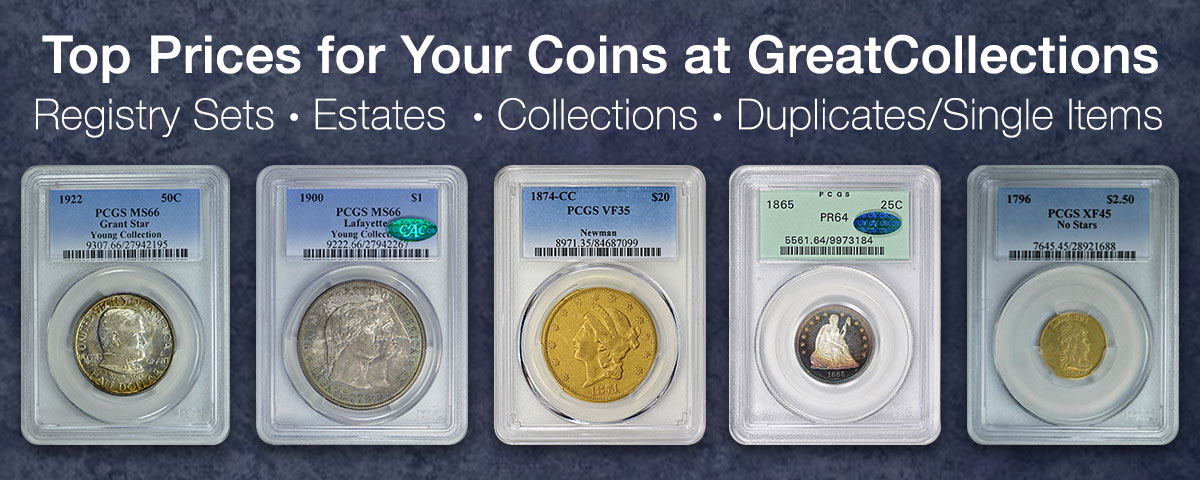 Advantages of GreatCollections:
Low Fee Structure (No Seller's Fees for Coins $1,000+)
Professional Imaging
Advanced Bidding Website
Free Appraisals
Discounted PCGS Grading Rates
Fast Consignor Checks
Instant Cash Advances
Wide Selection – Thousands of Coins Every Week
Notable Coin Collections Sold by GreatCollections
The Eric P Newman Collection of U.S Gold Coins
The Erasmus Hall Registry Set of Standing Liberty Quarters
The Edgemont Top-10 Registry Set of U.S. Type Coins
The Young #1 Registry Set of Silver Commemoratives
Coins from the Bill Fivaz Collection
The Ruth Weinberg Estate
The Penny Lane Collection of Lincoln Cents
The Dr. Paterson Collection of U.S. Type Coins
The Centurion Collection
The Sedona Collection Parts 1-5
The Sunset Collection Parts 1-80