The Morgan Dollar series encompasses literally thousands of minor and major die varieties, many cataloged by silver dollar experts Leroy C. Van Allen and A. George Mallis in their seminal tome Comprehensive Catalog and Encyclopedia of Morgan and Peace Dollars. The work, originally published in 1971, has been expanded over the decades to include newly discovered VAMs – that is, Morgan and Peace Dollars with (V)an (A)llen[/](M)allis varieties.
Some collectors spend a lifetime pursuing only VAMs, and there are even PCGS Morgan Dollar and Peace Dollar Registry Sets dedicated to or inclusive of VAMs. And while VAMs are of biggest interest to the most ardent of series specialists, there is a handful of major Morgan Dollar varieties that even more generalized collectors covet. Among these is the 1901 Doubled Die Reverse Morgan Dollar, one of the most popular and sought-after of all significant varieties in the series.
The hub doubling on the reverse of this Philadelphia-minted 1901 Morgan Dollar is found under the eagle's wings, in the arrowheads within the bundle of arrows in the grasp of the eagle's talons, and at the lower edges of the eagle's tail feathers. Making this variety even easier to spot is the incredible prominence of the doubling itself. While the use of a 5X coin loupe is always recommended when viewing small details on a coin, many numismatists with sharp vision should be able to pick up the double row of tail feathers with the naked eye, the tips of the doubled ones showing quite clearly below the primary row of tailfeathers.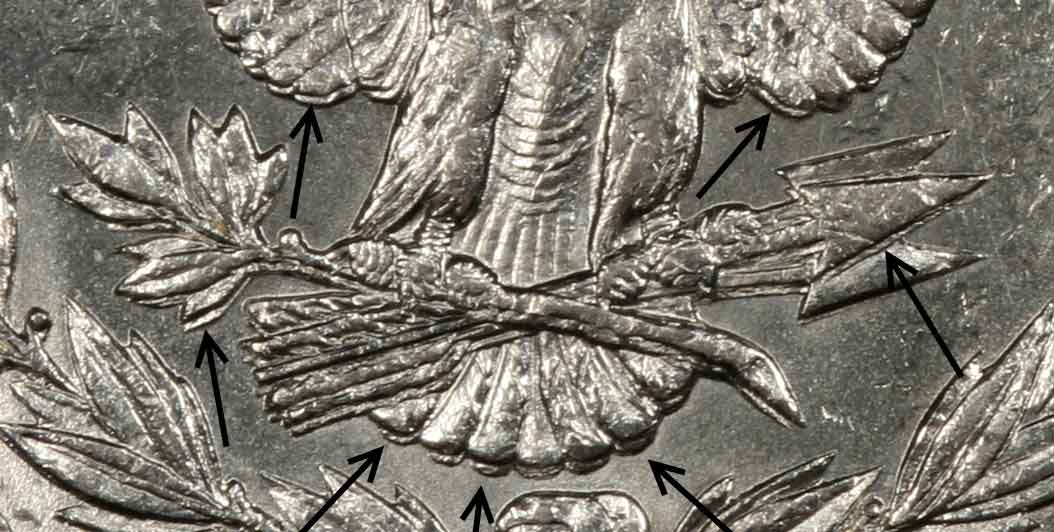 Close up of doubling on eagle's wing on the reverse side of the 1901 Doubled Die Reverse. Click image to enlarge.
The major varieties in the popular series are often scarce yet available at a cost, but the 1901 Doubled Die Reverse Morgan Dollar is a genuinely rare coin. This is particularly so given the context of Morgan Dollars, a series boasting relatively high mintages and survival populations, even for many of the "rare" key dates and semi-keys.
According to PCGS CoinFacts, only 1,000 examples of the 1901 Doubled Die Reverse Morgan Dollar are believed to exist, the vast majority of these being in the circulated grades. Only 10 specimens are known in uncirculated condition, all in the lower uncirculated grades. There are no known pieces in Mint State 65 or higher, nor are there any Prooflike or Deep Mirror Prooflike specimens accounted for.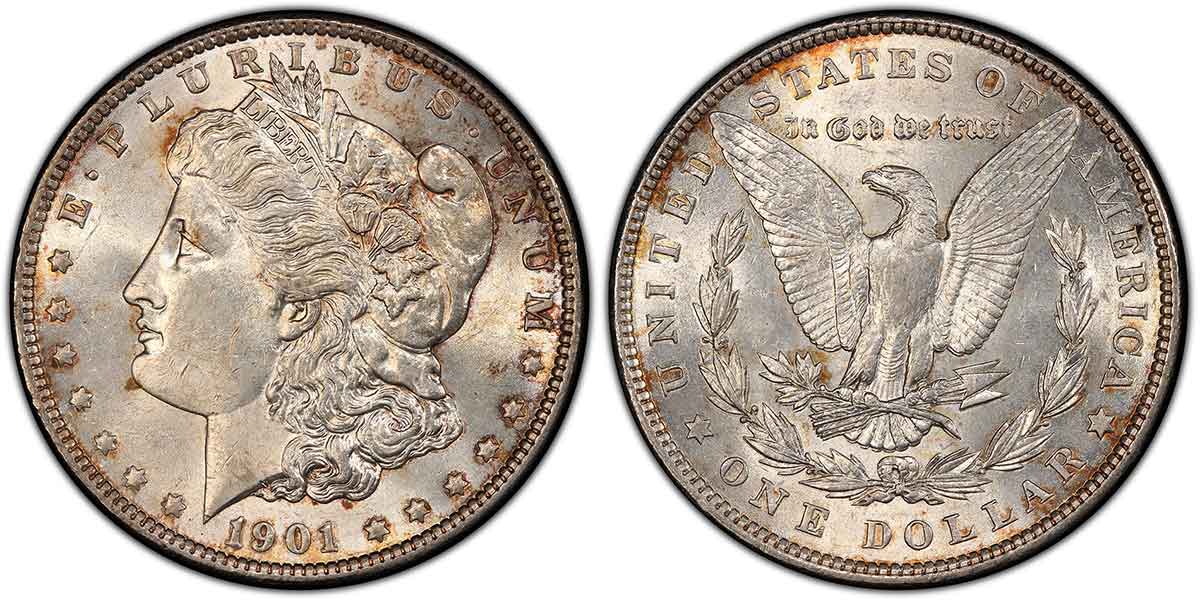 1901 Morgan Dollar, Doubled Die Reverse, PCGS MS. Image courtesy of PCGS TrueView. Click image to enlarge.
While regular-issue key-date Morgan Dollars are found in abundance at any coin show and in many coin shops, the opposite is true when it comes to the 1901 Doubled Dies Reverse Morgan Dollar. Its appearance, even at major auctions is somewhat spotty. When these pieces do trade, they're apt to realize some princely figures.
In XF40, they've recently transacted for prices between $650 and $800, while the variety becomes a four-figure rarity in the AU50 range, with specimens at the grading threshold taking around $1,100. Prices jump exponentially for nicer AU pieces, with a PCGS-graded AU58 taking $10,869 at a January 2020 auction and another crossing the block for $14,100 in May 2018. One of two known PCGS MS61 examples took $18,975 at auction back in 2007, while the single-finest PCGS MS62+ scored $41,125 back in 2013, remaining the variety's all-time-record price.
Works Cited & Recommended Reading
Breen, Walter. Complete Encyclopedia of U.S. and Colonial Coins. Doubleday, 1988.
Fivaz, Bill and J.T. Stanton. Cherrypickers' Guide to Rare Die Varieties of United States Coins. Whitman Publishing, 2012.
Van Allen, Leroy C. and A. George Mallis. The Comprehensive Catalogue and Encyclopedia of U.S. Morgan and Peace Silver Dollars. Arco Publishing Company, 1971.