Goodacre Sacagawea dollar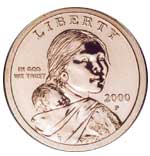 Major coin shows come in bunches, and most of them are clustered early in the calendar of each year. From the F.U.N. show in early January through Long Beach, the ANA Money Show, Baltimore and now Central States this week, the action in numismatics is definitely on the rise.
Jeff Garrett of Mid-American Rare Coin Galleries in Lexington, Kentucky, is a veteran numismatist who deals in coins in all price ranges. Here's how the market looks to him in early April, 2001:
"There's lots of interest in coins that are priced at $5,000 or below. Much of this money is coming from new sources that are fleeing the stock market and looking to diversify. The most active market segment continues to be collector coins, such as Mercury dimes, but generic gold is heating up as well.
"Generic gold is a big part of the market, and it helps all areas when generics are selling well. Indian gold is the showing the most significant rise, especially the coins in MS63 and MS64. They must be up about 40% in the past few months."
Since gold bullion has slid near the $250 an ounce level, why has generic gold seen such a spark? "Most of the big coin deals that came on the market in recent years have now been dispersed. The Bass collection may have been the last of the major collections for a while. Dealers are looking for inventory and their customers are eager for something to buy. It's really quiet on the buying side in the coin shops, so dealers are competing on the systems and the bourse floor for coins."
What about coins that are over $5,000? Is anything happening? "Early Americana is still generating a great deal of interest," Garrett continued. "I recently sold two six-figure coins, one a 1792 half disme and the other a 1796 No Stars quarter eagle. Both coins went to collectors."
PCGS certifies Goodacre Sacagawea dollars
Glenna Goodacre is one of America's most renowned and respected sculptors. She became world famous for her 1993 sculptures for the Vietnam Women's Memorial Project that are on display at the mall in Washington, D. C. Her fame has grown tenfold since 2000, though, when her design of the Sacagawea dollar went into circulation.
In payment Ms. Goodacre received $5,000, which she took in (what else?) Sacagawea dollars. Each coin was made into a presentation piece through a special post-striking burnishing that was done at the Mint. Ms. Goodacre then sold some of the coins at the ANA convention and an active after-market developed almost immediately.
In recent days the first five examples submitted to PCGS were certified. The coins are designated by PCGS as Mint State, not as Proof or Specimen strikes. Each holder does carry the notation and pedigree that the coin inside is a "Goodacre Presentation" coin.
A mild controversy is swirling around the grading of the coins, with some detractors arguing that PCGS is certifying "whizzed" coins. "Whizzed" is a numismatic term from the 1960s (or earlier) referring to coins that have been abrasively cleaned to alter their appearance. The important differences between whizzing, which was done by unscrupulous individuals outside the Mint in an attempt to fool and rip off collectors, and the Goodacre dollars' burnishing, are twofold. One is intent, and the differences are the antithesis of each other. The second is the source, as the Goodacre dollars were Mint made as a way to designate the coins as different and to honor the designer.
"They are Mint products exactly the way they left the Mint," said PCGS president Richard S. Montgomery. "They are also important numismatic items and significant historical artifacts. There is no valid reason why they should not be graded."
Bruce Amspacher has been a professional writer since the 1950s and a professional numismatist since the 1960s. He won the OIPA sportswriting award in 1958 and again in 1959, then spent eight years in college studying American Literature. This background somehow led him to become a professional numismatist in 1968. Since then he has published hundreds of articles on rare coins in dozens of publications as well as publishing his own newsletter, the "Bruce Amspacher Investment Report," for more than a decade. His areas of expertise include Liberty Seated dollars, Morgan and Peace dollars, United States gold coins, sports trivia, Western history, modern literature and the poetry of Emily Dickinson. In 1986 he was a co-founder of the Professional Coin Grading Service (PCGS).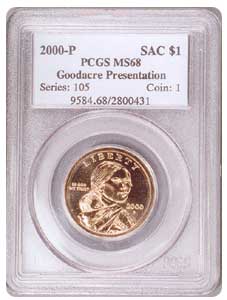 PCGS certified Goodacre Sacagawea dollar (obverse)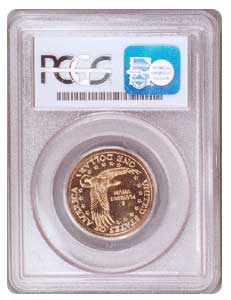 PCGS certified Goodacre Sacagawea dollar (obverse)