Canterbury Sale offers internet and telephone bidding

The 2001 Central States Numismatic Society convention is in the books, and it will be remembered for continuing the trends that have been established in recent months. Collector coins remained hot (as in "sizzling" in some areas), supplies remained thin, and optimism remained high.
"There's no new material," said John Dannreuther of JDRC, Inc., in Memphis, Tennessee, "and because of that factor the Central States show didn't have the buzz that Long Beach did. The market is in good shape and people are optimistic, and the continued demand can only lead to higher prices."
John, isn't that the same thing you've been saying for months? "I know it sounds redundant," Dannreuther continued, "but that's because things aren't changing quickly. There's been no appreciable price increases because things are so competitive, but inventories are beginning to look a little ragged because of the slow influx of new material.
"There's a lot less Proof gold on the market now than there was a few months ago. The inundation of major collections coming on the market has slammed to a stop and an orderly dispersal of the material has taken place."
Are there any other positive signs out there? "I've found that price compression usually signifies a market bottom. We certainly have that at the moment. After all, a 1950 Franklin half dollar in Proof 66 is only bid $15 more than a Proof 65. That's price compression at its worst, or best if you're a buyer. The premium for quality pieces is minuscule right now and a great opportunity."
PCGS Lincoln cents star in Heritage sale.
Heritage Coin Auctions of Dallas, Texas, held a major sale in conjunction with the Central States show. Once again collector coins were the main attraction. Here are some of the Lincoln cent highlights.
1914-S PCGS MS65RD $14,375
1917-S PCGS MS65RD $8,050
1919 PCGS MS68RD $9,775
1919-S PCGS MS66RD $19,550
1921 PCGS MS67RD $9,775
1924-D PCGS MS65RD $14,375
1925-D PCGS MS65RD $9,775
1932 PCGS MS67RD $4,945
The Heritage auction realized over $4.3 million in total sales.
Kingswood "Canterbury Sale" is loaded with great coins.
Chaucer's famed Canterbury Tales began in April, and so does Kingswood Coin Auctions "Canterbury Sale." The 500-lot sale closes on April 19 and is filled with a large selection of high quality PCGS coins.
Some of the many exciting treasures worthy of perusal include:
1859 Half Dime PCGS MS67 (Eliasberg Collection)
39 lots of PCGS Franklin Half Dollars
1864 Liberty Seated $1 PCGS MS65
1894-O Morgan $1 PCGS MS64
1921-S Morgan $1 PCGS MS66
90 total lots of Morgan and Peace Dollars
1875-S/CC Trade $1 PCGS MS61
1875-CC Trade Dollar PCGS MS64
1875-S Trade Dollar PCGS MS65
1873 Closed 3 Gold $1 PCGS MS66
1875 Gold Dollar (!!) PCGS PR66 (The finest graded)
1880 $2½ Gold PCGS PR65
1859 $3 Gold PCGS MS65
1808 Capped Bust $5 PCGS MS64
1929 $5 Indian PCGS MS64
1855 $10 Gold PCGS MS63
Alabama Commem 50c PCGS MS66
21 lots of Mint Errors
The 1875 Gold Dollar offered in the sale is the finest graded and believed to be the finest known Proof example of this classic rarity. Only 20 pieces were struck in the Proof format to go along with the incredibly low circulation strike mintage of 400 coins.
"There is tremendous interest in this Kingswood sale," said Cassi East, Kingswood On-site Manager in California. "We have been flooded with on-site bidders and this will probably be our busiest sale ever when all is said and done." To bid or view lots in the Canterbury sale, click here.
Bruce Amspacher has been a professional writer since the 1950s and a professional numismatist since the 1960s. He won the OIPA sportswriting award in 1958 and again in 1959, then spent eight years in college studying American Literature. This background somehow led him to become a professional numismatist in 1968. Since then he has published hundreds of articles on rare coins in dozens of publications as well as publishing his own newsletter, the "Bruce Amspacher Investment Report," for more than a decade. His areas of expertise include Liberty Seated dollars, Morgan and Peace dollars, United States gold coins, sports trivia, Western history, modern literature and the poetry of Emily Dickinson. In 1986 he was a co-founder of the Professional Coin Grading Service (PCGS).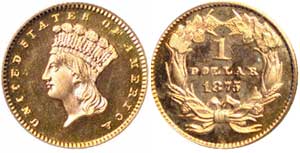 Finest graded 1875 Gold Dollar in Canterbury Sale