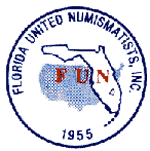 The 2002 F.U.N. [Florida United Numismatists] show is here! Orlando is already teeming with numismatists, even though the show doesn't get into full swing until Thursday, January 10.
"If anyone had told me on September 12 that the market would be back to normal and even better by January, I would've thought that they were crazy," says John Dannreuther of JDRC, Inc., in Memphis, Tennessee. "The dealers that I've talked to here in Florida tell me that their retail business is still outstanding, especially on coins up to $3,000-$4,000."
What is doing the best? "Commemoratives, gold, modern issues, dollars and Walking Liberty half dollars are the five hottest areas," Dannreuther said. "Type coins from the Liberty Seated era continue to be slow, but for the most part the market is strong across the board."
Crowded lot viewing is the rule in Orlando.
I also caught up with William E. Spears of Carson City, Nevada, a veteran dealer who took off early for Florida. "There are big crowds in the auction lot viewing areas," Spears said. "The Bowers and Merena Galleries sale [The RARITIES Sale, January 8, 2002] starts in a couple of hours and it's filled with wondrous coins. I haven't even looked at the other sales yet, but I definitely will."
Are things as good as I've been hearing from other dealers? "The market is great," Spears continued. "Everyone is filled with enthusiasm and positive vibes. There are a lot of dealers here early to look at auction lots, and there are numerous collectors here, too. The collector market is extremely widespread. I must have 15 pages of want lists for coins that collectors are seeking."
What are people looking for? "Collector coins, meaning modern issues, key date 20th century coins and lots and lots of silver dollars, especially MS67 and DMPL coins."
Highlights? Watch this space!
There will be dozens of significant prices to relate from the F.U.N show, but they'll have to wait until next week's column (obviously!). Be certain to check back for highlights from The RARITIES Sale, prices from the Michael Casper silver dollar collection being sold by Heritage Numismatic Auctions, and other important numismatic events.
Bruce Amspacher has been a professional writer since the 1950s and a professional numismatist since the 1960s. He won the OIPA sportswriting award in 1958 and again in 1959, then spent eight years in college studying American Literature. This background somehow led him to become a professional numismatist in 1968. Since then he has published hundreds of articles on rare coins in dozens of publications as well as publishing his own newsletter, the "Bruce Amspacher Investment Report," for more than a decade. His areas of expertise include Liberty Seated dollars, Morgan and Peace dollars, United States gold coins, sports trivia, Western history, modern literature and the poetry of Emily Dickinson. In 1986 he was a co-founder of the Professional Coin Grading Service (PCGS).