Pretty coins, like Walking Liberty Half Dollars, are among the hottest in the market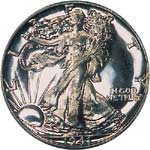 Everyone is still talking about the 2002 F.U.N. show -- the red-hot auctions, the white-hot bourse activity and the buzz that's still in the air. "If the economy continues to improve as the gurus say it will, this market could be great for a long, long time," says Mike Printz of Larry Whitlow, Ltd., in Oak Brook Terrace, Illinois.
"I'm quite impressed with the market," Printz continued, "and almost everyone that I talk to seems to feel the same way. Many of our customers have said that they're glad that they continued to collect coins during the slower periods. Not only are they being rewarded with a stronger market, but it's money that they kept from losing in the stock market."
What is selling the best? "Nice looking coins. The answer is as simple as that. The market is not as price-conscious as it is quality-conscious. People are looking for the best, with eye-appeal being of the utmost importance. The hottest areas of the market are late date Walking Liberty half dollars in MS66, Lincoln and Indian cents, Buffalo nickels and early type coins. Regular type coins, such as Liberty Seated, are also hot if you can find them with great color, but that kind of material is extremely hard to buy."
Gold sales continue to be brisk.
These are the times that try men's souls. So wrote Thomas Paine during the Revolutionary War 225 years (or so) ago. Since those words are still true today, who better to call than Thomas Paine himself?
"We had a great F.U.N. show just like everyone else," said Paine, a veteran numismatist who works at National Gold Exchange, Inc., in Tampa, Florida. "Big ticket items are selling extremely well and there's a lot of activity in the gold market."
For instance? "MS63, MS64 and MS65 gold is easy to sell at current levels. There's not as much action in MS65 generic gold as in the MS63 and MS64 coins, and that combined with the spike in gold prices has pushed the market up 2% to 5% for the lower grades. There's a supply problem, though. There aren't enough coins around and no one is hitting the bids. The dealers don't have a stockpile of coins, so everyone is chasing to fill orders."
What else is selling? "In rare gold there's a lot of demand for C and D [Charlotte and Dahlonega] issues. We're still selling high quality Morgan dollars like crazy, but generics are doing nothing. We don't do much in type coins these days, so I can't comment on that market."
Kingswood Coin Auctions to offer "The Gilmanton Sale."
February 28, 2002, is the date set for "The Gilmanton Sale" from Kingswood Coin Auctions. "This is going to be one of the biggest sales in Kingswood history," says Cassi East, Director of Auctions for Collectors Universe. "We have some of the most exciting consignments ever. We'll be showing lots at Long Beach [Long Beach Coin & Collectibles Exposition, February 20-24, 2002] and by appointment. As always, the entire sale will be online."
The sale will feature a 1915-S Panama-Pacific $50 Round in PCGS MS65, one of only seven pieces to be certified in this grade, with nothing higher. Another outstanding coin is an 1863-S $20 Liberty in PCGS MS63 that is tied for the finest graded with two other coins.
Bruce Amspacher has been a professional writer since the 1950s and a professional numismatist since the 1960s. He won the OIPA sportswriting award in 1958 and again in 1959, then spent eight years in college studying American Literature. This background somehow led him to become a professional numismatist in 1968. Since then he has published hundreds of articles on rare coins in dozens of publications as well as publishing his own newsletter, the "Bruce Amspacher Investment Report," for more than a decade. His areas of expertise include Liberty Seated dollars, Morgan and Peace dollars, United States gold coins, sports trivia, Western history, modern literature and the poetry of Emily Dickinson. In 1986 he was a co-founder of the Professional Coin Grading Service (PCGS).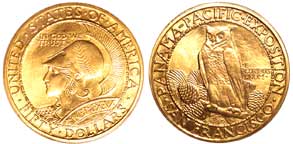 1915-S Panama-Pacific $50 Round PCGS MS65 in upcoming Kingswood Sale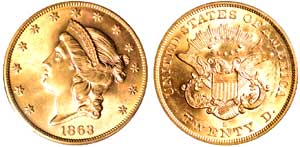 1915-S Panama-Pacific $50 Round PCGS MS65 in upcoming Kingswood Sale