The United States Mint of the 19th century produced some of the most iconic collectible coins known to numismatists. There were the Capped Bust coins of John Reich, Liberty Seated coinage hailing from Christian Gobrecht, and the eponymous Barber (or "Liberty Head") coinage of Charles E. Barber. Then there are many famous coins of James Barton Longacre, who served as the fourth chief engraver of the United States Mint from 1844 through 1869 and notched nearly a dozen significant numismatic credits. Among the coins to his name? They include the Flying Eagle and Indian Head Cents, Two Cent piece, silver and nickel Three Cent coins, the Shield Nickel, all varieties of the Liberty Gold Dollar, the Indian Princess Head Three Dollar gold coin, and the Liberty Head Double Eagle – not to mention many patterns and other pieces.
Sketching A Legacy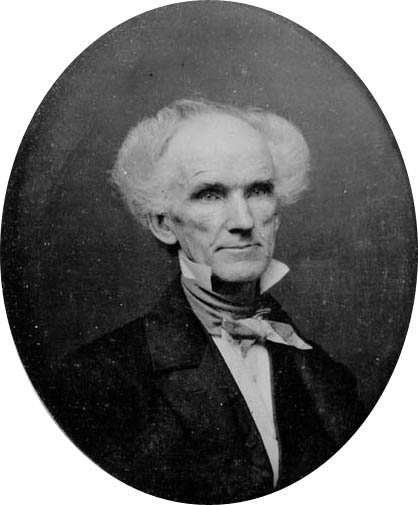 Coin designer and Chief Engraver of the United States Mint James Barton Longacre.
Longacre was born in Bucks County, Pennsylvania, on August 11, 1794 and ran away to nearby city of Philadelphia at the age of 12. After being taken in by a bookstore owner for whom he apprenticed, a young Longacre began demonstrating particularly strong artistic skills, leading him to an apprenticeship with George Murray, who served as principal in a Philadelphia engraving firm that originated with first United States Mint Chief Engraver Robert Scot.
Longacre produced many portraits of important individuals in late 18th- and early 19th-century America, including President George Washington and influential Boston statesman John Hancock. Longacre, making a name for himself as a proficient engraver, opened his own firm in Philadelphia in 1819 and over the next two decades operated a successful business providing elaborate book illustrations and other detailed artistic works – endeavors that helped him meet some of the most prominent figures of his time, including South Carolina Senator John C. Calhoun, who had served as vice president under John Quincy Adams and Andrew Jackson.
Economic hard times hit the United States with The Panic of 1837, and unimmune to this was Longacre and his young family. The engraver, who had already built a reputation as the best engraver in the country according to numismatic writer Richard Snow, declared bankruptcy and began touring the nation to sell books while his family remained in Philadelphia, his wife and oldest daughter handling administrative duties for his business. Back in Philadelphia by the end of 1837, Longacre the famed artist was busy working in a multi-partner banknote engraving firm known as Toppan, Draper, Longacre & Co.
A Grand Numismatic Portfolio
With the passing of Seated Liberty coin designer and chief engraver Gobrecht in 1844, a major vacancy opened at the United States Mint – one for which many artists vied. But Longacre's name came up for consideration after much persuasion by Senator Calhoun. Longacre was nominated for the chief engraver position in late 1844 and confirmed by the United States Senate on January 7, 1845. While an accomplished artist and engraver who had previously worked with copper plates, Longacre had not ever created dies previously to his tenure at the United States Mint – a critical skill he learned during his early period at the mint.
By the late 1840s, Longacre was exercising his newly acquired skills of die sinking and numismatic arts in grand fashion, designing the Liberty Gold Dollar and Liberty Head Double Eagle in 1849 and the Silver Three Cent in 1851. He further lay claim to a distinction of prolificity as the 1850s wore on, designing the Indian Princess Head Three Dollar coin in 1854 as well as the Flying Eagle Cent in 1856 and its successor, the Indian Cent, for release in 1859.
Longacre's final decade of reign saw him contribute many more celebrated designs, including the reverse of the Seated Liberty Half Dime and Dime in 1860, the Two Cent coin in 1864, the Three Cent Nickel in 1865, and the Shield Nickel in 1866. This isn't even to mention the significant revisions he made to his original Liberty Gold Dollar in 1854 and 1856 nor the many patterns he created throughout his tenure at the United States Mint, which ended with his sudden death on January 1, 1869, inspiring great posthumous praise from his colleagues at the United States Mint, his artistic contemporaries, and many others. William Barber, who served as Longacre's assistant at the United States Mint, was named the next chief engraver.
Collecting Longacre's Coins
Longacre's extensive portfolio offers extraordinary financial challenges to collectors who wish to obtain at least one example of each of his numismatic works. Assembling such a collection easily costs well into the thousands of dollars. This is due to many of his coins being conditional rarities in the higher Mint State grades. He also spawned several gold types, not to mention his 1849 Liberty Head Double Eagle pattern; it exists as a unique specimen held in safe keeping for public viewing at the Smithsonian Institution in Washington, D.C.
Collecting even common-date, circulated versions of his gold coinage, including the three major gold dollar varieties – the Liberty Head (1849-1854), Indian Princess Head Small Head (1854-1856), and Indian Princess Head, Large Head (1856-1889), the Indian Princess Head Three Dollar piece, and Liberty Head Double Eagle is cumulatively beyond the financial reach of many, if not most, coin collectors. However, most of his other circulating coinage is much more obtainable to the average collector and can be had as PCGS-graded collectibles that often trade for less than $25.
Among these more affordable Longacre types are the Flying Eagle Cent, Indian Cent, Two Cent piece, Silver Three Cent and Three Cent Nickel, and the Shield Nickel. All Liberty Seated Half Dimes and Dimes from 1860 with Legend on Obverse variety also carry Longacre's ornate wreath reverse. PCGS-graded type examples of any of these coins can be had for less than $100 in decent circulated – and in some cases Mint State – grades.
Regardless of budget, one can assemble a handsome assemblage representing the breadth of Longacre's circulating numismatic work for a price that is right for the collector. Even ownership of just one Longacre coin, such as an Indian Cent, gives the collector a piece of numismatic history spanning back more than 150 years and to a very different time and place. Holding a single 1864 Two Cent coin awards the collector the very first United States coin ever to carry the national motto, "IN GOD WE TRUST." A single Three Cent Nickel is the passport to a realm of coinage virtually nobody beyond our hobby knows about or perhaps even could guess exists – a United States three cent coin? "Like, for real?" Oh, the conversations one can start by showing a Three Cent Nickel to any unsuspecting friend or relative. Such is the world of numismatics – a world James Barton Longacre made all the more colorful.
Works Cited
Breen, Walter. Complete Encyclopedia of U.S. and Colonial Coins. Doubleday, 1988.
Evans, George G. Illustrated History of the United States Mint. George G. Evans, 1885.
Lange, David W. History of the United States Mint and its Coinage. Whitman Publishing, 2006.
Snow, Richard. A Guide Book of Flying Eagle and Indian Head Cents. Whitman Publishing, 2009.
Taxay, Don. The U.S. Mint and Coinage. Arco Publishing, 1966.