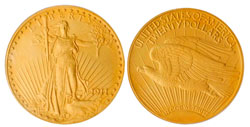 1911 $20 PCGS Proof 66+. One of only 100 pieces ever to be minted and the only coin of its type graded proof 66+. Sold for $143,750.
Legend-Morphy Auctions image.
Denver, PA – A 1911 $20 PCGS Proof 66+, one of only 100 coins minted of this type, topped Legend-Morphy's October 10 premiere auction event with an above-estimate price of $143,750. An especially fine example, the coin offered by Legend-Morphy is the only 1911 $20 gold piece ever graded Proof 66+. With that distinction, it was entered in the sale with confident expectations of realizing $100,000-$110,000. Collectors felt it was worth every penny of that and more, adding another 30% to the high estimate by the time bidding had concluded.
"I knew many coins would bring strong prices, but this sale surpassed my expectations," said Laura Sperber, noted coin expert and partner in the new Legend-Morphy venture. The 220-lot auction had a sell-through rate exceeding 80 percent.
Other coins Sperber described as having achieved "super-strong" prices included a 1783 threepence Chalmers PCGS AU53+, which made $37,375; an 1863 Proof set PCGS PR64-PR66 that sold for $32,200; and an 1862 $3 PCGS PR63 that took in $23,000. All prices quoted are inclusive of 15% buyer's premium.
1783 Chalmers silver threepence PCGS AU53+. Newly discovered coin. Sold for $37,375.
Legend-Morphy Auctions image.
Aside from coins, another collecting category that sparked bidder interest was gold nuggets. Several fine examples were auctioned, including a Peruvian nugget that sold to a US private collector for $86,250. The specimen weighed 49.8 troy ounces and came with 35-year provenance from a Texas numismatic company.
Another gold nugget sold to a bidder in China for $29,900.
"It had a unique look – it was shaped like a dragon," said company partner Dan Morphy in describing the natural treasure. "All of the nuggets in the sale did well. Internet bidders seemed to go after them more than any other category. They were very competitive."
Consignors seemed just as pleased as the buyers. Two sisters who had consigned the abovementioned Chalmers threepence – a privately minted coin made from Spanish silver coins seven years after the Declaration of Independence was signed – were present in the gallery to witness its sale.
"They were beside themselves with the result," said Morphy. "They even brought along some other early coins to consign with us. We'll be offering them in future auctions."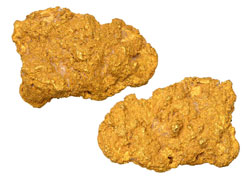 Large gold nugget, origin: Peru. Weight: 49.8 troy ounces; 994.9 dwt. Assay test: 98.4% gold. Provenance: In the ownership of a Houston numismatic company for 35 years; used as their mascot on catalog covers. Sold for $86,250.
Legend-Morphy Auctions image.
Morphy said gallery attendance was sparse, but there was a good reason for that.
"I'd say 95 percent of the bids were left with us prior to the auction," Morphy said. "There was a lot of excitement because the coins were fresh to the market. Those who had an interest didn't wait to place their bids."
Julie Abrams, president of Legend-Morphy, remarked: "This was a boutique sale of very choice coins. To generate so much interest with our first auction and to achieve such a high sell-through rate was very exciting for all of us at Legend-Morphy. This sale introduced our name to the hobby."
Abrams said there are already more than 200 coins and other numismatic items consigned to Legend-Morphy's December 13 sale in Las Vegas, with a total estimated value over $2 million. Additional consignments are currently being accepted for this PCGS-authorized auction, which will be held during the PCGS Members Only show.
For consignment information or for any other queries, contact Legend-Morphy Rare Coin Auctions by calling 717-335-3435 or e-mailing [email protected]. Visit the company online at www.legendmorphy.com.