The year was 1986. Halley's Comet was making its approach near Earth on its heralded 75-year interval and the Statue of Liberty in New York Harbor turned 100 years old. Meanwhile, in California, a novel business venture just began innovating a way for the numismatic community to grade and protect coins. Professional Coin Grading Service was born from the desire to ensure collectors and dealers alike that the coins they bought and sold are both unquestionably authentic and accurately graded.
A Brilliant Proposal
While the numismatic community had long hoped for consistency in grading and fought counterfeits since time unknown, PCGS was the first to do at scale what it does – authenticate coins, provide a consensus-derived grade, and encapsulate these numismatic collectibles in tamper-evident holders. The ingenious concept, the brainchild of seven pioneering coin dealers, has since grown into the world's leading third-party coin and banknote grading service. Today, PCGS has graded more than 45 million coins, banknotes, tokens, and medals worth more than a cumulative $40 billion.
When PCGS launched operations on February 3, 1986, it was a watershed moment for the hobby. And yet, it all started with a dream. "PCGS evolved from a book project," explains company co-founder Gordon Wrubel. "Four 'weekend warrior' coin dealers would meet in a hotel room two or three times a month after the bourse closed to work on our book. It was envisioned to be the 'Ultimate Redbook' of U.S. coins and would include prices, transactions (both public and private treaty), rarity ratings, and a condition census. The data was put into a computer and ever-growing reams of paper printouts were compiled and analyzed."
He recalls one of these sessions in 1985 evolving into a discussion of recent developments in the coin market. "Several rare coin firms and 'boiler room' operations were being investigated by government agencies. There were complaints of over grading by investors and collectors. Several of the offending entities were fined, shut down, or both. We were alarmed at these events and feared for the health of the rare coin industry," says Wrubel.
"So, we put our book project on hold and sought out ways to remedy the over grading issues. One member of our group came up with a brilliant proposal: if we agree on the grade of a coin, would the marketplace accept it? 'Of course,' was our answer. Then the proposer went on to say, 'Why don't WE grade the coins?' We were all confident that we could do that. But what the proposer said next threw us for a loop! 'We should seal the tamper-proof plastic holders and give a dual guarantee of grade and authenticity.' It seemed unconventional at the time," Wrubel remarks. "But after thinking it over, it would be the only way to ensure our guarantees and keep the grades protected from deterioration. The initial participants pooled their money to launch the service."
PCGS Is Born
The company was launched on the concept that coins would be submitted to PCGS through its Authorized Dealers, who would screen coins and then forward them to the company. Originally there were about 30 PCGS Authorized Dealers, with new ones joining on a nearly daily basis, as Wrubel recounts. "I came out [to California] that first week to help set up the company and grade whatever coins were submitted. I was scheduled to stay out for one week and return home to Kansas City… But it was not to be. We were overwhelmed with submissions and I ended up staying out for two solid months! In another two months, I had to move my family to California."
Wrubel says he and the PCGS team were anything but exhausted by the heavy workload early on. "We were exhilarated by the marketplace acceptance of our service. Early on, not knowing how many submissions we would receive, we decided to run a special. So, for the month of May, we pre-advertised a $15 submission fee." And the submissions came pouring in. "A high percentage of our early submissions were Morgan Dollars, but there was a mix of everything, especially gold coins, because of our guarantees of grade and authenticity," he remembers. "The program was such a success that we were over-subscribed. In the next few months, we had many more dealers coming on board." Soon, the graders had more than 150,000 coins waiting for their consensus grades. "We called it 'The Wall.'"
PCGS had to quickly expand its team of graders. "As director of grading, I called all my contacts whose grading skills I trusted," Wrubel notes. "They came from all over the country for a week, two weeks, a month, as much time as they could be away from their family and businesses. At one time, I had 38 graders on staff and opened a satellite grading facility. We rented apartments out here to house the out-of-towners."
Adds Wrubel, "We eventually broke through 'The Wall.'"
Revolutionizing the Marketplace
The bourse floor of any major coin show in the late 1980s was bustling with activity. Thirtysomething Baby Boomer dealers and collectors with a love of coins and plenty of money to spend comingled with the sixty-plus establishment who fought in World War II and had fueled the numismatic boom of the 1950s and early '60s. It was a time of transition for the marketplace, with the most tech-savvy of dealers ringing up business with American Numismatic Exchange, an electronic trading arm of PCGS that facilitated sight-unseen bidding – something unfathomable just a few years earlier before the era of third-party coin grading that was ushered in by PCGS.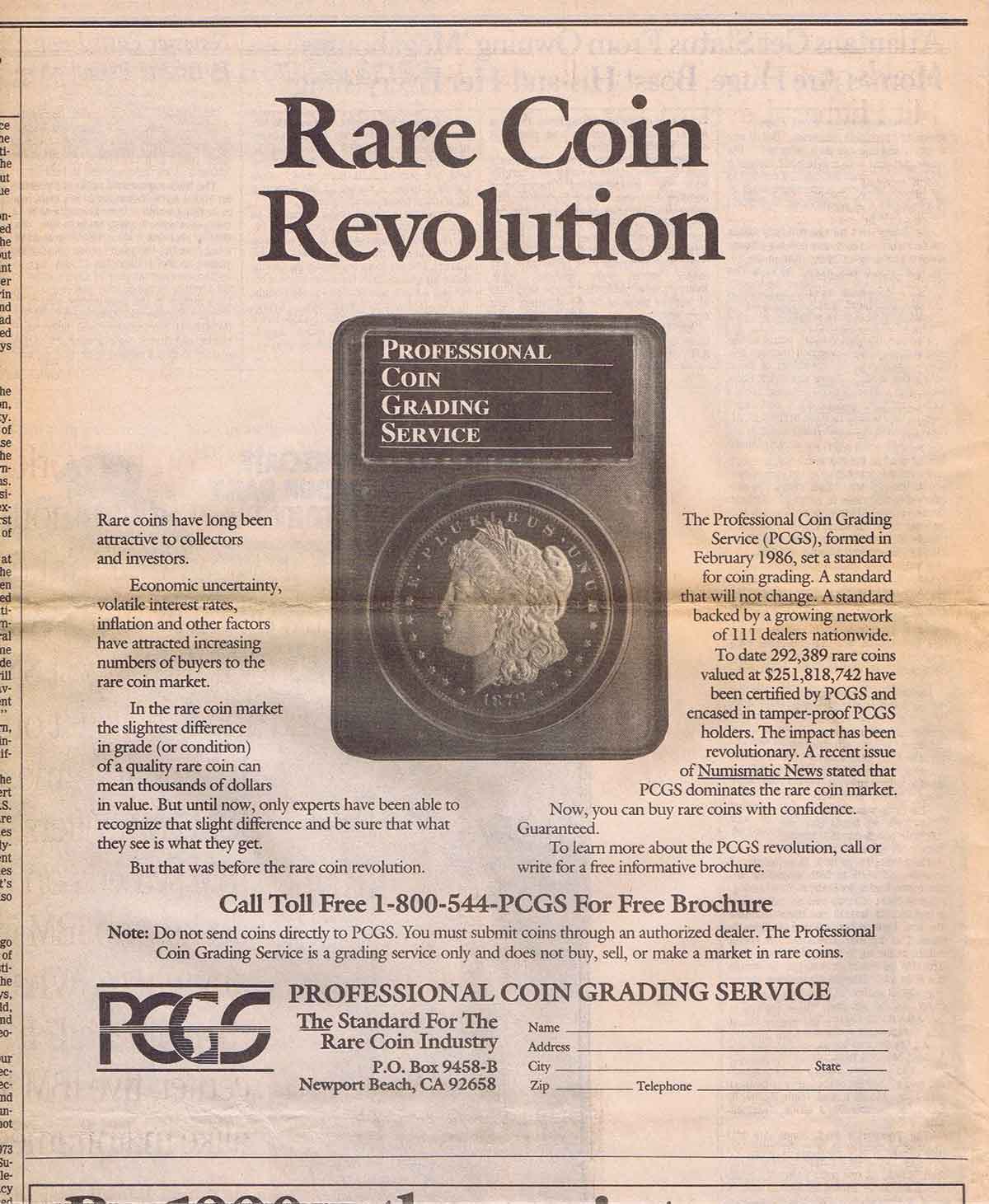 This PCGS advertisement, appearing in the May 20, 1987 issue of The Wall Street Journal, showcased the world of third-party grading and a new sight-unseen numismatic marketplace that was opening up to investors. Image is courtesy of Mark Ferguson. Click image to enlarge.
The stock market crash of 1987, which saw the Dow Jones Industrial Average plunge 22.61% in one day, sent investors scrambling. Some turned to bonds, others real estate. But many looked to more unconventional paths – cars, art, wine… And rare coins. The rare coin market offered Wall Street investors something that was all but impossible before the advent of PCGS: the opportunity to buy and sell authentic, accurately graded coins sight-unseen, just as one might trade stocks.
Overnight, PCGS-graded Walking Liberty Half Dollars, Morgan and Peace Dollars, Pre-1933 United States Gold Coins, Classic Commemorative Coins, and other pieces in Mint State grades became hot commodities. The coin market was flush with hundreds of millions of dollars in new money, much of it hailing from former stock investors, hedge fund managers, and blue-collar speculators looking to get in on the action.
So, would the rare coin boom of the late 1980s have happened if not for PCGS and the sight-unseen trading market it created? "Probably not," asserts PCGS Co-Founder John Dannreuther. "The coin market, like all markets, moves in cycles. But that peak was exceptional, as the sight-unseen market really pushed the envelope. Thousands of dollars in trades took place every day, pushing some coins to excessive levels," he explains. "Of course, supply and demand works in all markets, so coins that moved too fast soon corrected."
Even as the Wall Street investors eventually moved into other commodity sectors as the 1980s melted into the 1990s, the coin market was forever changed by the sight-unseen bidding that became standard in the numismatic landscape. "I know several collectors who have spent millions of dollars," Dannreuther remarks. "Several of them have told me that they never would have collected to the degree that they have if PCGS had not existed and guaranteed the coins' grade and authenticity."
Setting the Standard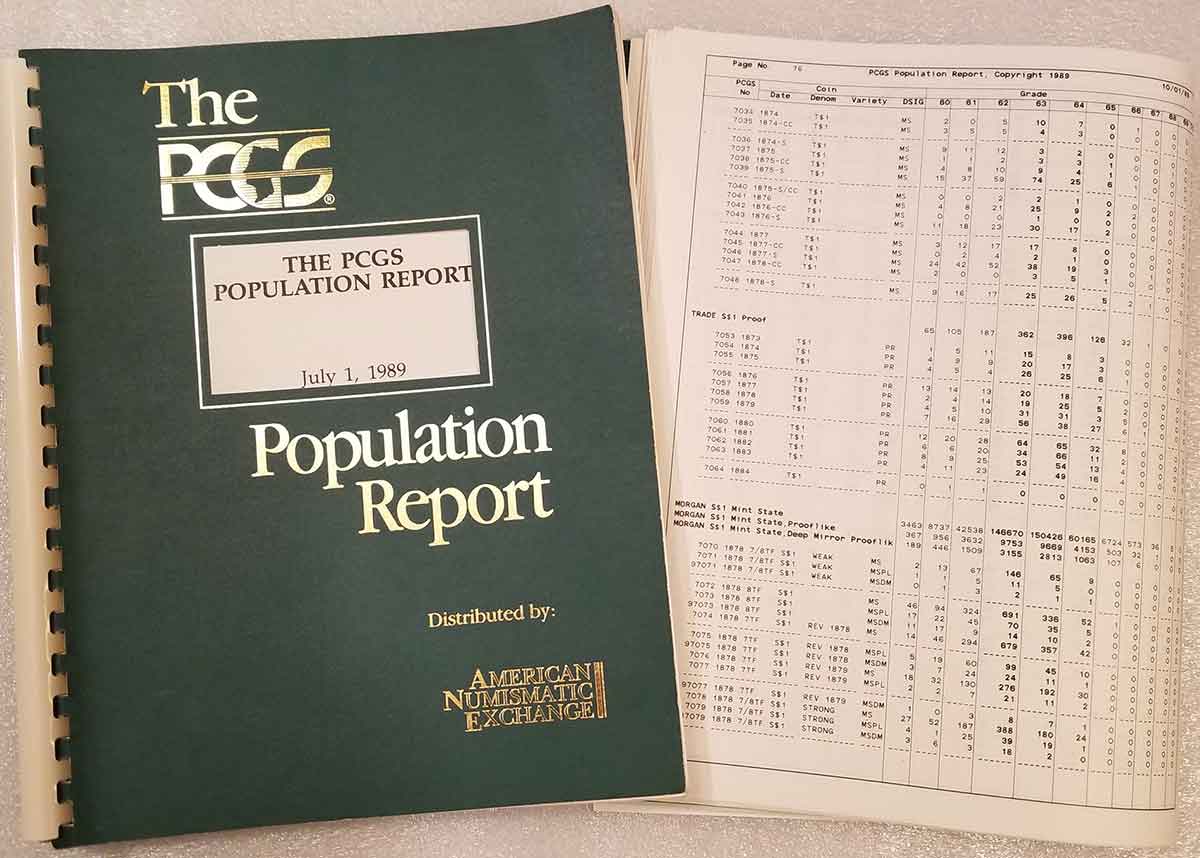 An early example of a PCGS Population Report, distributed on a periodic basis to provide a glance at how many coins PCGS had graded for each issue. Image is courtesy of Mark Ferguson. Click image to enlarge.
By the 1990s, PCGS was a numismatic household name. Coin dealers and coin collectors alike had known since Day One they could trust the service, quality, and accuracy of PCGS-graded coins. But as the company moved into its second decade of service, PCGS spread its wings even further. The PCGS Population Reports, first published in bound books in 1988, had become requisite additions to numismatic libraries across the land.
PCGS marked its first decade of service in 1996 by jumping aboard the Information Superhighway with the creation of PCGS.com. The launch of the PCGS Collectors Club in 1997 brought numismatists new opportunities for direct submissions while combining many additional benefits, such as the PCGS Population Report and a subscription to the PCGS Market Report, a quarterly newsletter that eventually grew into the bimonthly PCGS Rare Coin Market Report. Today the PCGS Collectors Club also offers access to PCGS Members Only Shows, exclusive discounts, and other special perks that have helped the PCGS mainstay grow to 20,000 members to become the second biggest coin club in the United States.
Further enhancing the internet experience for coin collectors was the launch of PCGS CoinFacts in 1999, bringing a wealth of numismatic information, including population reports, auction data, and expert insight on individual issues, right to the fingertips. But many will cite the online debut of the PCGS Set Registry in 2001 as the shot heard around the numismatic world. It was the first online coin registry of its kind, and it began with only a few hundred coin collections. The PCGS Set Registry has since grown to include more than 125,000 premier coin sets representing coinage of every era from virtually every nation around the world.
"I think one of the many great things about the PCGS Set Registry is being able to share your collection with others," says Dr. Charles Link, a Capped Bust Half Dollar specialist who spent three decades building a massive 453-coin set representing the various Overton varieties in the series. "The joy of collecting is something that comes through with the Set Registry, and it often lends to some friendly competition with other collectors." He says the development of the PCGS Digital Coin Albums has been a key breakthrough in taking the enjoyment of numismatics to the next level. "Considering that many coins just sit inside bank safe deposit boxes, the digital albums and the Set Registry give collectors a chance to show off their collections to the world."
While coins may be the focus, what makes the numismatic hobby possible is collectors. Some of our hobby's most legendary figures have been permanently enshrined in the PCGS Set Registry Hall of Fame, established in 2002 to honor influential numismatists. PCGS also recognizes the hobby's most iconic coin dealers with its PCGS CoinFacts Coin Dealer Hall of Fame, unveiled in 2010 and paying tribute to the most respected marketplace leaders past and present.
The 21st century has seen PCGS continue expanding not just in size but also in scope. PCGS adopted Special Labels in 2004, beginning with the "First Strike" designation for coins issued in the first 30 days of the Mint's release; these special labels have since become coveted collectibles within themselves, now including a wide array of exciting exclusives, including the popular Signature Series bearing autographs from coin designers, celebrities, and others connected to the coins encapsulated within these limited-edition holders.
Meanwhile, PCGS has also adopted new grading designations that have further helped refine how grades are expressed. In 2010, PCGS introduced Plus grading, and in 2019 the Prooflike designation was expanded from a select group of coins to all qualifying coins. And the California-based company continued expanding services to international coin collectors by opening offices in Europe and Asia, only further cementing PCGS as the world's leading third-party coin and banknote grading service.
Reflecting Back, Looking Ahead
With more than 45 million coins, banknotes, medals, and tokens graded, PCGS has unquestionably left an indelible imprint on the hobby. But the work never ends for PCGS. "We've transformed every area of our hobby," says PCGS President Brett Charville. "Yet, throughout the years and with all the changes, our mission remains the same, and that is to provide our customers the maximum in value, security, and liquidity for their coins, medals, tokens, and banknotes."
In the past year, PCGS has held fast to this pledge by launching many transformative initiatives. Among these is the long-anticipated PCGS Banknote grading service, which in its first months attracted several high-profile rarities, including the Series 1890 $1,000 Grand Watermelon Treasury Note worth an estimated $1 million. Meanwhile, PCGS unrolled its innovative Near-Field Communication devices in all coin and banknote holders; this state-of-the-art anti-counterfeiting technology ensures collectors and dealers that the coins in their PCGS holders are exactly the ones described on the labels. "By just tapping a smartphone on the slab, you can verify your PCGS coin and holder are authentic," explains Charville. The year 2020 also saw PCGS become an exclusive coin grading and authentication partner of the Naismith Memorial Basketball Hall of Fame, the time-honored Massachusetts sports institution honored on the various United States Mint 2020 Basketball Hall of Fame Commemorative Coins.
As PCGS looks beyond its first 35 years, what lies ahead? "The future is already here," Charville remarks. "We are continuously working on new ways to make the collecting experience better for everyone," he adds. "We want the PCGS name emblazoned on the first certified coins a collector buys, just as much as we want to continue serving our longtime customers who have trusted us from the very beginning all those years ago. We're committed to everyone we serve, and we'll continue engaging with our customers, listening to what they want so we can continue improving and evolving," he says.
"We've got many exciting things in the works, so stay tuned."