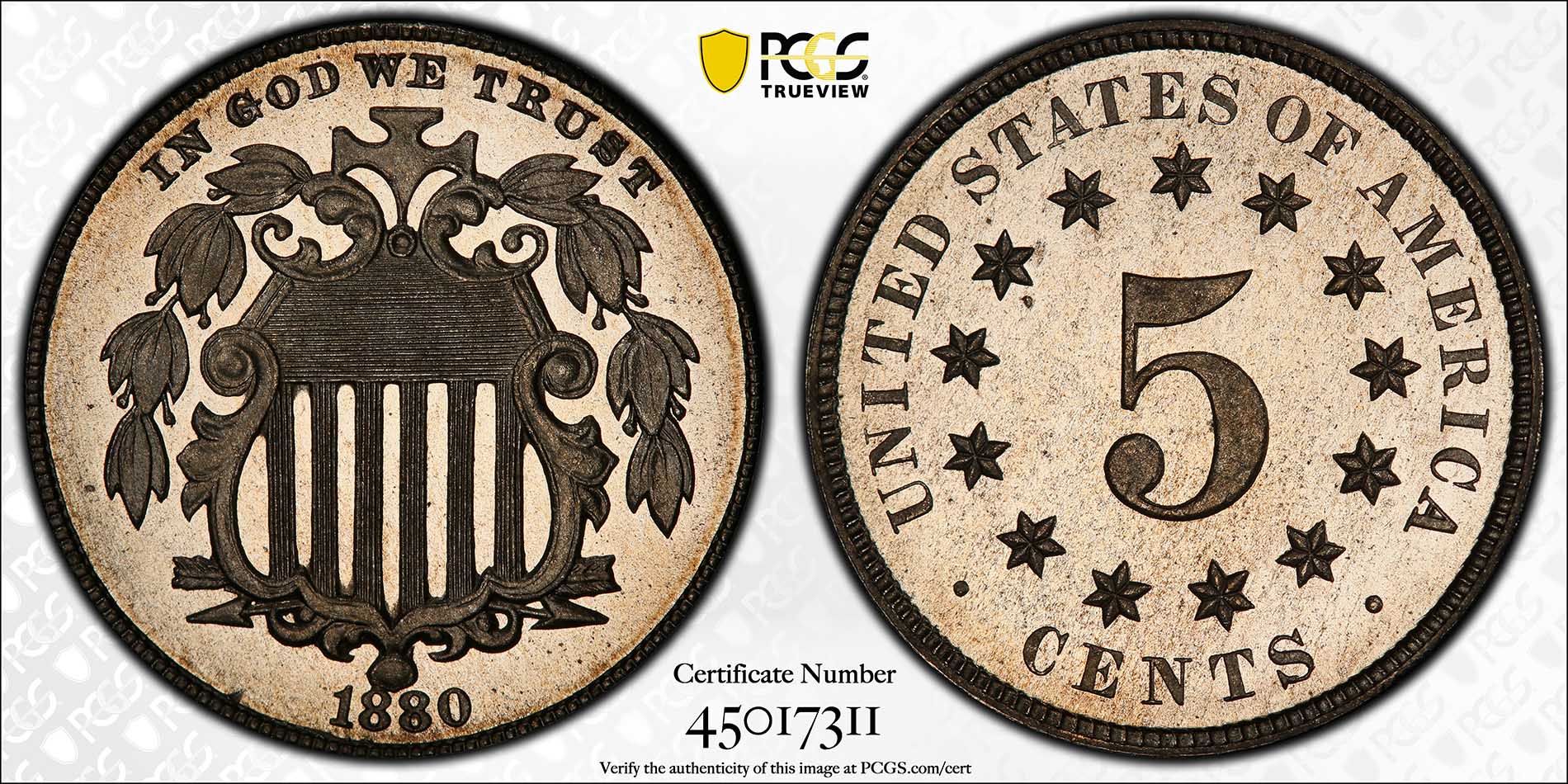 PCGS recently began recognizing and attributing all 357 die varieties listed and photographed in Edward L Fletcher Jr.'s 1994 reference The Shield Five Cent Series: A Comprehensive Listing of Known Varieties as well as the 45 proof die pairs identified in John Dannreuther's 2023 publication United States Proof Coins, Volume II: Nickel.
The Shield Nickel series arguably has more dramatic and distinguishable die varieties than any other US coin series. PCGS currently attributes more than 130 of them as Fivaz and Stanton (FS) numbers and is eager to expand recognition of this multifaceted series.
The Shield Nickel, designed by Chief Engraver James B. Longacre, entered circulation in 1866 under President Andrew Johnson to fill the void left by the coins hoarded during the Civil War. Composed of 75% copper and 25% nickel, this base-metal five-cent piece was welcomed by the public and profitable for the government. However, the hardness of the alloy, coupled with the chosen thickness for the planchets, made it difficult to produce fully struck coins.
Additionally, the dies cracked and wore out sooner than those of other series, which put pressure on the engraving department to make replacement dies at a faster-than-normal rate. In order to produce a well-defined design on the planchets, the working dies required multiple pressings by the working hubs. Between pressings, the working dies were annealed, a heating and cooling process that made the dies durable yet malleable. If the time to heat and cool was shortened, the dies might be unusually hard for subsequent pressings of the working hubs and the striking of the dates, which were still performed by hand. This pressure to create dies more quickly than usual may explain why so many of them ended up with a doubled or tripled image and the date in the wrong place.
Of course, these production errors are today affectionately identified as misplaced dates (MPD), repunched dates (RPD), triple-punched dates (TPD), doubled-die obverses (DDO), tripled-die obverses (TDO), doubled-die reverses (DDR), and overdates (OVD). All are avidly collected by Shield Nickel and variety specialists alike. In addition to many of these dramatic mint errors, Fletcher also identifies 23 different die pairs that are missing a leaf in the upper right part of the obverse. Apparently, this leaf was not engraved into the master die of Hub A, which was used from 1866 to 1869. Every working die produced from this master die needed the missing leaf hand-engraved into it, a time-consuming endeavor the engraving department, already under pressure, could have done without. Today, any missing leaf variety is considered rare and is highly sought after. As for the inefficiently hand-engraved obverses, they, too, have become collectible for their distinct and uniquely shaped fourth leaf.
In addition to the Fletcher-identified business strikes, PCGS will also recognize and attribute all 45 Shield Nickel Proof die pairs listed in John Dannreuther's United States Proof Coins, Volume II: Nickel. Among its many highlights is the confirmation of the shared obverse of the original 1867 With Rays Proof, long a desired numismatic rarity, with the equally rare Type 1 No Rays Proof, which features the Judd-507 Pattern reverse. Multiple original proof die pairs have also been identified for 11 of the 18 years that the Shield Nickel was produced. Perhaps the most important revelation in this ground-breaking work are the diagnostics distinguishing the 1880 circulation strikes — the rarest business strike in the series with a population of 100 — from the 1880 proof strikes, of which thousands exist.
PCGS is excited to begin recognizing the many identified Fletcher (F) and Dannreuther (JD) varieties of this important historic artifact of the Civil War, the Reconstruction era, and the Gilded Age. More than 128 million Shield Nickels were struck for circulation during its 18-year run. If the average die pair produced 10,000 to 26,000 coins (compared to 500,000 for the Indian Cent), it is conceivable that at least 4,500 different die pairs were used! What were once considered mistakes and perhaps an embarrassment to Mint officials and employees at the time of production are now a rich field for numismatic study, research, and discovery.
References
Bowers, Q. David. A Guide Book of Shield And Liberty Head Nickels. Whitman Publishing, 2006.
Bressett, Kenneth E., ed. A Guide Book of United States Coins. Whitman Publishing, Various Editions
Dannreuther, John W. United States Proof Coins, Volume II: Nickel. John W. Dannreuther Publishing, 2023.
Fivaz, Bill and J.T. Stanton. The Cherrypickers' Guide to Rare Die Varieties (6th ed.), Vol. 1. Whitman Publishing, 2015.
Fletcher, Edward L., Jr. The Shield Five Cent Series: A Comprehensive Listing of Known Varieties. Dead End Publishing, 1994.
Judd, J. Hewitt, M.D. United States Pattern Coins (10th ed.). Whitman Publishing, 2009.
Julian, R.W. "All About The Nickel." The Numismatist. November 2003.
Peters, Gloria and Cythia Mohon. The Complete Guide to Shield and Liberty Head Nickels. DLRC Press, 1995.
Spindel, Howard. Online database. Latest version, 2015. https://shieldnickels.net/
Spidel, Howard. "Shield Nickel Variety Paradise." The Numismatist. October 2004.
Vermeule, Cornelius. Numismatic Art in America: Aesthetics of United States Coinage (2nd Ed.). Whitman Publishing, 2007.