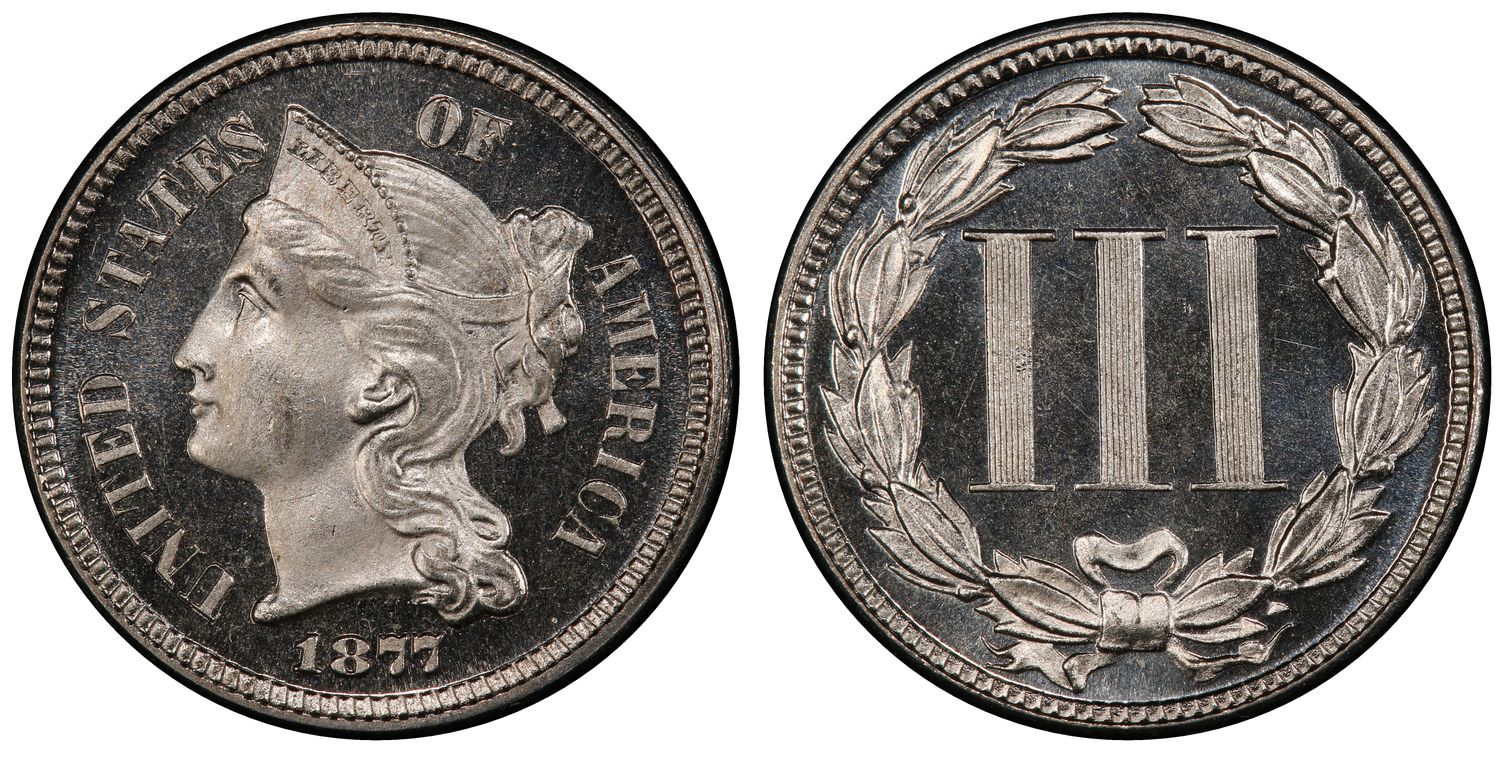 The Three Cent Nickel was issued from 1865 through 1889 and serves as one of the more enigmatic series in the U.S. catalog. Although the number of those who are dedicated to collecting this series beyond acquiring one example for a type set is small, the Three Cent Nickel nonetheless represents an important chapter in numismatic history.
The three-cent denomination debuted in 1851 as a silver coin designated for readily handling the cost of a first-class postage stamp, which cost three cents in those days; it also provided another option for small change. When the nickel variant of the three-cent denomination came along in 1865, it gave the public yet another alternative for small coinage. However, by the late 1870s the need for business-strike examples of the denomination waned. In 1877, the Three Cent Nickel was struck only as a proof.
The United States Mint in Philadelphia struck an estimated 510-plus proof Three Cent Nickels in 1877, with these sold to collectors. Some were spent as regular money in the years after they were minted, but the majority of survivors remain in uncirculated proof today and are popular among date set collectors, who have only the proof issue to fill the proverbial hole for an 1877 Three Cent Nickel.
To be certain, the 1877 Three Cent Nickel isn't a cheap coin, with even the handful of known circulated specimens trading for more than $1,500 in XF40 and north of $1,600 in AU50. Specimens grading better than Proof-60 (PR60) start at around $2,000, with specimens graded PR62 to PR66 representing then bulk of available material for this date. A collector can expect to pay anywhere from around $2,200 for a specimen in the PR62 range up to $4,500 for one in PR66.
Cameo specimens are even more challenging to track down and are liable to set the buyer back significantly more than their non-cameo counterparts would. In fact, the record price for an 1877 Proof Three Cent goes to one example graded PCGS PR66DCAM that realized $11,456 (almost triple the same-grade price for a non-cameo) in a 2017 Heritage Auctions event.