Some of the most beautiful coins in numismatics today are also some of the most intriguing. A simple look at any of the breathtaking 1964 SMS coins reveals their special numismatic status. The special finish of 1964 SMS coins is characterized by a nice, smooth, satin-like appearance. The fields are usually well struck, very clean and tend to come without any major nicks or scratches. The edges for most 1964 SMS coins also tend to be square and sharp. The bust and legends are usually highly detailed and sharp on most examples, especially when compared to business strike coins. The surfaces are non-reflective compared to proof coins of the era, yet are not the same finish as regular-issue coins for the same year.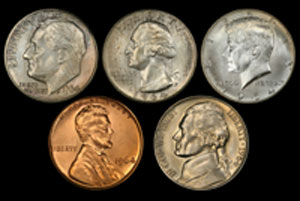 The U.S. Mint definitely had a rough year in 1964. That was the year they introduced the Kennedy half dollar series both in MS and Proofs, including hundreds of thousands of 1964-D Peace dollars which were later melted! Most significantly, in 1964 all production of 90% silver coinage was being discontinued because of the rising price of silver. The only coins containing silver would be the Kennedy half dollars dated 1965 to 1970, but even those coins only contained 40% silver.
During this time the Mint was also making plans to produce Special Mint Sets from the years 1965 to 1967. These coins were introduced in hopes of eliminating coin shortage within the nation's monetary system. Consequently, in order to deter the public from hoarding coins, the Mint produced all 1965 to 1967 Special Mint Set coins without any mintmarks. The Special Mint Sets dated 1965 to 1967 were produced instead of regular mint or proof sets for those three years.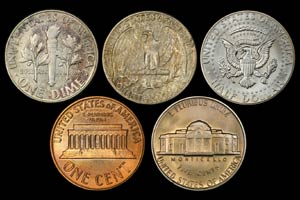 There are many different theories on why the 1964 SMS coins were produced. These coins could have been produced as prototypes for the 1965 to 1967 SMS coins. The 1964 SMS coins could have also been produced as introductory pieces, possibly even intended to include a 1964-D Peace dollar. Furthermore, it is believed these SMS coins came into existence somehow through the involvement of Eva Adams, U.S. Mint Director at the time. After Eva Adams passed away, her estate was sold off and well-recognized dealer and auctioneer Lester Merkin is believed to have bought many of the coins from her estate. Lester Merkin's collection would then be sold in a Stack's auction in the early 1990s, including some, if not all, of the known 1964 SMS coins.
Recently, a complete set of these compelling coins was submitted to PCGS for grading. Viewing some of these intriguing and eye-rewarding coins is definitely one of the great benefits of having thousands of coins pass though our graders' hands every single day. Today, many experts believe there are anywhere from 20 to 50 sets in existence in all grades combined, making these coins very scarce. Many of the 1964 SMS coins could have also been lost, damaged or even tossed aside since their mysterious status was only somewhat solved by early 1993, almost 30 years after they were initially produced.
Currently the PCGS Population report shows 22 Lincoln cents, 18 Jefferson nickels, 22 dimes and 28 Kennedy half dollars graded as 1964 SMS. Some of these population figures may be inflated since some of the coins may have been cracked out and resubmitted in hopes of an upgrade. However, even if the population figures were close to the actual coins in existence the supply would be extremely limited compared to their popular demand. Many collectors who are collecting the Lincoln cent series up to the Kennedy half dollar series would love to own an example of these special coins. Significantly, there are also many collectors who love to own mysterious coins with a suspenseful history behind them, and the 1964 SMS coins definitely fit this category.
The 1964 SMS coins are extremely scarce, but more are believed to be out there. It is strongly recommended you purchase coins already graded by PCGS since our experts are well aware of the discernable differences in regular issue mint state or proof coins compared to the special 1964 SMS coins. Also remember that our guaranty of authenticity is the best insurance you can have when owning extremely scarce and significant coins.