Walter Breen's Encyclopedia of United States and Colonial Proof Coins 1722-1989
Walter Breen
I did not go to the trouble of describing these other varieties in detail because in every instance (save for the st. Oswald coin, from the 1964 auction held by Christie's in London) there was some ground for doubt. For example, the Stirling B-13 has extraordinary sharpness everywhere except at the centers, but it is on a planchet which was rendered unsightly by a superabundance of adjustment marks. The criteria for calling a coin a presentation piece must remain rigorous if we are going to prevent the dishonest from calling everything shiny by that title. Striking qualities are far more important even then surface, and if a piece was intended as any kind of special mintage, the planchet certainly would have been selected with reasonable care and inspected to make sure it was free of splits or too many heavy adjustment marks.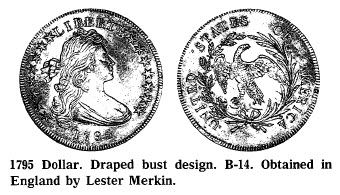 - Draped bust design. (Coined, probably, Oct. 17-24,1795, to the extent of 42,738 pieces.) Pieces qualifying as presentation coins exist of both varieties, the Bolender 14 (draped bust placed too far to left) and the B-15 (head properly centered, jagged die chips or slivers in hair). I recall especially a B-14 which is the identical twin in quality to the St. Oswald B-7 above described; it came from England via L. Merkin. There are possibly 3 or 4 presentation coins of each variety. These have mirrorlike fields, frosty heads and devices, exceptional sharpness including eagle's claws and breast feathers, good centering, etc. The occasion for manufacture of presentation pieces of this design was, of course, Henry William DeSaussure's achieving his ambition in having United States coins made from designs by the famous American portraitist Gilbert Stuart.
Half Eagle. Several varieties may exist in presentation piece state, but the only one I can recall seeing which I can swear to be such is the first variety of the year, Breen I-A, Adams 5, Clapp 6, Newcomer 5: wide date, first star low (below first curl), Y and two stars following crowded together; only 3 berries in wreath (held in eagle's beak). At least five "proofs" have been offered at auction, and I know that at least one of these was a presentation piece; I have seen three from these dies qualifying at that level and can well believe that more exist. The occasion for presentation was obviously the Mint Director's jubilation on getting such attractive coins into production. It is known that beginning gold coinage was one of Henry William DeSaussure's two great ambitions when he began his duties as Mint Director, the other being (as mentioned) improvement in design of silver and copper coins. The very first warrant DeSaussure issued, July 31, 1795, was for the Coiner to deliver to the Mint Treasurer 744 half-eagles, the first coined; they were from the dies above described. Some of these went to local banks. It is not known whether the presentation pieces were included in the mint accounting, though they may well have been among those issued to the Director or to "Sundry Accounts". The B.I-A's probably formed the majority of the next few deliveries, as this die combination was fairly long-lived and is still not very rare. Other varieties may exist in presentation-piece state, but I have not seen any I could swear to.
Eagles. Same design; mintage 2795 between Sept. 22 and Nov. 27, 1795, plus 2788 between Jan. 9 and March 30, 1796, from 1795 dies, total 5583. (This is established because the solitary 1796 obverse has 16 stars, which means it must have been completed after the admission of Tennessee to the Union, June 1796. See below, under 1796 Eagles.) Five die varieties, the first of which - Breen I-A, Adams 3, Clapp 4, Newcomer 437 - exists in presentation-piece state. Y and all 5 stars at r. touch; I below L; leaf touches left upright of U. Comprises the 1097 struck on Sept. 22, 1795 and possibly part of the next three deliveries. Of the initial 1097, 400 immediately went to the Bank of Pennsylvania, the remainder to various accounts. One specimen was saved by Adam Eckfeldt for the Mint Cabinet. One was reportedly presented to George Washington and preserved with his estate at Mount Vernon. At least three others have been seen showing presentation-piece characteristics. These have good centering, strong borders, strong central hair and breast feathers, proof surfaces. Adjustment marks, as on the half eagles, are faint if present at all. I cannot swear to more than one impression having been given them from the dies, but it is not impossible.
Other varieties may exist in presentation-piece status, but I have not seen any. It is unlikely that any presentation sets were made during the year, and still more unlikely that they would have included the copper coins. Possibly pairs of gold pieces might have been presented together with the silver dollar, and such a set could well be assembled today with enough patience (and nearly unlimited funds).
1796
A midwest dealer has attempted to assemble a so-called "proof set" of 1796. The effort yielded a beautiful group of coins, though most of them would not have qualified at the presentation-piece level. What confuses many collectors and dealers is that many silver coins of 1796 exist on brilliantly polished blanks. Some few of these may have been presentation pieces. The information available for this date is more confusing than for any other in United States coinage.
Half Cent. Extremely doubtful if even the Boyd coin (with pole, full blazing red unc., prooflike, sharp strike) qualifies at this level.
Cent. Many reported of various varieties of the so-called "Nichols find" group and some others in the Draped Bust design. None of them were made early in the sequence of varieties, which is automatic grounds for suspicion, and the "Nichols find" varieties are all known to have been struck in 1797-98. They often have excellent surfaces (though usually plagued in centers by granular defects) but almost all show some weakness of striking on forelock, ribbon, parts of leaves, etc. T. James Clarke had several LibertyCaps labeled "proof" but they did not qualify as presentation pieces. I have never seen one that would. The "Nichols find" group is usually believed to include the varieties Sheldon 119 of 1796, 123 and 135 of 1797, but coins from this same lot of planchets (from Boulton & Watt of the Soho Mint near Birmingham, England, per packet boat Adriana) are known for many other varieties: S-104 late state, 113, 114, 115, 117, 118, 119, 123, 135, 136, 137 and 143 of 1797, 154 and several others of 1798. None of these show evidence of unusual care in striking.
Half Disme. 1796/95, Valentine 2. Of seven or eight examples known, all but one come very close to Unc., and at least one of these was a presentation piece. Point of 5 touches bust, 6 away; berry under E of UNITED.
1796 normal date. V-I. Eliasberg has one showing the earmarks. Miles: 390, so called, at a then extraordinary $2700, is unverified; Holmes: 2577 has not been available for examination.
Disme. The denomination was first coined Jan. 18, 1796, some 14,520 being delivered on that date. Presentation pieces - at least a dozen - survive from the first dies used: Breen I-A, Clapp 3. The variety is fairly often seen and is immediately identifiable by dot before L, outer berries between TE in UNITED and under first T in STATES. The presentation pieces are from perfect dies, without cracks. A couple of those in WGC (F.C.C. Boyd collection) had earmarks of light double striking, suggesting that they indeed might have been deliberately given two blows apiece from the dies to bring up the design. If so, any such coins would qualify as proofs, given the other characteristics (surfaces and vividness of impression). Occasion for the presentation was presumably the beginning of coinage. A few other varieties have been seen with similar characteristics, but their status is still uncertain.