Silver Dollars & Trade Dollars of the United States - A Complete Encyclopedia
Q. David Bowers
Morgan Dollar year Listings
1879 Morgan: Market Values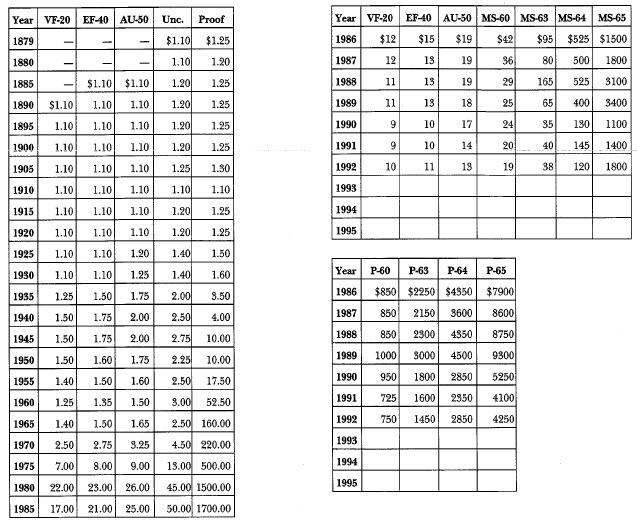 1879 Morgan: Summary of Characteristics
Business Strikes:
Enabling legislation: As earlier, plus Act of February 28, 1878
Designer: George T. Morgan
Weight and composition: 412.5 grains; 900 silver, .100 copper
Melt-down (silver value) in year minted: $0.86928
Dies prepared: Obverse: 129; Reverse: 86
Business strike mintage: 14,806;000
Estimated quantity melted: Unknown, but undoubtedly millions, especially under the 1918 Pittman Act.
Approximate population MS-65 or better: 2,500 to 4,000 (URS-13)
Approximate population MS-64: 20,000 to 30,000 (URS-16)
Approximate population MS-63: 55,000 to 85,000 (URS-17)
Approximate population MS-60 to 621: 100,000 to 200,000 (URS-18)
Approximate population. G-4 to AU-58: 1,250,000 to 2,500,000 (URS-22)
Availability of prooflike coins: Prooflike coins are common; DMPL coins are scarcer.
Characteristics of striking: Usually seen sharply struck, but others have flat breast feathers.
Known hoards of Mint State colns: Many were released by the Treasury Department in the 1950s and early 1960s.
Proofs:
Dies prepared: Obverse: 1; Reverse: 1 Proof mintage: 1,100
Approximate population Proof-65 or better: 102+/ (URS-8)
Approximate populationProof-64: 140+(- (URS;-9)
Approximate population Proof-63: 145+/- (URS-9)
Approximate population Proof-60 to 62: 265+/- (URS-10)
Commentary
The 1879 Morgan dollar is very plentiful in AU and low Mint State grades but emerges as a scarce issue in MS-65.
Additional Information
Activities at the Philadelphia Mint
The Annual Report of the Director of the Mint, 1879, told of events at Philadelphia during the fiscal year ended June 30th:
"The mint at Philadelphia.-This mint has been actively engaged during the year in coining the standard silver dollar, in addition to the ordinary coinage of gold and minor coins. Difficulty has been experienced in procuring silver bullion for the coinage of the dollar at the other mints, and for several months past the capacity of this mint has been taxed to its utmost in manufacturing the amount of dollars required by law.
"The coinage of silver ever since the passage of the resumption act has been continuously and unusually heavy, and but little time could be spared to repair and refit the machinery, the strain upon which has been exceptionally great in striking pieces of the size of the silver dollar.
"The superintendency of the mint was continued under the charge of James Pollock until March last, when he was succeeded by A. Loudon Snowden, under whose management the efficiency of the mint in every department has been fully maintained, and alterations, repairs, and other improvements made which have increased its capacity. New machinery has been added to the machine or repair shop, which will enable most of the refitting to be done without removing the machinery from the building. The engines have been over-hauled and placed in as good condition as the limited time would permit, and the general condition of the building, machinery and working force is such as will enable it to meet the unusual demand for coinage of gold now on hand in the Treasury, in addition to the ordinary coinage of silver."
Two-Headed 1879 Morgan Dollars
In or around the year 1879 the firm of John Pinches, Ltd., of England, desired to obtain a contract to strike United States coins on a commercial basis. Sample 1879-dated Morgan dollars were made up, consisting of two-headed coins. Apparently, Pinches had a very advanced technology for making transfer dies fromexisting coins, for the few known specimens struck from these dies are all very well struck and for all intents and purposes are as fine as the Philadelphia product. Strikings exist in copper and copper-nickel metals.
Glendining's London Sale of the John Harvey Pinches estate, July 29, 1947 offered examples. Also see Stanislaw Herstal Sale (Bowers and Ruddy); Glendining Sale of Nov ember 18, 1987, Lot 109; Superior's Auction '88, Lot 237. The 1987 Glendining Sale offered two obverse dies and other items fitted into a case. (Information courtesy of Michael]. Hodder.)
The Year 1879 in History
Crop failure in Europe caused a great demand for American wheat exports, bringing prosperity to farms in the Midwest. In Brooklyn, New York the Echo Farms Dairy tried an innovation: the milk bottle. Heretofore, milk had been ladled into customers' pitchers. The idea caught on, and milk bottles were used until largely replaced by waxed cardboard cartons in the 1950s and 1960s. At The Johns Hopkins University in Baltimore, the artificial sweetening compound saccharine was discovered by accident.
The silver mining industry was booming in Colorado, and such towns as Central City (with its new Opera House), Black Hawk, Georgetown, and, further to the west, Leadville, were enjoying prosperity. Silverites (politicians and others who loved silver or who had a connection with it) were temporarily happy, as under the Bland-Allison Act the government continued to buy millions of ounces of unwanted metal. However, during the next two decades silver would become the burning political question of the age. By 1879, it was already a standard political issue, but the most heated arguments were yet to come, and the presidential election of 1896 would center on the question.
George B. Selden filed a patent (which would not be granted until 1895) for a road machine powered by an internal combustion engine. At turn of the century he would hobble the infant automobile industry in the United States by demanding royalties from manufacturers. On October 21, 1879, Edison claimed success in his search for a suitable material from which to make a filament for an incandescent lamp. This idea oflighting was not new, and others had demonstrated such lamps earlier, but none had lasted for an appreciable length of time. By this time, outdoor night illumination by arc lights had been in use for many years. William K. Vanderbilt acquired Gilmore's Garden and renamed it
Madison Square Garden. It became a showcase for public events and in 1890 was replaced by a magnificent structure of the same name, designed by Stanford K. White (in 1906, White would be shot and killed in the rooftop garden of the building, by Pittsburgh millionaire Harry Thaw, who could not live with the idea that Thaw's wife, Evelyn Nesbit, had been the mistress of White when she was a teenager). In the meantime, in 1879 White was a partner in the newly-formed architectural firm of McKim, Mead & White, which would have close ties with sculptor Augustus Saint-Gaudens.
Frank Winfield Woolworth laid the foundation for his fortune made in five-and-dime stores when he set up a counter at which all merchandise cost five cents. "Twenty nickels make a dollar, you know." He then borrowed $400 to open a store in Utica, New York, which failed in three months. Undaunted, he opened a similar store in Lancaster, Pennsylvania. What happened changed the face of retailing in America.
In Russia, Ivan Pavlov, a physiologist, demonstrated by studies on dogs that the sight of food could cause the production of gastric juices, even if food was not eaten-forming the basis for the theory of conditioned reflexes.
Horatio C. Burchard became director of the Mint in February 1879, replacing the infamous Dr. Henry Richard Linderman, and continued in office through June 1885. Shenanigans at the Mint continued under the Burchard administration (and the superintendency of the Philadelphia Mint by Col. Archibald Loudon Snowden), and many fancy patterns were made for private profit to those connected with the institution. Included were metric issues, such as goloid $1, gold $4, and gold $20 patterns. Although contemporary numismatists such as S.K. Harzfeld and W. Elliot Woodward protested Mint practices, it fell to scholarsof the twentieth century to discover the vast extent of Mint improprieties and indiscretions of the period from about 1858 to 1885.
The pattern stella or $4 gold coin was produced as a proposal for international coinage, and 15 Proofs were made of Charles E. Barber's Flowing Hair design, followed by a supplemental coinage of 400 to 600 more of the same date in 1880. George T. Morgan's Coiled Hair $4 design was also made, but in small numbers, probably fewer than 30 or 40.
The New Orleans Mint produced coins for the first time since it was closed during the Civil War in 1861.
Morgan Dollar year Listings