There are some extremely rare and valuable varieties to be found amidst the circulating 1992 Lincoln Memorial Cents that turn up in pocket change. These varieties include the 1992 Close "AM" and 1992-D Close "AM," which are a type of transitional variety that remains extraordinarily elusive despite the fact more than 4 billion Lincoln Cents were struck at each the Philadelphia and Denver Mints in 1992. In fact, even in worn condition, these varieties can easily bring four figures. So, how do you find these coins and why were they made?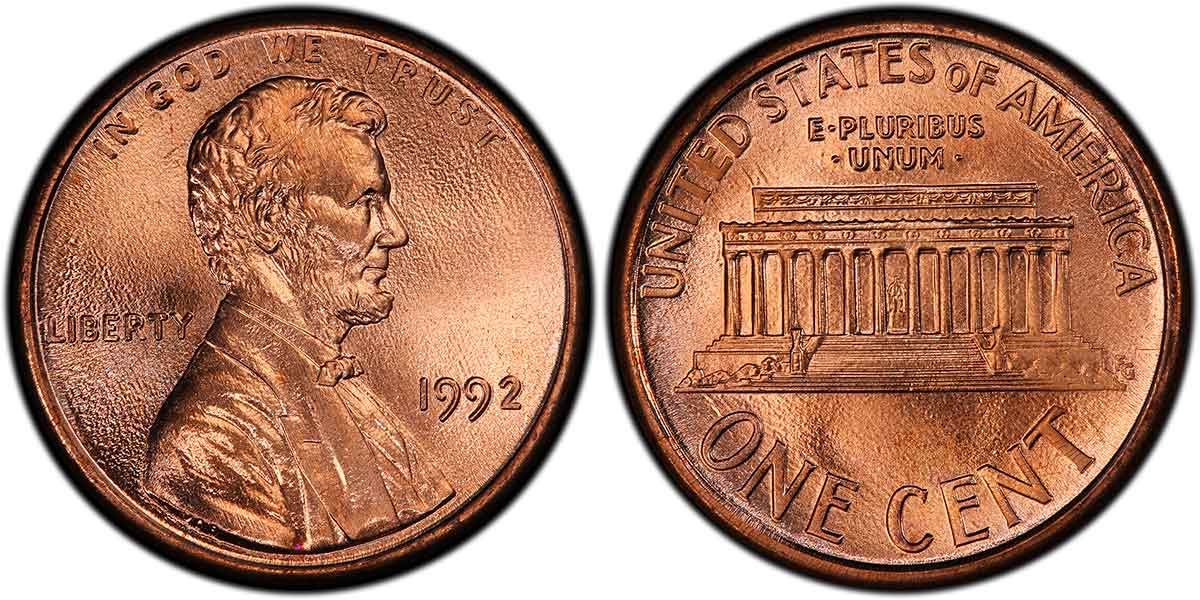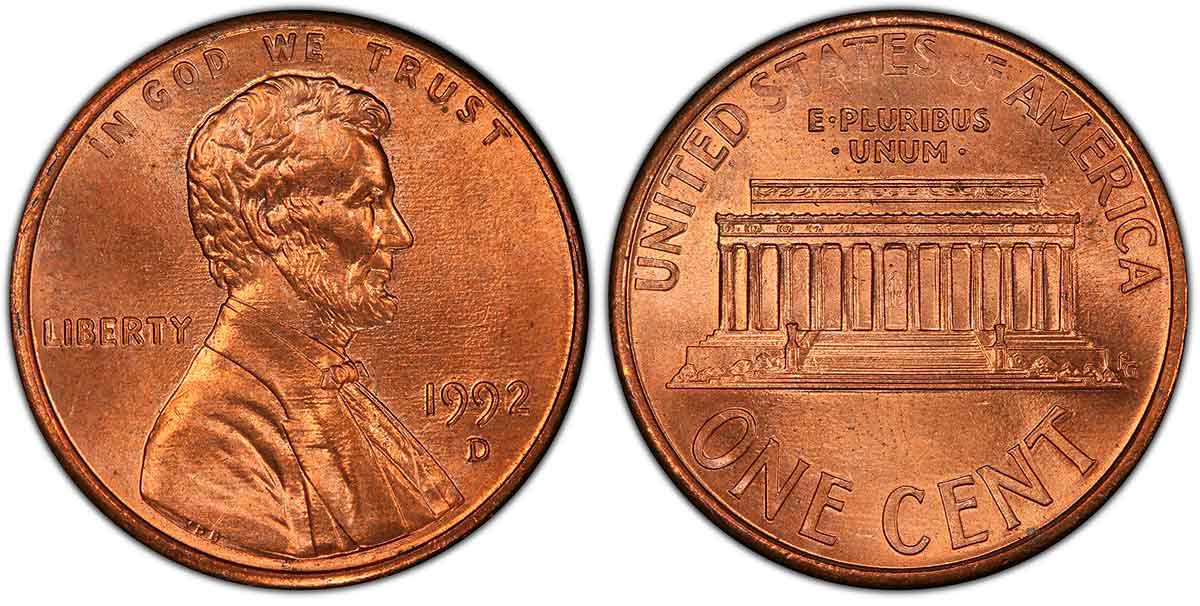 Distinguishing a Close AM from a Wide AM
If you're looking for a 1992 Close AM Lincoln Cent from either of the two mints that produced these coins, you'll need to flip all your 1992 "pennies" over so you can view their reverses. The variety in question is found in the legend "UNITED STATES oF AMERICA," scrawled out in semicircular fashion across the top half of the reverse along the rim. In particular, one must pay close attention to the letters "A" and "M" of "AMERICA," right between the 1 o'clock and 2 o'clock positions in the upper right quadrant of the reverse.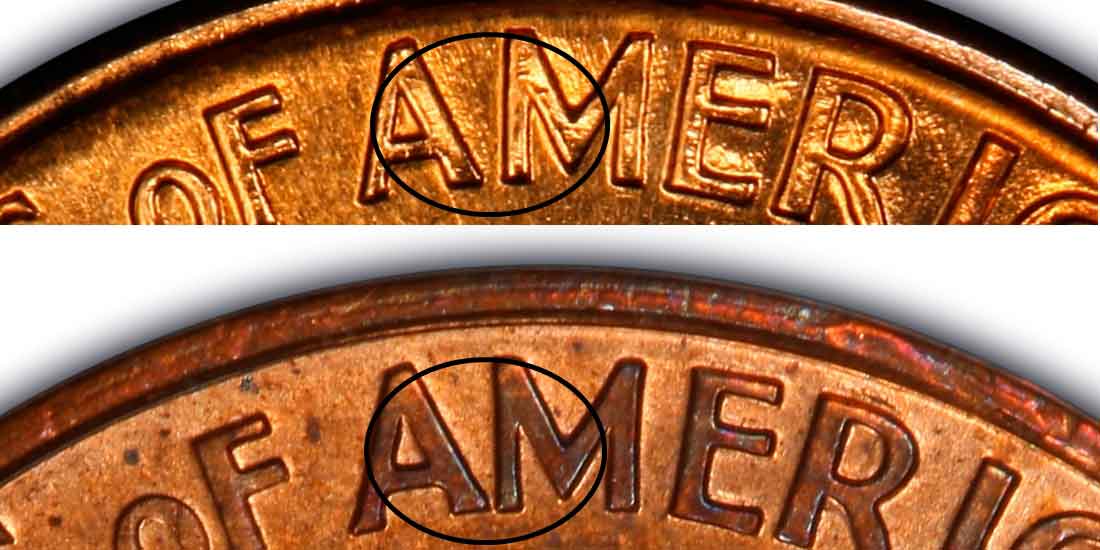 What makes a Close AM? Look at the bases of the "A" and "M." If there is a perceptible gap, then it is a regular 1992 Wide AM Lincoln Cent and there is no need to look any further into the diagnostics. But if the right base of the "A" appears to be touching the left base of the "M," you've landed your big circulation find. A further diagnostic shows designer Frank Gasparro's "FG" initials closer to the right side of the Lincoln Memorial building than usual. Amazingly, relatively few collectors know of or think to look for this variety on their 1992 Lincoln Cents, meaning this rarity is ripe for the picking.
Why Was the 1992 Close AM Cent Struck?
The reverse die with of the Close AM variety was intended to be used for striking circulation-strike Lincoln Cents beginning in 1993. We may never know the full story as to how these 1992 and 1992-D Close AM Lincoln Cents were distributed into circulation, but these were most likely the result of test strikes in late 1992 conducted to determine how well the new reverse die would work out. Of course, such a step is necessary before producing all the dies necessary for coining 1993 Lincoln Cents – the latter a costly and time-consuming affair.
While the Close AM format became par for the course on circulation strikes beginning in 1993, the United States Mint continued using the Wide AM reverse die for producing proof Lincoln Cents. Of course, further mistakes occurred with the pairing of Close AM and Wide AM dies down the pike, and this can be seen in the parade of Wide AM business-strike Lincoln Cents that were produced for circulation but apparently employing reverse dies intended for proofs.
How Much Are the 1992 Close AM Cents Worth?
Let there be no mistake, the 1992 and 1992-D Close AM Lincoln Cents are well worth one's while to look for. Both are extremely rare coins, though the 1992-D appears to be relatively more common than the 1992 examples hailing from Philly. Circulated examples of both coins trade for thousands of dollars, with the 1992 taking $2,500 in AU55BN and the 1992-D fetching $2,100 in the same grade. Prices only climb from there, with the Philadelphia piece valued at $7,000 in MS63RD and the Denver specimen going for $3,750 at that level.
The record prices for both these varieties take bidders into five-figure territory, which is not surprising given the slim number of examples known across the board. PCGS has graded fewer than 20 examples of the 1992 Close AM across all grades and color designations (BN, RB, and RD), while 75 specimens of the 1992-D have crossed the company's grading desks into holders. A stellar example of the 1992 grading PCGS MS67RD commanded $25,850 in a 2017 Heritage Auctions event. Meanwhile, a 1992-D graded PCGS MS65RD realized $14,100 in a 2014 Heritage Auctions sale.
Sources
Bowers, Q. David. A Guide Book of Lincoln Cents. Whitman Publishing, 2008.
Daughtrey, Charles D. Looking Through Lincoln Cents: Chronology of a Series. Zyrus Press, 2005.
Potter, Ken. "Second '92-D Close AM Die Pair Found." Numismatic News. July 28, 2017. Accessed March 12, 2021.