Winged Liberty (or 'Mercury') dime

Note: to read the rest of this article, click here.
Ask most collectors to name the most beautiful coins in U.S. history and chances are the "Mercury" dime and the Walking Liberty half dollar both will be high on their lists.
These two outstanding coins have enjoyed consistent acclaim since their joint introduction in 1916. They're popular not only with collectors but also with critics of art. And the Walking Liberty's beauty is being showcased anew through the use of its obverse design on the American Eagle silver bullion coin.
All this has earned a modest measure of fame for Adolph Alexander Weinman, the German-born sculptor who designed the half dollar and dime. But if he were alive today, Weinman in all likelihood wouldn't be impressed, for during his lifetime he always seemed indifferent to kudos about the coins.
From all indications, Weinman viewed the coins as small accomplishments -- not only in terms of size but also in importance alongside his larger works of art.
"He never really spoke about the coins, nor did he particularly save them," according to his son, Robert A. Weinman, himself a noted sculptor and medalist, who lived for many years in Westchester County, N.Y., before retiring to North Carolina.
"I think he was very satisfied with what he had done; I had the feeling that he was very pleased to have done it. But, from his standpoint, it was just another job -- and to a workaholic like him, it was always the next job that was really pressing."
According to Robert Weinman, his father preferred to work on larger-scale projects and thought of himself primarily as an architectural sculptor.
"One time," he recalled, "one of Dad's students said she had studied with `Adolph Weinman, the medalist.' When he heard about it, he was furious. `Medalist!' he thundered. `God damn it, I'm no medalist!'"
A.A. Weinman was born in Karlsruhe, Germany, in 1870 and came to the United States at the age of 10 with his widowed mother. He studied under Augustus Saint-Gaudens, the pre- eminent sculptor-medalist in this country at the time, and worked at an early stage in his career with such other top sculptors as Olin Warner, Charles H. Niehaus and Daniel Chester French.
He first drew wide attention in 1904 with a monumental sculpture called The Destiny of the Red Man, which was featured that year at the Louisiana Purchase Exposition, more familiarly known as the St. Louis World's Fair. His early works also included a statue of Abraham Lincoln for the Lincoln Monument in Frankfort, Ky.
By 1915, Weinman had built a solid reputation as one of the nation's finest young sculptors. Thus, it came as no surprise when the U.S. Treasury chose him as one of the participants in a limited competition to obtain new designs for the half dollar, quarter and dime.
The Barber silver coins -- designed by Charles E. Barber, the Mint's chief sculptor-engraver -- were nearing their 25th year of production and so were deemed ready for replacement. Accordingly, the Treasury commissioned three top sculptors to submit proposed design for the three coins.
Invited along with Weinman were Hermon A. MacNeil and Albin Polasek -- both of whom, like him, were from New York City. Each was asked to submit "several designs," and it seems apparent that Treasury officials intended each contestant to be a winner. In short, with three coins and three artists, they planned that each man's work would be chosen for one of the coins.
That wasn't the way things worked out. Weinman got two of the coins and one of MacNeil's entries was chosen for the third -- the Standing Liberty quarter.
According to a press release issued by the Treasury on May 30, 1916, the winning designs had been chosen from "more than fifty" sketch models. Along the way, they had won the approval not only of Treasury Secretary William Gibbs McAdoo and Mint Director Robert W. Woolley but also of the federal Commission of Fine Arts, which found them to be "most satisfactory from an artistic point of view."
Public reaction to Weinman's two coins also was upbeat, for the most part. J.W. Scott of New York City, one of the outstanding numismatists of the day, pronounced the new dime "the best piece of work that the United States Mint has turned out in a century." On the opposite coast, another noted hobbyist, Farran Zerbe, declared himself "delighted" with the coin.
The obverse of the dime bears a youthful portrait of Liberty wearing a winged cap. This was widely misinterpreted to be a likeness of Mercury, the messenger of the gods in Roman mythology. The artist himself explained that the wings were meant to symbolize "liberty of thought," and thus the coin is described more correctly as the "Winged Liberty" dime.
The reverse depicts the fasces, an ancient symbol of authority, with a battle-ax atop it to represent preparedness and an olive branch beside it to signify love and peace. With World War I raging in Europe, these were themes with great emotional impact at the time.
The half dollar, too, opened to good reviews. The New York Sun, for instance, described it as a "lively" coin, typifying "hustle." And the Boston Herald said it had "a forward look on its face."
The obverse of this coin shows a full-length figure of Liberty striding toward the dawn of a new day, clad in the Stars and Stripes and carrying branches of laurel and oak -- symbols of civil and military glory.
Its reverse portrays an eagle perched on a mountain crag, wings unfolded in a pose suggestive of power. A sapling of mountain pine, symbolic of America, springs from a rift in the rock.
It is generally believed that in fashioning the dime design, Weinman based his Winged Liberty portrait on a bust he had done in 1913 of Elsie Kachel Stevens, wife of well-known poet Wallace Stevens. She and her husband were tenants at the time in a New York City apartment house owned by the sculptor.
In an interview with this author, Robert Weinman said he had no firsthand knowledge of the matter; he was born in 1915, right around the time his father was preparing the designs. He did, however, give the story credence.
"I think there is some truth to that," he said. "Mrs. Stevens was supposed to have been an unusually good-looking woman, and it wouldn't surprise me at all if this had happened. Whether this got her a percentage back on the rent, I don't know.
"The Walking Liberty of the 50-cent piece was, I believe, based on a professional model," Weinman added. "However, she's unknown by name to me."
There are striking similarities between the Walking Liberty and the French coinage figure of the "Sower," fashioned a few years earlier by Louis Oscar Roty. Many have suggested that A.A. Weinman used this as a model -- and they didn't get much of an argument from his son.
"I never heard of that or associated it until somewhere in the last decade," the younger Weinman said, "and it certainly did strike a responsive chord. You know, they seem to be cousins.
"As to whether Dad actually used it, I can't answer. The only thing I can say is that oftentimes, I think, an artist is guiltless in such situations. He may see something in 1897 that strikes his fancy, and all of a sudden it pops up unannounced two decades later. Is it a steal? Has it been cooking in his subconscious? It's hard to say. They're close, certainly, but I do think the Walking Liberty is distinctly American in appearance."
Robert Weinman himself had few reservations about the artistic quality of the coins.
"The Liberty Head on the dime would have benefited, I think, by being a little softer in its treatment of the neck," he observed. "It's a little too bolt-upright -- hence, I think, too masculine. But everybody should make mistakes like that!
"As for the 50-cent piece, I have absolutely no quarrel. I feel that A.A. did handsomely by both sides. For handling all the elements in the design, it can't be beaten, I feel."
Weinman described the reverse of the dime as "a startling instance of the triumph of such an intangible thing as taste."
"It seems to me," he said, "all the elements on that reverse have dignity -- and, if you will, niceness -- whereas on the back of the Roosevelt dime, the torch kind of looks like an ice cream cone. It's just the difference, I think, between a finer talent and a lesser talent."
To the best of his son's knowledge, A.A. Weinman never made a point of setting aside examples of his coins.
"After Dad's death in 1952, we found a couple of verdigrised 50-cent pieces in one of the desk drawers at his studio, but that was about it," he reported. "The only real collection he had was a set of his Liberty dimes, which a neighbor had given him a few years earlier -- possibly for my parents' 50th wedding anniversary in 1948."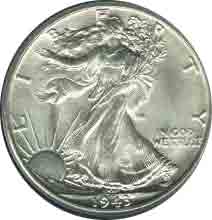 Walking Liberty Half-Dollar