Welcome to this edition of Rare Coin Market Report Auction Highlights, where we highlight three remarkable coins and banknotes that recently sold at auction. These historic rarities are gems in every respect, each with a fascinating story to tell – and every single one a beloved numismatic treasure.
1943-S Copper Lincoln Cent, PCGS MS63
Most coin collectors and even many non-coin collectors are very familiar with this iconic rarity. Copper was necessary for the military efforts in World War II, compelling the Treasury Department to stop the production of bronze one-cent coins and have the United States Mint switch to using zinc-coated steel planchets. However, during the transition, the Philadelphia, Denver, and San Francisco Mints all produced tiny handfuls of these transitional errors. About 20 or so 1943 Copper Lincoln Cents exist from all three mints combined. Six are currently known from the San Francisco Mint, and in November 2020, a 1943-S Copper Lincoln Cent graded PCGS MS63 sold for $504,000.
1795 Flowing Hair Half Dime, PCGS MS67
The 1795 Flowing Hair Half Dime is one of America's oldest coins. While the reported mintage is 78,860 for this issue, the vast majority have been lost or damaged over the years. PCGS CoinFacts estimates approximately 3,000 examples survive in all grades combined. Aside from being highly scarce, there are about 10 different die marriages known for the 1795 Half Dime. The variety highlighted here that recently sold at auction is catalogued as LM-10. This variety can easily be spotted by the large cud above the letters "TY" of "LIBERTY." PCGS reports a sole example of the 1795 Half Dime LM-10 variety that has been assigned the outstanding MS67 grade, with none higher. This example crossed the block at a November 2020 GreatCollections Auction where it fetched a record $201,137.
1918 $500 Fr.1132 Atlanta Federal Reserve Banknote, PCGS AU55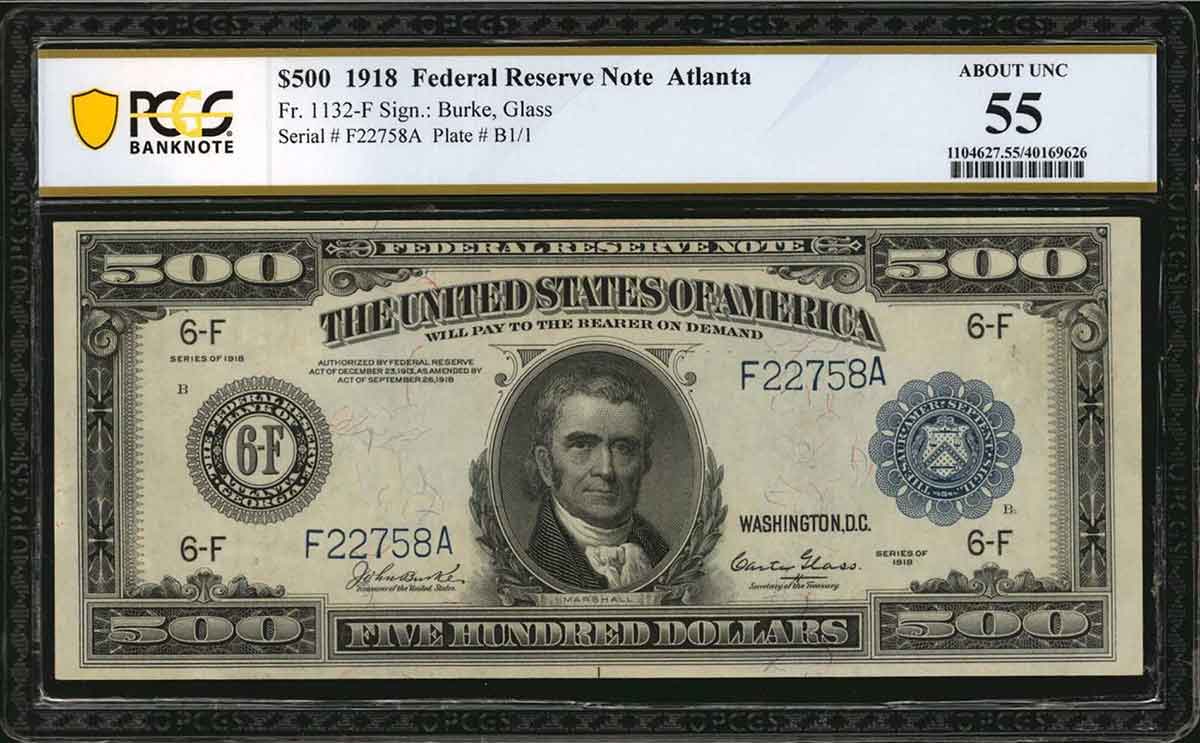 The 1918 $500 Fr.1132 Atlanta Federal Reserve Banknote is estimated to yield about a dozen (perhaps less) examples. Certainly, these Fr.1132 $500 issues are extremely scarce and quite popular among banknote collectors. The biggest problem is that these notes are very expensive in any condition, so most collectors can only be spectators rather than buyers when it comes to one of these examples hitting the auction floor. On the obverse of this $500 banknote is a portrait of Chief Justice John Marshall, with the denomination of "$500" boldly and elegantly displayed in each of the four corners. The reverse carries a scene known as the Discovering of the Mississippi by Spanish Explorer Hernando de Soto in 1541; it depicts de Soto riding on a horse and, in the background, a group of Native Americans and numerous soldiers. Above them and to the right of the design is the Mississippi River. As the 1918 $500 Atlanta Federal Banknotes are unquestionably special because of their rarity, significance, and beauty, when an example becomes available at auction it always commands much collector interest. That was certainly the case in December 2020, when a PCGS AU55 example sold for $50,400 by Stack's Bowers Galleries.