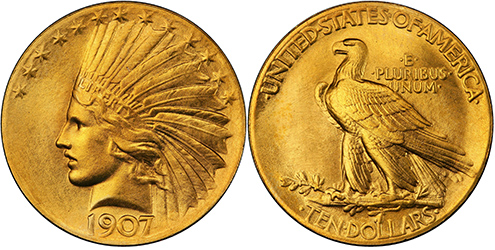 Recent Price Guide Updates
CoinFacts Narrative Update

The 2019-W Frank Church River of No Return Wilderness Quarters were officially released into circulation on November 4, 2019. This is the fifth and final America the Beautiful Quarter design issued in 2019. The coins had a maximum mintage of 2 million. Read more.

PCGS Set Registry Update

High-relief coins have always been sought after by collectors. Take, for example, the PCGS PR68 1907 Saint-Gaudens Ultra High Relief Proof Inverted Edge Lettering Double Eagle pictured above, which brought a cool $2.1+ million at Heritage Auctions. A small excerpt from the auction description notes that, "This coin is the only specimen positively traced to the estate of Augustus Saint-Gaudens and its discovery has increased our knowledge about the striking of these coins more than any other event since the publication of Roger W. Burdette's Renaissance of American Coinage in 2006." The U.S. Mint reintroduced high-relief coinage in 2009 with the MMIX Ultra High Relief gold coin, which was and still is popular with collectors.

Sequential years with different denominations were also produced in high-relief style, and the PCGS Set Registry offers the following set titled Gold Eagles High Relief $10, $20, $100, Circulation, Proof, Special Strikes (2009-2021) for our members to build. Please browse the PCGS Set Registry when you have a chance, and you may find there is a set for almost anyone to build. The PCGS Set Registry continues to add new offerings for almost any member to consider pursuing and provides specialty sets for advanced collectors to build. We are grateful for your continued support, best of luck building your sets, and Happy Collecting, folks!