Abe Kosoff: Dean of Numismatics
Q. David Bowers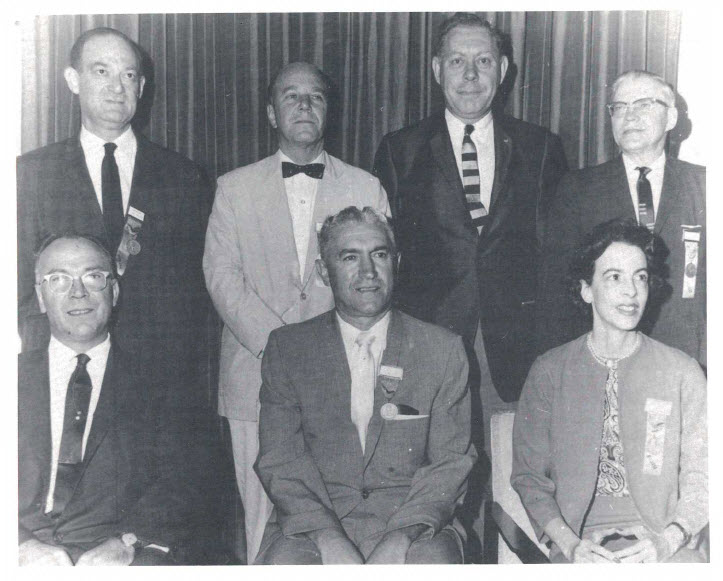 A 1964 photograph of directors and officers of the Professional Numismatists Guild. In the back row, standing, left to right: Lester Merkin, Charles Wormser, Dan Brown, Ben Dreiske; in the front row: Leo Young, Abe Kosoff (president at the time), Catherine Bullowa.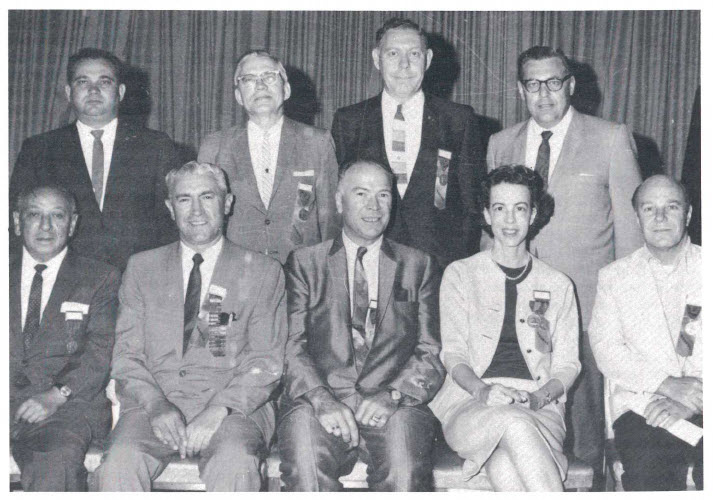 A 1965 photograph showing officers and directors of the Professional Numismatists Guild. Standing (left to right): Fred Samuels, Ben Dreiske, Dan Brown, Dan Messer; Seated: Max Schwartz, Abe Kosoff, Leo Young (president of the PNG at the time), Catherine Bullowa, Charles Wonnser.
"The fact that we number only 65 is in itself condemnation of our policies. None will deny that many fine dealers fear that their applications for membership in the PNG will be blackballed. None will deny that there exists an animosity in a large group of dealers who feel that they cannot join a guild like ours because they are not wanted. Nor will they deny that the blackballing of several applicants during the past few years has created an unfriendly feeling toward the PNG."
Abe Kosoff continued discussing the problem, noting that the Guild had a 100 % record of satisfaction concerning complaints against PNG members. Further, "The point is that we have admitted dealers to our membership, despite our high standards, despite our cautious selectivity, against whom charges for unethical practices have been leveled. I do not say-not any longer-keep these men out of the PNG. No, on the other hand, I say that if these professional numismatists wish to submit to the jurisdiction of the governing body like the PNG, take them in and regulate their activities."
Sol Kaplan dissented, thereby creating a rift between two long-time friends. Abe Kosoff's suggestions were adopted, and in following years the PNG membership multiplied. Finally, Sol Kaplan came around to Abe Kosoff's way of thinking, and the rift was mended.
Under the presidency of A. Kosoff, the PNG staged a special coin show, not in conjunction with any other convention, at the Palmer House, Chicago, Illinois, March 5th through 7th, 1965. Although the facilities were excellent and the show was supported by dealers, relatively few members of the general public attended. Reviews were mixed.
In 1965 coins of all descriptions were being hoarded by the general public. This activity was inspired by coin speculators, it was alleged. The investment track record of Uncirculated rolls had received wide publicity, and countless citizens began to squirrel away rolls and sacks of Lincoln cents, Jefferson nickels, and other items. At the same time, interest in silver metal was increasing and pre-1965 silver-content coins were being purchased by investors and speculators. Fewer and fewer were seen in circulation.
In July 1965, Abe Kosoff proposed that the Treasury Department demonitize the dime quarter, and half dollar issues of silver content from earlier times, stating that they would remain legal tender only until a certain date, such a December 31, 1966, after which they would have no status and would be worth only their meltdown value. "By this time all such coins must have been exchanged for the new coinage using the substitute metal." Abe Kosoff noted.