Silver Dollars & Trade Dollars of the United States - A Complete Encyclopedia
Q. David Bowers
Program Successful
The first Statue of Liberty silver dollar, a Proof 1986-S, was struck in a special ceremony on October 18, 1985, at the San Francisco Mint. Eventually 723,635 Uncirculated 1986-P Statue of Liberty silver dollars were sold, and 6,414,638 1986-S Proofs were distributed, marketing being through direct mail, retail outlets and banks. Public contributions to the restoration project exceeded expectations even before the commemoratives became a reality. Funds raised by coin sales were the icing on the cake. Over $83 million (double the original goal) was raised in coin surcharges for the Statue of Liberty-Ellis Island Foundation. It was the most successful commemorative coin program in the history of the Mint, probably because, as Mint Director Donna Pope has said, "People related to it. People in America feel the Statue of Liberty is theirs. People around the world feel it is theirs also."
Numismatic Information
Collecting 1986 Statue of Liberty Dollars
Today, the 1986 Statue of Liberty silver dollars are readily available in gem Uncirculated and Proof as issued. As of early 1993, they were being bought and sold on the numismatic market for less than the original issue prices.
Without a doubt, the 1986 Statue of Liberty commemorative dollars are among the most interesting in the modern series. Most readers today can remember the gala ceremonies surrounding the rededication of the statue in 1986, Lee Iacocca's well publicized efforts, and the good feelings experienced by just about everyone.
1986 Statue of Liberty: Market Values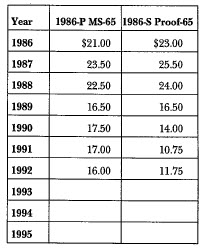 1986 Statue of Liberty: Summary of Characteristics
Commemorating: Centennial of the dedication of the Statue of Liberty in New York Harbor.
Obverse motif: Statue of Liberty and Ellis Island.
Reverse motif: Torch.
Authorization date: July 9, 1985.
Date on coins: 1986.
Dates when coins were actually minted: 1985 and 1986.
Mints used: Philadelphia and Sail Francisco. Maximum quantity authorized: 10,000,000.
Total Quantity minted: Information not released by the Mint.
Quantity melted: Information not released by the Mint.
Net number distributed: 723,635 Uncirculated 1986-P, dollars; 6,414,638, Proof 1986-S dollars.
Issued by: U.S. Mint.
Standard original packaging: Blue box (or cherry wood box as part of a six-coin set).
Official sale prices: Uncirculated 1986-P $20.50 inadvance, later $22; Proof 1986-S $22.50, later $24.00. Also sold as part of other options.
Designer of obverse: John Mercanti.
Designer of reverse: John Mercanti assisted by Matthew Peloso.
Interesting facts: The sales of the 1986Statue of Liberty dollars were very successful. and the quantity was greater than the total of all previous commemorative silver dollars (1900 Lafayette, 1983 and 1984 Olympic Games) combined John Mercanti, designer of the coin, was the grandson of immigrants who had been processed through the Ellis Island immigration facilities.