Silver Dollars & Trade Dollars of the United States - A Complete Encyclopedia
Q. David Bowers
1900 Lafayette Dollar: Market Value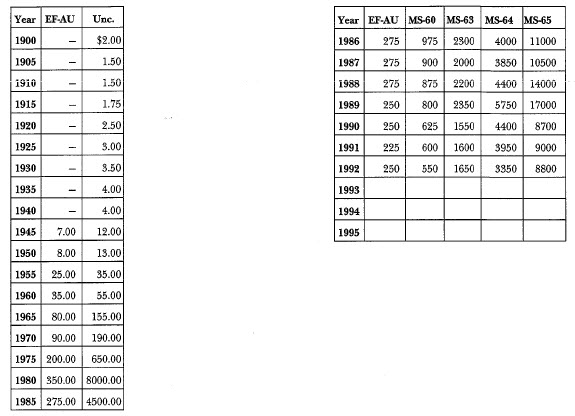 1900 Lafayette: Summary of Characteristics
Business Strikes:
Enabling legislation: Act of March 3, 1899.
Designer of obverse: Charles E. Barber.
Designer of reverse: Charles E. Barber.
Weight and fineness: 412.5 grains; 90% silver and 10% copper.
Dies prepared: Obverse: 4+; Reverse: 5+.
Business strike mintage: 50,026, including 26 for the Assay Commission, struck on December 14, 1899.
Comment on availability, MS-65 or better: Very scarce and desirable at these high grade levels. Only a small proportion exists at these levels.
Comment on availability, MS-64: Moderately scarce, but available without too much searching.
Comment on availability, MS-63: Attractive MS-63 specimens are available in today's marketplace.
Comment on availability, MS-60 to 62: Readily available in the lower Uncirculated grades.
Comment on availability, VF-20 to AU-58: Nearly always available in the circulated grades.
Characteristics of striking: Most are fairly well struck, but sometimes lack "full boot" on the foot of Lafayette on the reverse.
Known hoards of Mint State coins: A hoard of 14,000 unsold pieces was stored in the Treasury Building in Washington, D.C. from 1903 (or earlier) until the mid-1940s, when they were melted.
Proofs:
None minted.
Commentary
The Lafayette silver dollar was the first United States commemorative coin of this denomination.