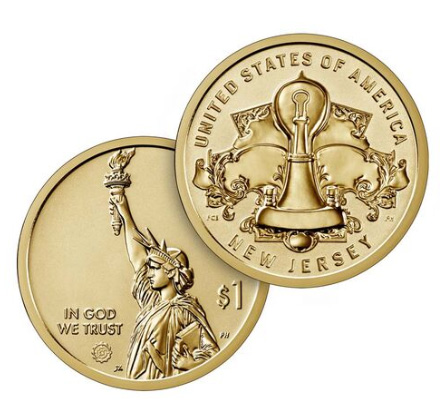 Image courtesy of usmint.gov.
"I didn't fail 1,000 times. The light bulb was an invention with 1,000 steps."
This famous quote by Thomas Edison is not just a figurative quote, but it can also be taken as a literal statement. As Edison is known to have tried over 3,000 light bulbs and tested over 6,000 different plants to determine which material would burn the longest when inventing the light bulb.
On January 07, 2020, the United States Mint honored the innovation of the electric lightbulb, developed by Edison and his research team in 1879. To mark this momentous achievement, the United States Mint issued a special 2019-S American Innovation Reverse Proof New Jersey $1 coin. Each 2019-S New Jersey $1 Innovation Dollar has a limited mintage of 75,000, along with an ordering limit of five per household. Although the coins are dated 2019, the United States Mint issued the $1 2019-S New Jersey Innovation Reverse Proof versions in 2020.
Thomas Alva Edison was born in 1847, in Milan, Ohio. When Edison was young, his teacher didn't think the future inventor was smart enough to attend school. Consequently, Edison's mother, a former teacher herself, pulled Edison out of school and homeschooled him. Edison is credited with attending a public school for a short period of only three months. Unfortunately, Edison faced a terrible struggle as a young boy upon losing most of his hearing. By his teenage years, he had become technically deaf. Still, when he was young Edison loved to read, research, and experiment.
Over the years, Edison was credited with having over 1,000 different patents. The invention of the light bulb is one of his most important creations, if not his most important invention of all.
The production of the lightbulb-emblazoned 2019 Innovation Dollars are excellent for celebrating one of the greatest inventions of all time. The U.S. Mint has offered the Innovation Dollars in different finishes, such as Uncirculated, Proof and the special Reverse Proof versions that have limited mintages. The obverse of the coin features a representation of the Statue of Liberty and bears the inscriptions "IN GOD WE TRUST" and "$1." Meanwhile, the reverse displays an Edison bulb against an ornate background, it also has the inscriptions "UNITED STATES OF AMERICA" and "NEW JERSEY." Menlo Park, New Jersey, is where Thomas Edison created many of his inventions during his career, including the light bulb.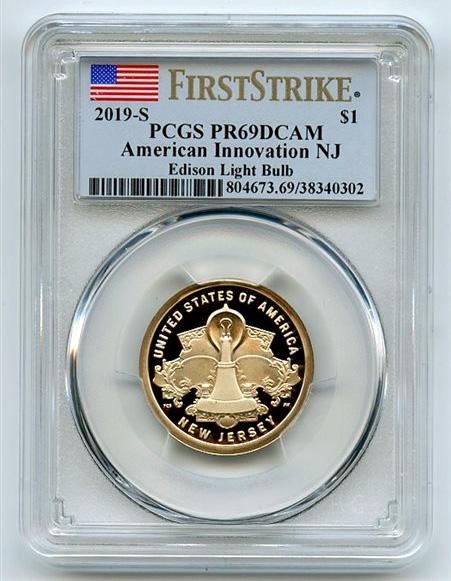 Image courtesy of Collectors.com.
The 2019 New Jersey Innovation Dollars mark the third coin design issued in the American Innovation Dollar Coin Program. The multi-year program is set to honor innovations and innovators from each 50 states, the District of Columbia, the U.S. Virgin Islands and the North Mariana Islands. The program is scheduled to run from 2019 through 2032.
The 2019-S New Jersey Innovation Dollar Reverse Proof is still being sold directly by the United States Mint at a price of $11.50 each. Each coin comes with an informational four-panel package highlighting Thomas Edison and his famous invention of the light bulb.
Many collectors are opting to have their 2019-S New Jersey Innovation Dollars graded by PCGS. These PCGS-graded 2019-S New Jersey Innovation Dollars make perfect update additions to ongoing PCGS Set Registry® programs that include these popular Innovation Dollars.
The following are PCGS Set Registry American Innovation Dollars – Major and Specialty Sets:
For more information on how to submit coins to PCGS for grading or for answers to any questions on how to submit coins to us, please give us a call at 1-800-447-8848 or feel free to send us an email at [email protected]