Many World Record PCGS Prices Achieved,
100% Sell-Through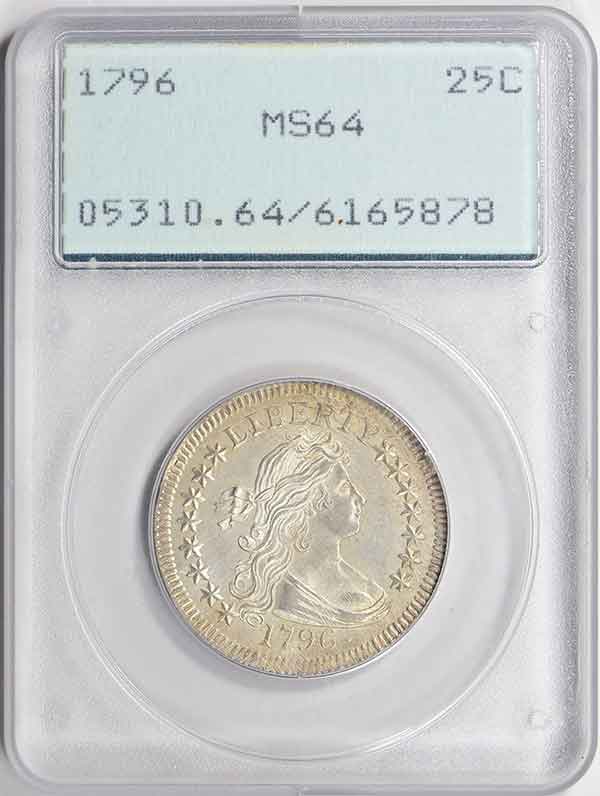 1796 Draped Bust Quarter PCGS MS64 OGH (1st Gen) – Sold for $303,750. Click image to enlarge.
Irvine, Calif. – On Sunday, January 19th, thousands of collectors, dealers and professionals placed bids at GreatCollections, ignoring previous auction records and price guide values, to compete for perhaps the freshest collection of U.S. coins brought to market in over a decade.
The group of coins, almost 100 in total, were part of the "Ultimate Collection", put away by a single collector 25-30 years ago and not unearthed until late 2019. The coins were graded by PCGS in the early days of certifying and encapsulating coins, and several runs of rarities had consecutive submission numbers rarely seen on the market today.
Many all-time world records were set and the majority of the coins sold to collectors including the 1796 Draped Bust Quarter PCGS MS64. This one-year type coin realized $303,750, beating the PCGS Price Guide value of $250,000 by 20%, and almost double the last appearance in the same grade in a public auction, where it realized $164,500 by another firm in 2014.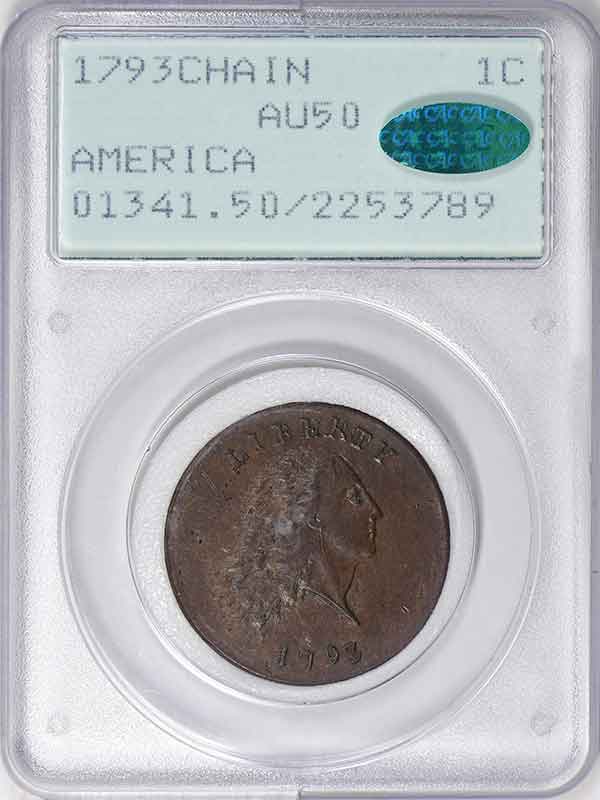 1793 Chain Cent AMERICA PCGS AU50 BN CAC OGH (1st Gen) – Sold for $171,565. Click image to enlarge.
A different collector won the 1793 Chain Cent AMERICA PCGS AU50 CAC, which attracted 65 bids and over 2,300 pageviews before finally selling for $171,562, far above the current PCGS Price Guide value of $92,500.
Another collector won the finest 1905 Barber Quarter graded PCGS MS68 and with CAC approval. After spirited bidding, the coin realized four times the PCGS Price Guide value of $25,000 and sold for $101,251.
A number of coins were won by collectors who surface every 5-10 years to add to their collection. One such example was the 1883 Liberty Quarter Eagle PCGS PR65, which realized $45,562, far above the current PCGS Price Guide value of $29,500. The new owner last purchased a coin in 2012.
Although coins certified by the grading services in the late 1980s and early 1990s regularly appear in auction even today, the "Ultimate Collection" stood out due to the combination of rarity and superb condition of the coins.
By the time the hammer fell on each of the coins auctioned by GreatCollections on January 19th, the sales totaled $3,027,910, with the Ultimate Collection realizing $1.479 million and the property of over 150 other consignors realizing $1.548 million. 100% of the 2,100+ lots sold.
Ian Russell, owner/president of GreatCollections said: "it was our pleasure to offer such an original and fresh group of certified coins in our auctions and it proves the immense demand we have for coins of all price ranges. Many clients flew into our Irvine offices to view this collection, plus we were able to take highlights to several major cities to showcase them. The result was a record number of new bidders and obviously the many record prices set."
Highlight Realizations from the Ultimate Collection: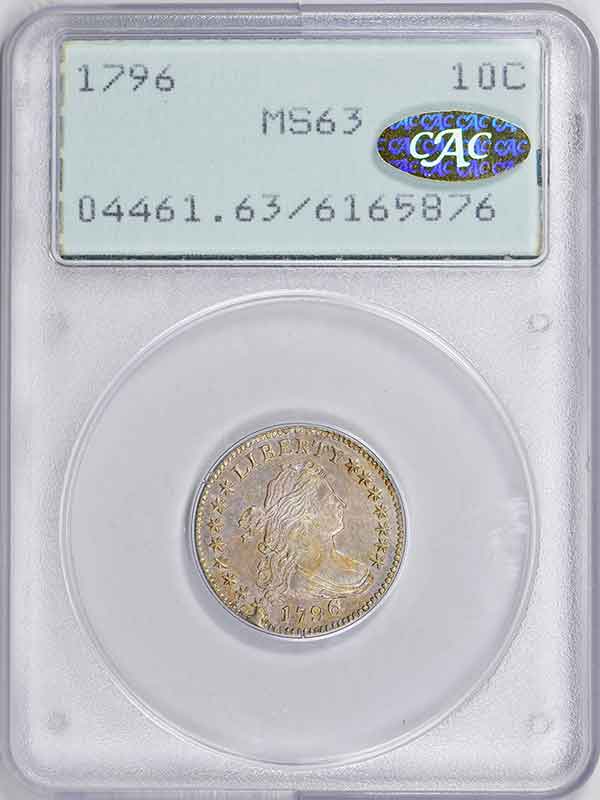 1796 Draped Bust Dime PCGS MS63 (CAC Gold Label) OGH (1st Gen) – Sold for $92,812. Click image to enlarge.
Other Realizations from GreatCollections January 19th Auctions:
GreatCollections is always looking for consignments large and small. To find out more about selling your coins, visit www.greatcollections.com/selling or telephone 1-800-442-6467.
About GreatCollections
GreatCollections is an auction house for certified coins and paper money, as well as coins approved by CAC, handling coin/banknote transactions from start to finish. For sellers, GreatCollections offers professional imaging for each coin/note, cash advances as appropriate, extensive marketing and other individualized services generally not available with other auction houses and websites, freeing the seller to do nothing except collect the proceeds of the sale. Buyers benefit by entrusting a venue whose principals have years of numismatic experience and whose reputations in the industry are impeccable. Ian Russell, owner/president of GreatCollections in a member of the prestigious PNG (#785) and Life Member of the American Numismatic Association, while the company is an authorized submitter to PCGS, CAC and member of the National Auctioneers Association. Calif. Auctioneer Bond #106582267.