The 1936 Bridgeport Centennial Commemorative Half Dollar is notable for many reasons, including its motif of famous American pitchman and circus magnate P.T. Barnum. The visage of Barnum on the obverse and a stylized eagle on the reverse of this popular silver commemorative were designed by Henry Kreis, a noted American sculptor who also crafted the design on the 1935 Connecticut Tercentenary Half Dollar.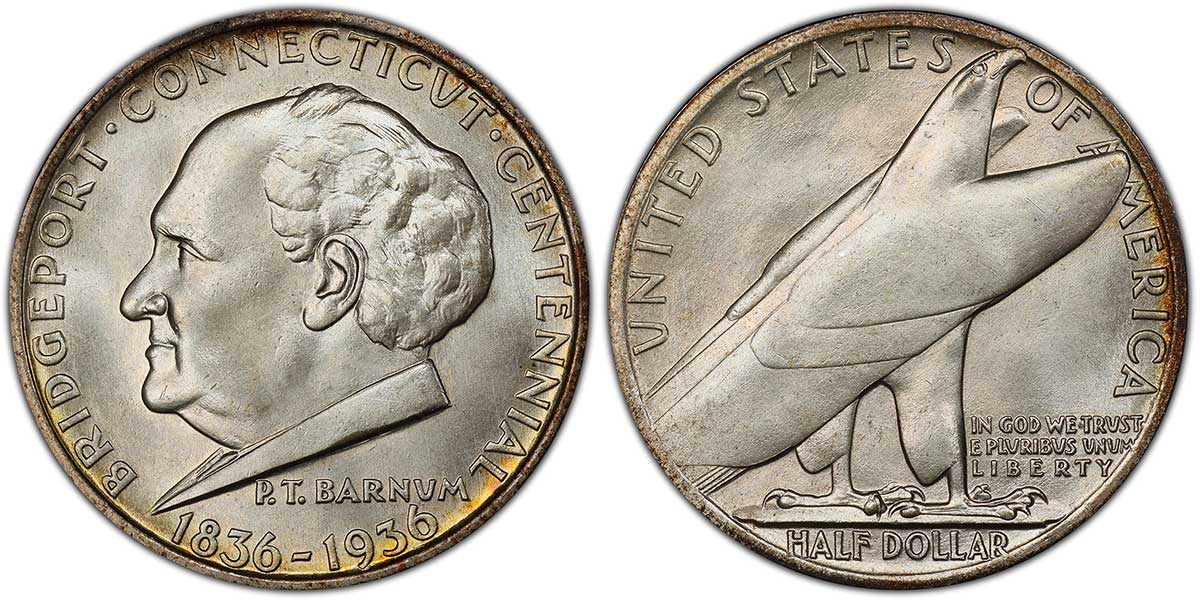 As go most of the designs on the classic commemorative coins struck by the United States Mint between 1892 and 1954, the 1936 Bridgeport Centennial Commemorative Half Dollar contains a great degree of patriotic symbology. Among these artistic features is the reverse eagle, which received a modern treatment in keeping with the Art Deco aesthetic ubiquitous in many public works of the mid-1930s.
While the obverse of the Bridgeport offers a conventional design arrangement, with a traditional side-view profile of Barnum encircled by inscriptions all corralled within the confines of the unadorned rim, the reverse offers something else. It literally pushes boundaries. In a move unique for American coinage, several elements within the reverse of the 1936 Bridgeport Half Dollar overrun the canvas space within the rim. This is evidenced by the tip of the eagle's beak, proudly breaking the rim at the 1 o'clock position, the "M" of the word "UNUM" in the legend near the 4 o'clock spot, the "R" of "DOLLAR" at 5 o'clock, and "H" of "HALF" at 7 o'clock.
The distinctive design helped drum up enough interest in the coin to move 25,015 examples through the channels of distribution. They were sold at $2 apiece with a limit of just five coins per order. Their widespread dispersal resulted in the 1936 Bridgeport half becoming one of the most common of the classic commemoratives, though they are still highly desirable coins. They can be obtained in most any grade up through MS66 and are scarce but approachable in MS67.