Silver Dollars & Trade Dollars of the United States - A Complete Encyclopedia
Q. David Bowers
1989 Congress: Market Values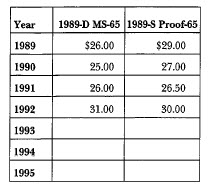 1989 Congress: Summary of Characteristics
Commemorating: Bicentennial of the U.S. Congress operating under the Constitution.
Obverse motif: Statue of Freedom.
Reverse motif: Mace of the House of Representatives.
Authorization date: November 17, 1988. Date on coins: 1989 (also 1789).
Date when coins were actually minted: 1989 and 1990.
Mints used: Denver and San Francisco. Maximum quantity authorized: 3,000,000.
Total quantity minted: Information not released by the Mint.
Quantity melted: Information not released by the Mint.
Net number distributed: 135,203 Uncirculated 1989-D dollars and 762,198 Proof 1989-S dollars.
Issued by: U.S. Mint (Customer Service Center, United States Mint, 10001 Aerospace Road, Lanham, MD 20706).
Standard original packaging: Various options. Official sale prices: Uncirculated 1989-D $23 in advance, later $26; Proof 1989-S $25 in advance, later $29. Also sold as part of other options.
Designer of obverse and reverse: William Woodward, assisted by Chester Y. Martin.
Interesting fact: A few coins were struck at a provisional "mint" which was set up in front of the Capitol in Washington, D.C., during a special ceremony.