Silver Dollars & Trade Dollars of the United States - A Complete Encyclopedia
Q. David Bowers
Sales
As the 1992 Olympic coinage program got under-way, sales of the 1992 Olympic "baseball" silver dollar were leading the program with Proof silver dollar outdistancing the Uncirculated dollars by a more than 2-to-l margin, according to a Coin World article of May 11, 1992.
However, a September 15, 1992 article in Numismatic News commented that 1992 Olympic coin sales were lagging, as the demand for commemoratives dropped, a trend that has been continuing since the 1980s. Figures for total sales of the three-coin issue for the games held recently in Barcelona, Spain, as of August 7, 1992, were about 1.4 million coins; divided among 98)675 gold $5 pieces, 632,070 silver dollars, and 616,300 dad half dollars. This put approximately $8.5 million in surcharges into the coffers of the U.S. Olympic Committee, less than half the 1988 total. Reasons for the descent of sales were given as a declining coin market, a huge drop in coin investment per se, a proliferation of coin programs, and the recession.
Numismatic Information
Interest
The 1992 Olympic Garnes dollar created an unusual (for a modern commemorative) flurry of interest in the collecting community because of the perceived Nolan Ryan connection. Baseball card collecting was all the rage and was enjoying boom times, and some of the aficionados in that field bought commemorative silver dollars as well.
1992 Olympic: Market Values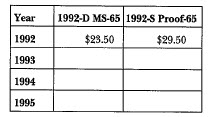 Commemorating: 1992 Summer Olympics in Barcelona, Spain.
Obverse motif: Baseball pitcher (Nolan Ryan),
Reverse motif: Olympic rings with stylized olive branches, stars and stripes, and a bold "USA."
Authorization date: October 3, 1990.
Date on coins: 1992.
Date when coins were actually minted: 1992. Mints used: Denver and San Francisco. Maximum quantity authorized: 4,000,000.
Total quantity minted: Information not revealed by the Mint.
Quantity melted: Information not revealed by the Mint.
Net number distributed: 632,070.
Issued by: U.S. Mint (Customer Service Center, United States Mint, 10001 Aerospace Road, Lanham, MD 20706).
Standard original packaging: Various options.
Official sale prices: Uncirculated-1992-I) pre-issue price $24, later $29; Proof 1992-S pre-issue price $28, later $32.
Designer of Obverse: John R. Deecken. Designer of reverse: Marcel Jovine:
Interesting fact: This commemorative dollar coin now bears the nickname "Nolan Ryan" dollar. It is also the first U.S. coin to have edge lettering since the 1930s.