Silver Dollars & Trade Dollars of the United States - A Complete Encyclopedia
Q. David Bowers
1986 Statue of Liberty $1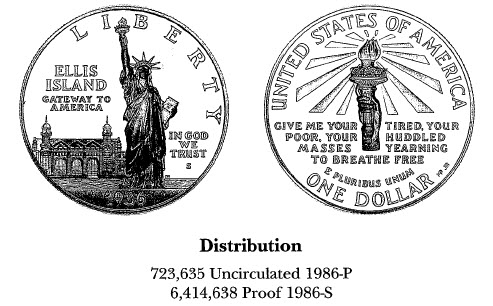 Coinage Context
An Anniversary Commemorated
The 100th anniversary of the dedication of the Statue of Liberty in New York City harbor in 1886 furnished the occasion for the issuance of commemorative coins in 1986. Officially known as Liberty Enlightening the World, the statue was the work of French sculptor Frederic Auguste Bartholdi and had been presented to the United States by the government of France. Since that time it has been America's most visible symbol of freedom.
Conceived by Bartholdi in 1865, the statue was planned to be ready for the 1776-1876 centennial anniversary of United States independence. Only a small part of the work had been completed by then, and Bartholdi exhibited only the hand and torch of Miss Liberty at the 1876 Centennial Exhibition in Philadelphia. This element of the statue stayed in America drawing visitors until its return to France four years later. In 1884 the statue was completed in Paris, after which it was dismantled and shipped to the United States in 214 numbered crates. Erection work commenced on Bedloe's Island in New York Harbor and was completed on October 28, 1886, when the Statue of Liberty was dedicated by President Grover Cleveland. In 1924 it was designated as a national monument. By the early 1980s it was realized that the statue was in serious need of restoration. Beginning in 1982 plans were made to do the necessary work and to restore the vacant buildings on nearby Ellis Island, which had been used to process the immigration of millions of Europeans and others who sailed past Lady Liberty.
Legislation
The 1986 Statue of Liberty silver dollars, also known as Ellis Island silver dollars, were made possible by legislation enacted into law on July 9, 1985, which provided for the coinage of up to 10 million silver coins of the dollar denomination, to assist in fundraising for restoration of the Statue of Liberty and the structures on Ellis Island. President Ronald Reagan appointed Lee A. Iacocca, chairman of the board of the Chrysler Corporation, to head the project.
The Design
The design of John Mercanti, engraver at the Philadelphia Mint, was chosen for the silver dollar. Matthew Peloso, also of the Engraving Department, worked on certain lettering on the reverse utilizing Mercanti's concept.
The obverse depicted the Statue of Liberty in the foreground, with the main building at Ellis Island in the distance to the left, with the inscription ELLIS / ISLAND / GATEWAY TO / AMERICA above. The reverse illustrated a hand holding a torch, taken from the Statue of Liberty, and an excerpt in four lines from Emma Lazarus' poem, The New Colossus:
GIVE ME YOUR TIRED / YOUR POOR, YOUR HUDDLED / MASSES YEARNING / TO BREATHE FREE. Mercanti's original design included a family behind Liberty, and a ship, but it became too crowded. He removed the family, leaving the Statue and Ellis Island.
Purchase Options
Commemorative silver dollars were offered in several purchase options (options 1 and 2 were not relevant to 1986 Statue of Liberty silver dollars):
(3) Two-coin Proof sets contained a 1986-S half dollar and 1986-S silver dollar and were offered at advance discount price for $29, later increased to $31.50. The sale of sets under this option amounted to 3,510,776.
(4) Two-coin Uncirculated sets containing the 1986-D half dollar and the 1986-P silver dollar at an advance subscription price of $25.50, increased on January 1, 1986 to $28. Sales of pairs of Uncirculated coins under this option amounted to 172,033 sets.
(5) Three-coin Proof sets comprised Proof examples of the 1986-S half dollar, 1986-5 silver dollar and 1986-W $5. Advance discount price was $175, this being raised on January 1,1986 to $206.50. The offer was sold out on January 31, 1986. 343,345 sets were distributed.
(6) Three-coin Uncirculated sets included a 1986-D half dollar, 1986-P dollar, and 1986-W $5 and were offered at an advance discount price of $165, raised to $193 later. The total number of sets distributed comprised 49,406.
(7) Six-coin sets contained 1986-S Proof and 1986-D Uncirculated half dollars, 1986-S Proof and 1986-P Uncirculated dollars, and 1986-W Uncirculated and Proof $5 pieces. These were offered at an advance discount price of $375, subsequently raised to $439.50. By January 31, 1986 sets were sold out, by which time 38,983 orders had been received (Walter Breen points out that Coin World, July 29, 1987, page three, gives the alternative quantity of 39,101).
(8) Prestige Proof sets consisted of regular 1986-S Proof sets from the Lincoln cent to the half dollar plus the Proof 1986-S Statue of Liberty half dollar and the Proof 1986-S Statue of Liberty dollar. These were first offered on March 10, 1986 at a price of $48.50. Subsequently, 599,314 sets were sold.
(9) Single 1986-S Proof dollars were first offered at the discount price of $22.50, then later at $24. 1,922,102 were sold this way.
(10) Single 1986-P Uncirculated dollars were first offered at $20.50, raised on January 1, 1986, to $22. Sold through this option were 463,095 coins.