1794 1/2C C-9 High Relief Head, BN (Regular Strike)
Series: Liberty Cap Right Half Cents 1794-1797
PCGS MS66BN
Edge:

Lettered: TWO HUNDRED FOR A DOLLAR
Diameter:

23.50 millimeters
Current Auctions - PCGS Graded
Current Auctions - NGC Graded
For Sale Now at
Collectors Corner - PCGS Graded
For Sale Now at
Collectors Corner - NGC Graded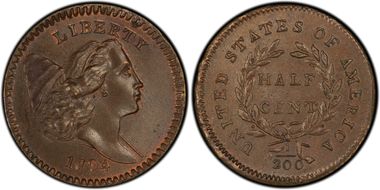 #1 MS66BN PCGS grade

John Freet - John Foreman, sold privately in 1/1982 - Jim McGuigan Collection
#2 MS64BN estimated grade

Richard B. Winsor Collection - S.H. & H. Chapman 12/1895:1002 - George H. Earle, Jr. Collection - Henry Chapman 6/1912:3604 - American Numismatic Rarities 1/2006:11, $80,500 - Madison Collection - Heritage 1/2008:2655, $103,500 - Joseph C. Thomas Collection - Heritage 4/2009:2018, $103,500 - Bowers & Merena 8/2010:1001, $103,500
#3 MS63BN PCGS grade

F. R. Alvord Collection - S. H. Chapman 6/1924:13 - S. H. Chapman - John H. Clapp Collection, sold intact in 1942 - Louis E. Eliasberg, Sr. Collection - Bowers & Merena 5/1996:400, $15,400 - Dr. Hesselgesser Collection - Goldbergs 2/2007:141, $60,375
#4 MS60BN PCGS grade

Jim McGuigan, 1986 Milwaukee ANA Convention - Roger S. Cohen, Jr. Collection - Superior 2/1992:38 - Stack's/Bowers 7/2013:4015, $11,163 - Heritage 8/2015:3919, $15,275 - Heritage 3/2016:4711, $15,275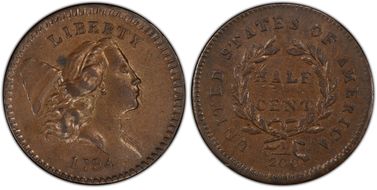 #5 AU55 PCGS grade
#6 AU50 PCGS grade

Heritage 8/2016:3945, $9,400
#7 XF45+ PCGS grade
#8 XF45 PCGS grade

Heritage 12/2010:3148, $7,475
#9 XF40 PCGS grade

ESM Collection
Ron Guth
:
1794 Cohen 9 is one of three die varieties with unusually heavy hair on the obverse. The relief of the hair is medallic and three-dimensional in appearance and is known, simply, as the High Relief Hair subtype. Of the three die varieties, Cohen 9 is the least rare, thus collectors often choose this one for their type sets.
As with most early Half Cents, high-grade Cohen 9's are quite difficult to locate. The finest grade on a 1794 Cohen 9 is MS66BN and the highest (and only) Red-Brown example is the PCGS MS65RB coin from the Missouri Cabinet. That particular coin sold for $402,500 in 2014, so one can only guess what the MS66BN might bring (which is more important -- color or technical grade)?
No full Red examples of this variety are known.