1918/7-D 5C (Regular Strike)
Series: Buffalo Five Cents 1913-1938
PCGS MS65+
Designer:

James Earle Fraser
Diameter:

21.20 millimeters
Metal:

75% Copper, 25% Nickel
Current Auctions - PCGS Graded
Current Auctions - NGC Graded
For Sale Now at
Collectors Corner - PCGS Graded
For Sale Now at
Collectors Corner - NGC Graded
Rarity and Survival Estimates

Learn More
Survival Estimate

All Grades
7,000
60 or Better
100
65 or Better
6
Numismatic Rarity

All Grades
R-3.6
60 or Better
R-8.0
65 or Better
R-9.7
#1 MS66 PCGS grade
#2 MS65+ PCGS grade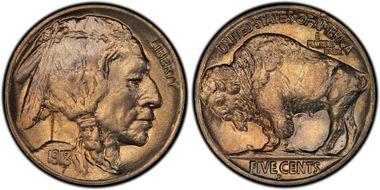 #3 MS65 PCGS grade

Carl Womack PCGS Registry Set of Buffalo Nickels - Bowers & Merena 9/2004:384, $287,500 - Richard Hennessy Collection - Bowers & Merena 8/2006, $350,750 - Joseph C. Thomas Collection - Heritage 4/2009:2136, $253,000 - Heritage 1/2010:2458, $264,500 - Stack's/Bowers 11/2012:3057, $195,500 - Heritage 8/2013:5535, $258,500
#3 MS65 PCGS grade
#5 MS64+ PCGS grade

Heritage 6/2011:3237, $161,000
#5 MS64+ PCGS grade
#7 MS64 PCGS grade
#7 MS64 PCGS grade
#7 MS64 PCGS grade

Heritage 8/2011:7054, $74,750
#7 MS64 PCGS grade
David Hall
:
For the past 50 years or so, the 1918/7-D Buffalo nickel has been justifiably recognized as one of the most important 20th Century numismatic rarities. This bold overdate is rare in circulated grades, very rare in Mint State and almost impossible to find in Gem condition. The 1918/7-D is certainly the rarest coin in the Buffalo nickel series (excluding some more recently discovered varieties) and it is one of the most important coins of the 20th Century. This issue is usually fairly well struck. The rare Mint State coin usually has decent luster. Note that all genuine 1918/7-D nickels have a mintmark that tilts to the left.
P. Scott Rubin: The 1918 over 7 Denver Minted Nickel is a rare coin that was not discovered by numismatists until 1930. In March of that year Paul M. Lange of Rochester, New York offered as the last lot of his The Hobby Shop's 14th auction the first offering of this rarity I can find. Following is how he described the coin:

"WHO KNOWS ABOUT THIS?

545. 1918 over 17 D mint nickle!!!(sic.) Mint
The seven shows on top as well as the lower rounded part of it. I have looked over 8000 other pieces but have not found another.
The mint as well as many collectors of whom I inquired do not know anything about it – never saw one!"

While Lange did not offer another of these coins, Syracuse, New York Dealer Barney Bluestone did offer Mint State examples in four of his first 15 auctions starting with his first auction in October, 1931; the last appeared in September, 1934. If these were all different coins it might indicate that the first group of this rarity showed up in small numbers in upstate New York.

I am only aware of one other example, another Mint State specimen, being offered at auction in the 1930's it was offered in 1937 by dealer M.H. Bolender of Orangeville, IL. After this Mint State examples become few and far between. Most of the specimens do not start showing up at auctions until the 1940's and these are almost always lower than Mint State.

Currently Mint State examples of the 1918/7-D Nickel are very rare. In Gem condition (MS65 and better), this is an extremely rare coin.

For years the 1918/7-D Nickel was considered the rarest and the most valuable of the Buffalo series however in recent years the 1916 Doubled Die Obverse has taken it's place. Remember it was some thirteen years after its issue before the 1918/7-D became known and collected, while the 1916 was not actively collected or known until some fifty years or more after its issue.