1814/3 50C Overton 101a (Regular Strike)
Series: Capped Bust Half Dollars 1807-1839
PCGS MS65
Edge:

Lettered: FIFTY CENTS OR HALF A DOLLAR
Diameter:

32.50 millimeters
Metal:

89.2% Silver, 10.8% Copper
Current Auctions - PCGS Graded
Current Auctions - NGC Graded
For Sale Now at
Collectors Corner - PCGS Graded
For Sale Now at
Collectors Corner - NGC Graded
#1 MS65 estimated grade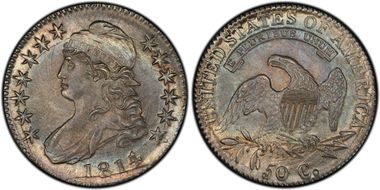 #2 MS65 PCGS grade grade

Sheridan Downey MBS #36 8/2012:17, $26,015 - Dr. Charles Link Collection
#2 MS65 estimated grade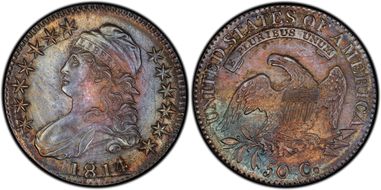 #4 MS64+ PCGS grade

Alpine Numismatics (David Olmstead) fixed price list of 5/2008 - Heritage 7/2008:1677 - Richard Burdick (as agent?) - D. Brent Pogue Collection
#5 MS64 estimated grade
#6 MS63 PCGS grade

Stewart P. Witham Collection - Dr. Charles Link Collection
Ron Guth
:
The first die variety of 1814 Half Dollars is presumed to be Overton-101a since it is a left-over 1813 die converted to 1814. As a result, traces of a 3 can be seen beneath the 4 on most specimens, though it may be difficult to discern on low-grade examples.
This die suffered mightily during its life. Early states show clashmarks from where the two dies hit each other without a planchet between them. Either the clashing, weakness in the die, or both resulted in die cracks at the base of the date, through some or many of the stars, and from the reverse edge to the left wingtip -- these got progressively worse as the die continued in priduction -- until it simply gave out or was retired from service.
1814 O-101a is the advanced state of the dies and this appears to be the most common version. Paisley called it Rarity 2 (Common) in the Tenth Edition of Overton -- this applies only to circulated examples, as Mint State 1814 O-101a's are quite rare. The best example appears to be the PCGS MS65 from the Link Collection.