1805 H10C (Regular Strike)
Series: Draped Bust Half Dimes 1796-1805
PCGS MS64
Diameter:

16.50 millimeters
Metal:

89.2% Silver, 10.8% Copper
Current Auctions - PCGS Graded
Current Auctions - NGC Graded
For Sale Now at
Collectors Corner - PCGS Graded
For Sale Now at
Collectors Corner - NGC Graded
Rarity and Survival Estimates

Learn More
Survival Estimate

All Grades
300
60 or Better
1
65 or Better
Numismatic Rarity

All Grades
R-6.4
60 or Better
R-10.0
65 or Better
R-10.1
#1 MS64 estimated grade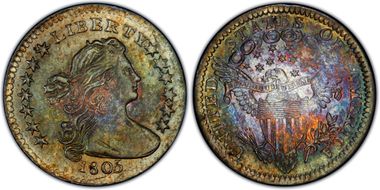 #2 AU58 PCGS grade

Heritage 1/2007:846, $46,000 - Heritage 10/2009:297, not sold - Heritage 2/2010:958, $32,200 - Stack's/Bowers 8/2015:10049, $35,250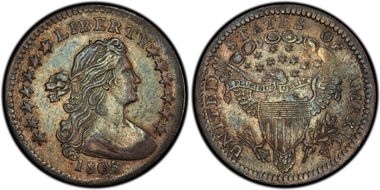 #2 AU58 PCGS grade

Bob R. Simpson Collection
#2 AU58 PCGS grade

Joseph O'Connor, sold privately in 8/2004 - Eugene H. Gardner Collection - Heritage 5/2015:98156, $47,000
#2 AU58 PCGS grade
#6 AU55+ PCGS grade
#7 AU55 PCGS grade

Stack's 11/2008:3294, $40,250 - D. Brent Pogue Collection - Stack's/Bowers/Sotheby's 5/2015:1016, $30,550
#7 AU55 PCGS grade
#9 AU53 PCGS grade

David Bullowa 5/1952:1021, $88 - John Jay Pittman - Akers 10/1997:430, $14,300 - Heritage 1/2012:3108, not sold
#9 AU53 estimated grade
Ron Guth
:
The 1805 Half Dime has the second lowest mintage of the Draped Bust, Heraldic Eagle Reverse type, making it a very difficult coin to locate in any grade. Nonetheless, the Condition Census consists almost entirely of About Uncirculated examples, with the exception of one Mint State piece - a lovely, high-grade example estimated by PCGS to grade MS64.
Like most examples of this type, the 1805 Half Dime is usually weak at the tip of the bust and in the corresponding area on the reverse of the coin (upper right). Adjustment marks are rarely seen.
Only one die marriage is known for this year (LM-1).