1814 10C STATESOF (Regular Strike)
Series: Capped Bust Dimes 1809-1837
PCGS MS64
Diameter:

19.00 millimeters
Metal:

89.2% Silver, 10.8% Copper
Current Auctions - PCGS Graded
Current Auctions - NGC Graded
For Sale Now at
Collectors Corner - PCGS Graded
For Sale Now at
Collectors Corner - NGC Graded
Rarity and Survival Estimates

Learn More
Survival Estimate

All Grades
350
60 or Better
5
65 or Better
Numismatic Rarity

All Grades
R-6.3
60 or Better
R-9.7
65 or Better
R-10.1
#1 MS64 estimated grade

Stack's/Bowers 8/2004:441, $8,050
#1 MS64 estimated grade

American Numismatic Rarities 12/2004:516, $9,200 - Stack's/Bowers 8/2005:380, $10,063
#1 MS64 estimated grade

Heritage 3/2009:793, $9,200 - Heritage 7/2009:332, $10,350 - Eugene H. Gardner Collection - Heritage 5/2015:98211, $32,900
#1 MS64 estimated grade

Allen Lovejoy Collection - Stack's 10/1990:37 - Stack's 10/2005:526, $6,900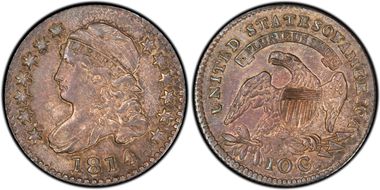 #5 MS62 PCGS grade
#6 MS61 estimated grade
#6 MS61 estimated grade
#8 AU58 PCGS grade
#8 AU58 PCGS grade
#10 AU55 PCGS grade
Ron Guth
:
The 1814 STATESOFAMERICA Dime is an interesting variety caused when the engraver placed the word UNITED too high on the reverse die. This forced a shifting of the word STATES and OF to the right, effectively reducing the spacing between these words, and making STATES OF AMERICA appear as a single word. This mistake occurred on only one die of 1814 (JR-5). Apparently, the die survived its press run in 1814, as it was set aside and reused again in 1820, in a cost- and time-saving move, on the JR-1 variety. Thus, in a single stroke, the engraver created inadvertently, two interesting, arms-length varieties for collectors to pursue. Fortunately, the 1814 JR-5 variety is common enough that it does not command much of a premium over the type versions of this date.
Very few Mint State varieties exist of the 1814 STATESOFAMERICA Dime. The best appear to be three to four MS-65 examples certified by NGC. The finest example certified by PCGS is a single MS62.
Fully struck examples seem to be rare. Usually, this variety shows weakness on the highest points of the hair at Liberty's forehead and temple, and often the 6th, 7th, and 10th stars are flat. The reverse often shows weakness at the base of the shield and on the talons of the eagle's right foot (viewer's left).