1822 10C (Regular Strike)
Series: Capped Bust Dimes 1809-1837
PCGS MS66
Diameter:

19.00 millimeters
Metal:

89.2% Silver, 10.8% Copper
Current Auctions - PCGS Graded
Current Auctions - NGC Graded
For Sale Now at
Collectors Corner - PCGS Graded
For Sale Now at
Collectors Corner - NGC Graded
Rarity and Survival Estimates

Learn More
Survival Estimate

All Grades
200
60 or Better
12
65 or Better
1
Numismatic Rarity

All Grades
R-7.0
60 or Better
R-9.5
65 or Better
R-10.0
Relative Rarity By Type

All Specs in this Type
All Grades
4 / 17 TIE
60 or Better
3 / 17 TIE
65 or Better
1 / 17 TIE
Relative Rarity By Series

All Specs in this Series
All Grades
6 / 35 TIE
60 or Better
5 / 35 TIE
65 or Better
1 / 35 TIE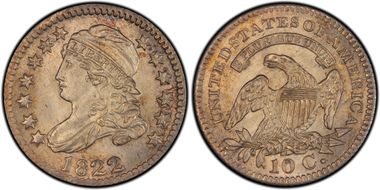 #1 MS66 PCGS grade

William Forrester Dunham Collection - B. Max Mehl 6/1941:144, $58 - Milton A. Holmes Collection - Stack's 10/1960:2694 - Northern Bay Collection - Stack's 3/2006:4173, $149,500 - D. Brent Pogue Collection, Part III - Stack's/Bowers & Sotheby's 2/2016:3023, $129,250 - Tom Bender Collection (PCGS Set Registry)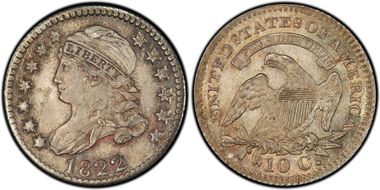 #2 MS65 PCGS grade

Heritage 8/2014:5562, $76,375 - Dr. Charles Link Collection
#2 MS65 estimated grade

Heritage 1/2007:864, not sold - Heritage 10/2012:3889, $79,313 - Heritage 2/2013:3756, $70,500 - Heritage 4/2018:4230, $52,800
#5 MS65 estimated grade

Waldo E. "Pat" Bolen, Jr. Collection - Stack's/RARCOA/Akers 11/1995:2032, $4,840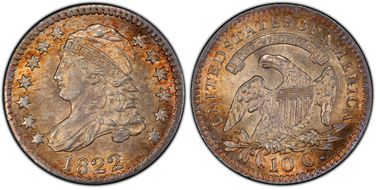 #5 MS64 PCGS grade

Stack's/Bowers 2/2015:1411, not sold - Heritage 8/2015:3991, $30,550 - Stack's/Bowers 8/2016:3069, not sold - D.L. Hansen Collection
#5 MS64 estimated grade

American Numismatic Rarities 8/2006:297, not sold
#7 MS63 PCGS grade
#7 MS63 PCGS grade
#7 MS63 PCGS grade
#7 MS63 estimated grade
Ron Guth
:
The 1822 Dime is a very popular date because of its small mintage. However, this date is even rarer than its small mintage figure suggests because other dates (such as 1809 and 1811) have smaller mintages, yet collectors do not consider those dates as valuable as the 1822. A quick peek into the PCGS Population Report shows that PCGS has certified fewer 1822 Dimes than any other date in the series. In Mint State, no other Capped Bust Dime date is as rare as the 1822.
Only one die variety (JR-1) comprises the entire Dime output of 1822.
As already stated, Mint State 1822 Dimes are very rare, though they cover a range from MS62 to MS66. The best example is the PCGS MS66 from the D. Brent Pogue Collection.