1837 10C Capped Bust (Regular Strike)
Series: Capped Bust Dimes 1809-1837
PCGS MS66
Diameter:

18.50 millimeters
Metal:

89.2% Silver, 10.8% Copper
Current Auctions - PCGS Graded
Current Auctions - NGC Graded
For Sale Now at
Collectors Corner - PCGS Graded
For Sale Now at
Collectors Corner - NGC Graded
Rarity and Survival Estimates

Learn More
Survival Estimate

All Grades
800
60 or Better
100
65 or Better
10
Numismatic Rarity

All Grades
R-5.4
60 or Better
R-8.0
65 or Better
R-9.5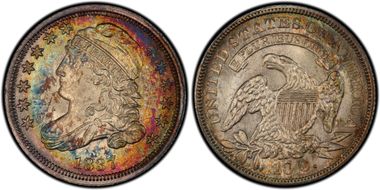 #1 MS66 PCGS grade

"Colonel" E.H.R. Green Collection - Partnership of Eric P. Newman & Burdette G. Johnson (St. Louis Stamp & Coin Co.) - Eric P. Newman, who paid $2 - Eric P. Newman Numismatic Education Society - Heritage 11/2013:33319, $30,550 - Bob R. Simpson Collection
#1 MS66 PCGS grade
#1 MS66 PCGS grade
#1 MS66 PCGS grade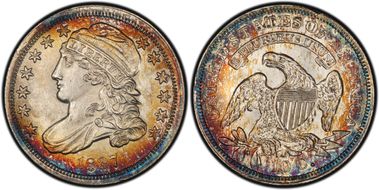 #5 MS65 PCGS grade

Larry Hanks, sold privately in 3/2010 - D. Brent Pogue Collection - Stack's/Bowers & Sotheby's 2/2016:3046, $11,750
#5 MS65 PCGS grade

Heritage 1/2008:951, $6,325 - Legend Numismatics, sold privately in 1/2008 - Eugene H. Gardner Collection - Heritage 10/2014:98236, $21,150
#5 MS65 PCGS grade
#5 MS65 PCGS grade
#5 MS65 PCGS grade
#5 MS65 PCGS grade
Ron Guth
:
1837 was a transitional year in which the new Seated Liberty design replaced the old Capped Bust design. Normally, such design changes prompted collectors to put away extra examples of the last year of issue, but there were very few collectors in America in 1837, thus there is not an inflated supply of 1837 Capped Bust Dimes. However, the smaller mintage of the 1837 Capped Bust Dime (the lowest of the Small Diameter Dimes) and the fact that it commands hardly any price premium at all, makes this a popular date with collectors and a good value for the type collector.
Mint State examples of the 1837 Capped Bust Dime are scarce, but not rare. MS62 to MS64 examples are the most available. Gem examples are rare, and none are known above MS66.
There are four individual die varieties for this year, three of which have Block 8's in the date, and a fourth which has a Fancy 8 in the date. The Fancy 8 variety is very common and the Block 8's range from common to very scarce.