1901-S 25C (Regular Strike)
Series: Barber Quarters 1892-1916
PCGS MS68+
Designer:

Charles E. Barber
Diameter:

24.30 millimeters
Metal:

90% Silver, 10% Copper
Current Auctions - PCGS Graded
Current Auctions - NGC Graded
For Sale Now at
Collectors Corner - PCGS Graded
For Sale Now at
Collectors Corner - NGC Graded
Rarity and Survival Estimates

Learn More
Survival Estimate

All Grades
2,000
60 or Better
80
65 or Better
25
Numismatic Rarity

All Grades
R-4.6
60 or Better
R-8.2
65 or Better
R-9.0
Relative Rarity By Type

All Specs in this Type
All Grades
1 / 74 TIE
60 or Better
1 / 74 TIE
65 or Better
5 / 74 TIE
Relative Rarity By Series

All Specs in this Series
All Grades
1 / 74 TIE
60 or Better
1 / 74 TIE
65 or Better
5 / 74 TIE
#1 MS68+ PCGS grade

Bowers & Merena 2/2010:737, $327,750
#2 MS67+ PCGS grade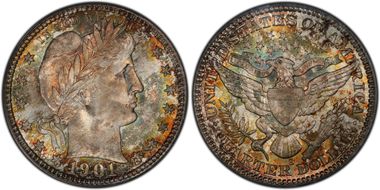 #3 MS67 PCGS grade

James A. Stack Collection - Stack's 3/1975:206 - 1976 Paramount Rare Coin Review - Larry Whitlow, sold privately in 4/2001 - Eugene H. Gardner Collection - Heritage 6/2014:30428, $258,500
#3 MS67 PCGS grade
#3 MS67 estimated grade

Superior 5/1990:3701, $550,000
#6 MS66 PCGS grade
#6 MS66 PCGS grade
#6 MS66 PCGS grade
#6 MS66 estimated grade

American Numismatic Rarities 8/2006:$103,500
#6 MS66 estimated grade
David Hall
:
The 1901-S Barber quarter is, in my opinion, the rarest regular issue (non-variety) silver coin of the 20th century. The original mintage of 72,664 is very low for the era. For example, the mintage of the 1901 was 8,892,000, the 1901-O was 1,612,000, and the 1902-S was 1,524,612. And the 1901-S was issued at a time when collecting branch mints was not the general practice. Most collectors at that time just sought one of each date, regardless of mint. Collecting by date and mint mark didn't start to get popular until about ten years later.
The majority of 1901-S quarter surviving today are very low grade with the typical specimen being an AG3 or GD4. Higher grade specimens are rare and mint state specimens are very rare. There are a small handful of Gem MS65 or better specimens, I would estimate the number to be between 10 and 20.
Jaime Hernandez: The 1901-S Barber Quarter is the key coin to the entire regular strike Barber coinage. In contains one of the lowest mintages for the Barber coin series. Even in the lowest grades, it commands thousands of dollars, primarily because of its rarity.

In 1994, a 1901-S Barber Quarter in high Uncirculated grades was discovered hidden in a Schoolhouse cornerstone in Reno, Nevada. The coin was later graded by PCGS as MS65. This example was later consigned to the Stacks Auction Firm.

On March 04, 2010, the finest 1901-S Barber Quarter graded PCGS MS68 (imaged above), sold to David Lawrence Rare Coins at an auction conducted by Bowers and Merena. It is very possible that the finest known 1901-S Barber Quarter was purchased directly from the U.S. Mint in the early 1900's, by some prominent collector who managed to preserve it really well, and for a very long time.

This would explain why it exists in such high condition. In fact, in the 1800's and early 1900's, there were several collectors who had the capability to order and purchase rare coins directly from the U.S. Mint. One of the most prominent collectors was John M. Clapp, an oilman from Pennsylvania. Clapp was well known for acquiring great rarities by using this method.