1845 $1 (Regular Strike)
Series: Liberty Seated Dollars 1840-1873
PCGS MS64
Designer:

Christian Gobrecht
Diameter:

38.10 millimeters
Metal:

90% Silver, 10% Copper
Current Auctions - PCGS Graded
Current Auctions - NGC Graded
For Sale Now at
Collectors Corner - PCGS Graded
For Sale Now at
Collectors Corner - NGC Graded
Rarity and Survival Estimates

Learn More
Survival Estimate

All Grades
1,800
60 or Better
25
65 or Better
Numismatic Rarity

All Grades
R-4.6
60 or Better
R-9.0
65 or Better
R-10.1
Relative Rarity By Type

All Specs in this Type
All Grades
19 / 30 TIE
60 or Better
2 / 30 TIE
65 or Better
1 / 30
#1 MS64 PCGS grade

Thomas L. Elder, circa 1908 - Albert Fairchild Holden Collection - Bowers & Merena 11/1988:3785, $7,700 - Norweb Collection - Legend Collection of Mint State Seated Liberty Dollars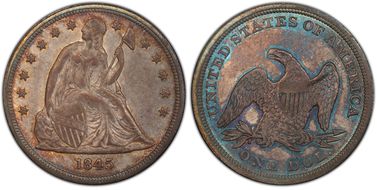 #2 MS63 PCGS grade

Henry Blair Collection - Charles Steigerwalt 10/1896:??? - J.M. Clapp Collection - John H. Clapp Collection, sold intact in 1942 - Louis E. Eliasberg, Sr. Collection - Bowers & Merena 4/1997:2210, $19,800 - Bowers & Merena 7/2005:1040, $23,000 - Legend Numismatics, sold privately in 8/2005 - Eugene H. Gardner Collection - Heritage 5/2015:98562, $31,725
#2 MS63 PCGS grade

Stack's/Bowers 11/2016:2106, not sold
#2 MS63 PCGS grade
#2 MS63 estimated grade
#6 MS62 PCGS grade
#6 MS62 PCGS grade
#6 MS62 PCGS grade
#6 MS62 PCGS grade
#6 MS62 PCGS grade
Q. David Bowers: The following narrative, with minor editing, is from my "Silver Dollars & Trade Dollars of the United States: A Complete Encyclopedia" (Wolfeboro, NH: Bowers and Merena Galleries, Inc., 1993).

Coinage Context

Repeat performance: For silver dollars, the year 1845 was a replay of 1844. Only a few thousand more were made. The lack of silver bullion continued to be a problem. Only two deliveries of silver dollars were made during the year. Indeed, United States silver coins of all denominations were relatively scarce on the American scene, despite generous mintages of lower denomination coins since the 1830s. When encountered, the typical silver piece was apt to be a Spanish-American (particularly Mexican) coin. An accounting of the coins possessed by the Massachusetts Bank in Boston in 1845 showed "that there was very little silver in the hands of the cashier and teller and that the gold was largely English, with French and American trailing far behind." (The Massachusetts First National Bank of Boston, 1784-1934, by N.S.B. Gras, p. 118.)

During the era, vast quantities of American silver coins were exported (see under Additional Information below). Although the exportation of Liberty Seated dollars is not specifically mentioned in Treasury reports, it seems logical that this, the largest silver denomination, would have been an ideal candidate for such use.

Numismatic Information

Circulated grades: Like the 1844, the enticingly low mintage of the 1845, just 24,500 pieces, may have been a reason more were saved than the low production figure would seem to indicate. Examples in circulated grades have always been on the numismatic market and are somewhat more available than those dated 1844.

Mint State grades: In Mint State the 1845 is the rarest of all Liberty Seated dollars of the 1840s and may well be the rarest Philadelphia Mint Liberty Seated dollar, period (this comment includes the famous 1851 and 1852). Mint State 1845 dollars are so elusive that most advanced collectors have never seen an example, let alone owned one. I graded the remarkable Norweb Collection coin as MS-63 (later graded MS-64 by NGC).

In 1982, Bruce Amspacher stated that he had been told of a "virtual gem" coin, but "I've never seen a coin that I thought was close." (Article, "Liberty Seated Dollars," in the Monthly Summary, Coin Dealer Newsletter, July-August, 1982.)

However, in John Kroon's study, "Availability of Liberty Seated Dollars by Grade," published in The Gobrecht Journal in 1984, for which Mr. Kroon studied fixed price lists and mail bid sales in Coin World for a one-year period July 14, 1982 to July 6, 1983, is the remarkable total of 15 listings for Mint State 1845 dollars (compared to 16 of 1859-O, 35 of 1860-O, etc.). Either a mini-hoard of 1845 Mint State dollars came on the market during that period, and/or some listings represented coins that were not Mint State (this was before the encapsulation of coins and the implementation of stricter grading interpretations), and/or some listings were repetitions of the same coin(s) listed earlier. The report is clearly anomalous, for obviously Mint State 1845 dollars are not nearly as common as Mint State 1859-O dollars nor only half as common as 1860-O dollars. (I do not take these 15 coins into consideration in my estimate of rarity under Summary of Characteristics below.)
Varieties

Circulation strikes:

1-3. Normal Date: Breen-5433. Obverse: At least three obverse varieties of circulation strikes are known, one of which shows repunching on the third digit.

Circulation strike mintage: 24,500; Delivery figures by month: May: 1,000; August: 23,500.

Characteristics of striking: Usually well struck, but there are exceptions.

Known hoards of Mint State coins: None

Commentary:

The 1845 is exceedingly rare in Mint State.

Additional Information

Coins as a Commodity

The Annual Report of the United States Treasury, 1845, stated that in 1845 coins of the United States amounting to $844,446 were exported as were foreign coins to the amount of $7,762,049. Imported coins amounted to $3,962,864.

Further: "Specie is, in a commercial sense, an article of merchandise, bought and sold at every commercial point, and entering largely into the channels of foreign trade. It is almost as much an article of trade as a barrel of port: with this difference, the former has a value approaching a fixed value while the latter has a variable value. Specie may be considered in Europe and America as an article of merchandise, forming one of the items of an ordinary price current: ever variable in value, commercially and legally, its value ascertained by the same standard as a barrel of flour, viz. Its weight-worth more at one point than another, but finally, it is a basis of wealth, the measure of value of all property, its exportation lessening our real wealth; and its importation (and it can be imported only upon two grounds, 1st, as the adjusting weight in the balance of trade or 2dly, as capital, for investment), adding to our actual national wealth."