1865 $1 (Regular Strike)
Series: Liberty Seated Dollars 1840-1873
PCGS MS65
Designer:

Christian Gobrecht
Diameter:

38.10 millimeters
Metal:

90% Silver, 10% Copper
Current Auctions - PCGS Graded
Current Auctions - NGC Graded
For Sale Now at
Collectors Corner - PCGS Graded
For Sale Now at
Collectors Corner - NGC Graded
Rarity and Survival Estimates

Learn More
Survival Estimate

All Grades
1,200
60 or Better
55
65 or Better
1
Numismatic Rarity

All Grades
R-4.9
60 or Better
R-8.4
65 or Better
R-10.0
Relative Rarity By Type

All Specs in this Type
All Grades
5 / 30 TIE
60 or Better
13 / 30 TIE
65 or Better
1 / 30 TIE
Relative Rarity By Series

All Specs in this Series
All Grades
12 / 45 TIE
60 or Better
20 / 45 TIE
65 or Better
1 / 45 TIE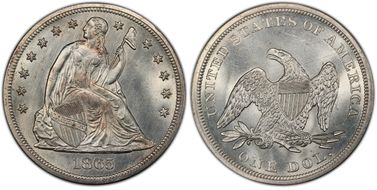 #1 MS65 PCGS grade

L.K. Rudolf Collection - Stack's 5/2003:2127, $20,700 - Legend Collection - D.L. Hansen Collection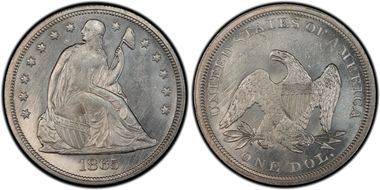 #2 MS64 PCGS grade

Stack's/Bowers 8/2015:10138, $8,225
#2 MS64 PCGS grade

Franklinton Collection - Stack's 1/2008:625, $21,850 - Bill Nagle, sold privately in 2/2008 - Eugene H. Gardner Collection, Part I - Heritage 6/2014:30603, $25,850 - MW12 Collection (PCGS Set Registry)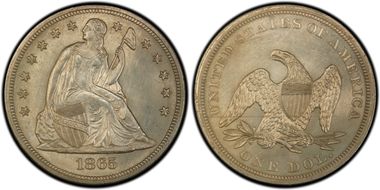 #2 MS64 PCGS grade
#2 MS64 PCGS grade
#2 MS64 PCGS grade
#2 MS64 PCGS grade
#2 MS64 PCGS grade
#2 MS64 PCGS grade
#2 MS64 PCGS grade
Q. David Bowers: The following narrative, with minor editing, is from my "Silver Dollars & Trade Dollars of the United States: A Complete Encyclopedia" (Wolfeboro, NH: Bowers and Merena Galleries, Inc., 1993).

Coinage Context

Distribution: In 1865, the final year of the Civil War, specie payments remained in suspension, and the Treasury Department placed no 1865 silver coins of any denomination into circulation in the East. On the West Coast business was much as usual, and 1865-S silver and gold coins circulated in commerce.

Most of the mintage of the 1865 silver dollar is believed to have been exported to Central and South America.
Numismatic Information

Circulated grades: Here we go again: low mintage + many exported = rarity today. Circulated specimens are very scarce, possibly even scarcer than 1864 (although 1864 has a lower mintage).

Mint State grades: The 1865 dollar is a great rarity in Mint State and is a fit partner with others of its era in this regard. Some high-grade pieces show extensive die striae on the obverse, as struck. One reverse die shows breaks through the tops of TES, OF, and MERI, and the bottoms of E DOL; some unfinished areas in vertical shield stripe white spaces 2 and 3.

Varieties

Circulation strikes:

1. Low Date: Breen-5471. Obverse: Date low in field.

2. Normal Date: Breen-5471. Obverse: Date centered in field.

Dies prepared: Obverse: 3; Reverse: 3

Circulation strike mintage: 46,500; Delivery figures by day: March 3: 3,800; May 31: 14,000; September 8: 9,700; September 13: 7,000; September 27: 12,000.

Estimated quantity melted: Unknown

Characteristics of striking: Many show areas of light striking, often including the eagle's dexter leg.

Known hoards of Mint State coins: None

Commentary

Most 1865 Liberty Seated dollars were exported.