1868 $1 (Regular Strike)
Series: Liberty Seated Dollars 1840-1873
PCGS MS66+
Designer:

Christian Gobrecht
Diameter:

38.10 millimeters
Metal:

90% Silver, 10% Copper
Current Auctions - PCGS Graded
Current Auctions - NGC Graded
For Sale Now at
Collectors Corner - PCGS Graded
For Sale Now at
Collectors Corner - NGC Graded
Rarity and Survival Estimates

Learn More
Survival Estimate

All Grades
1,200
60 or Better
50
65 or Better
4
Numismatic Rarity

All Grades
R-4.9
60 or Better
R-8.5
65 or Better
R-9.8
Relative Rarity By Series

All Specs in this Series
All Grades
12 / 45 TIE
60 or Better
17 / 45 TIE
65 or Better
15 / 45 TIE
#1 MS66+ PCGS grade

Rod Sweet Collection - Bowers & Merena 7/2005:1066, $89,700 - Bob R. Simpson Collection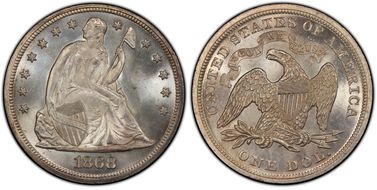 #1 MS66+ PCGS grade

L.K. Rudolph Collection - Stack's 5/2003:2131, $115,000 - Legend Collection of Mint State Seated Liberty Dollars - Bruce Morelan Collection
#1 MS66 PCGS grade
#4 MS65 estimated grade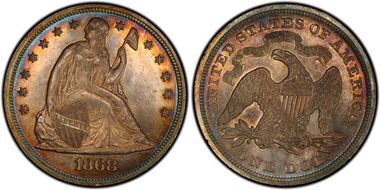 #5 MS64+ PCGS grade

Heritage 5/2008:932 - Legend Numismatics, sold privately in 4/2011 - Eugene H. Gardner Collection - Heritage 6/2014:30604, $30,550
#6 MS64 PCGS grade
#6 MS64 PCGS grade
#6 MS64 PCGS grade
#6 MS64 PCGS grade
#6 MS64 PCGS grade
Q. David Bowers: The following narrative, with minor editing, is from my "Silver Dollars & Trade Dollars of the United States: A Complete Encyclopedia" (Wolfeboro, NH: Bowers and Merena Galleries, Inc., 1993).

Coinage Context

Distribution: Many if not most 1868 dollars were exported, accounting for the relative rarity of circulation strikes today.

In China, merchants accepted Liberty Seated dollars by weight, and at a discount compared to the heavier Mexican dollar, an old story which was repeated in Mint and commercial reports for many years (and which eventually led to the production of the heavier U.S. trade dollar in 1873).
In the Annual Report of the Director of the Mint, 1868, Dr. Henry Richard Linderman observed the following: (Linderman's information concerning dollars in China probably represented the situation in 1867, due to the length of time needed to communicate with that remote location.)
Our silver dollar is not received by the Chinese except at a discount. This is owing to the fact that while it is of equal fineness with the Spanish or Mexican dollar, it is about 1 % less in weight. This rejection seems to take away the last plea for continuing to coin this piece.

Numismatic Information

Circulated grades: Circulated Liberty Seated dollars dated 1868 are quite scarce, but because of the high mintage figure for this date they are nearly universally overlooked by the numismatic fraternity. Exceptions, of course, are Liberty Seated specialists who know full well that a nice VF, EF, or AU 1868 is an object of beauty and rarity.

Mint State grades: The year 1868 does not come to mind immediately when one thinks of rare coins in the Liberty Seated series, but a perusal of the data, including certification service population reports, indicates that it is indeed very rare, even if it is unappreciated and overlooked. Dealer specialist Chris Napolitano stated that an MS-61 coin was the finest circulation strike he could locate in six years of searching. (Conversation with the author, Central States Convention, April 30, 1992.)

Some high-grade pieces show unfinished areas within the lower right area of the shield. Most high-grade coins are prooflike.

Varieties

Circulation strikes:

1. Normal Date: Breen-5479. Obverse: Date impressed to medium depth in the die.

2. Heavy Date: Breen-5479. Obverse: Date impressed deeply in die.

Dies prepared: Obverse: Unknown; Reverse: Unknown

Circulation strike mintage: 162,100; Delivery figures by day: January 28: 8,000; March 18: 14,000; April 16: 10,000; June 5: 12,000; July 20: 10,000; July 30: 11,300; October 21: 12,000; October 23: 13,000; November 11: 11,700; November 18: 24,000; December 2: 15,000; December 15: 11,700; December 29: 9,400.

Estimated quantity melted: Unknown

Characteristics of striking: Most are well struck. Known hoards of Mint State coins: None

Commentary

The 1868 circulation strike dollar is rarer than its mintage figures would indicate, for most were shipped to the Orient.

Additional Information

Silver Production Statistics

Silver production is an integral part of the study of nineteenth-century silver dollars. However, historical production statistics differ widely. Examples of this are provided by J. Laurence Laughlin, Ph.D., in The History of Bimetallism in the United States, 1900. The author quotes figures, no two of which are the same, from a variety of economic sources.

Taking as an example silver production in the world in the year 1868, he quoted Dr. Adolf Soetbeer's Aigure of $60,250,000; (Soetbeer achieved prominence in Germany in the 1850s and 1860s, was the author of numerous publications, and made an important report to the Ninth Congress of German Economists in 1868. Soetbeer's data were used at the U.S. Mint to calculate values of gold and silver for tables listing dates prior to the year 1838.) $50,000,000 from Journal des Economistes, March 1876; Sir Hector Hay's figure of $50,225,000; Ernest Seyd's similar figure of $50,225,000, Horton's figure of $46,750,000; and the U.S. Bureau of Statistics at $69,300,000. One might assume if one saw only the figure of $69,300,000 provided by the U.S. Bureau of Statistics that this precise-sounding figure was certainly approximately correct, without knowing that other estimates by authorities deemed worthy of quoting ranged as low as $46,750,000. Throughout nineteenth-century economics, precise-appearing figures give the feeling of numerical confidence not merited by the facts. The more one investigates the sources of such figures, the lower one's confidence in them becomes. Even if economics is now becoming a science, in the nineteenth century it only pretended to be.

A similar situation arises when one endeavors to determine the historical ratio of the value of gold to silver. Different economists have come up with different numbers. For example, for the year 1794, when dollars were first coined in the United States, Soetbeer quotes a ratio of 1 to 15.37, while White suggests 1 to 15.18, and Executive Document 117 of the First Session, 21st Congress, gives a figure of 15.32. Each figure appears to be meticulously calculated. While these ratios are fairly close in proximity, for the year 1812 the respective figures from these three sources vary considerably and are for silver 16.11, 14.09, and 15.04 to 1.

Similarly, the Annual Report of the Director of the Mint for various years quotes average annual silver prices to three or even five decimal points, a precision not backed up by actual market numbers, which were much less precise. Such "precision" arose from adding up hundreds of market figures for a given year and then dividing by the time interval involved.

As also noted later in this text (under the 1883 Morgan dollar), the averaging of many numbers could and did produce statistics of unintended precision, just as 2/3 or two-thirds, a proportion expressed casually, does not necessarily imply a precision of 0.6666666666+ etc.