1869 $1 (Regular Strike)
Series: Liberty Seated Dollars 1840-1873
PCGS MS66+
Designer:

Christian Gobrecht
Diameter:

38.10 millimeters
Metal:

90% Silver, 10% Copper
Current Auctions - PCGS Graded
Current Auctions - NGC Graded
For Sale Now at
Collectors Corner - PCGS Graded
For Sale Now at
Collectors Corner - NGC Graded
Rarity and Survival Estimates

Learn More
Survival Estimate

All Grades
2,500
60 or Better
90
65 or Better
5
Numismatic Rarity

All Grades
R-4.5
60 or Better
R-8.1
65 or Better
R-9.7
Relative Rarity By Type

All Specs in this Type
All Grades
12 / 15 TIE
60 or Better
9 / 15
65 or Better
6 / 15 TIE
#1 MS66 PCGS grade

American Numismatic Rarities 7/2003:544, $86,250 - Bruce Morelan Collection
#1 MS66 PCGS grade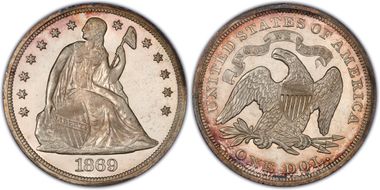 #3 MS65 PCGS grade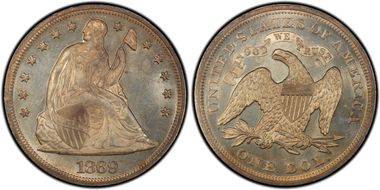 #3 MS65 PCGS grade

Legend Numismatics, sold privately on 4/2011 - Eugene H. Gardner Collection, Part II - Heritage 10/2014:98599, $76,375
#5 MS64 PCGS grade
#5 MS64 PCGS grade
#5 MS64 PCGS grade
#5 MS64 PCGS grade
#5 MS64 PCGS grade
#5 MS64 PCGS grade
Q. David Bowers: The following narrative, with minor editing, is from my "Silver Dollars & Trade Dollars of the United States: A Complete Encyclopedia" (Wolfeboro, NH: Bowers and Merena Galleries, Inc., 1993).

Coinage Context

The silver situation: Domestic silver production increased many fold during the 1860s as Nevada's Comstock Lode reached high production. The metal, once scarce in the United States, now became plentiful, and Nevada mine owners and other Western producers pressured their political representatives to help find new markets.

Philadelphia Mint Liberty Seated dollars of 1869 and 1870 were minted in larger quantities than were any recent issues in the series. Willem states that the Mexican peso fell out of favor with Chinese merchants (due to a new tax in Mexico), and that the large business strike coinage of Liberty Seated dollars from 1869 onward was accomplished to provide coins for export to take advantage of the situation. (Willem, The United States Trade Dollar, pp. 50-51.) Â However, opinions differ on this (see immediately below).

Heavy coinage of dollars: The following is by R.W. Julian: (Created for inclusion in the present text, February 1992.)

The heavy coinage of silver dollars in the late 1860s can be shown to be the result of another imbalance in trade for silver. Prior to about 1868 the U.S. usually exported more silver than it produced and imported and there was little need for a dollar coinage. After that time, however, there was no other place for the excess silver to go and it was therefore coined into dollars, even though they did not circulate. It was a practical way to store silver with a readily known and guaranteed value. That some of these dollars did go to the Orient I again have no doubt, but I think that there was less than 25,000 annually and perhaps considerably less considering the ready availability of silver ingots in any purity desired.

The government did not coin dollars in the 1860s on its own account-except, perhaps, in small quantities for special purposes and those that wound up in government vaults, for disposal as late as the early 1960s, were simply flowbacks from the banking system. Some of the Liberty Seated bags, for example, might well have arrived at a Treasury vault in the 1880s or 1890s.

Hepburn in History of Currency in the United States, p.270, tells of the increased silver dollar coinage "chiefly due to the rich discoveries of Nevada," and goes on to say, "The coinage of silver dollars increased at once and from 1868 to 1872 ... practically all were exported." As chairman of the board of the Chase National Bank and former Comptroller of the Currency, he would seem to have been in a position to know what happened to those increased mintages of dollars. (Citation and commentary courtesy of Harty E. Salyards, M.D.)

Numismatic Information

Circulated grades: In circulated grades the 1869 is yet another prime issue in this decade of Philadelphia Mint rarities. As noted, most were exported.
Mint State grades: In Mint State, 1869 dollars are very rare, far rarer than Proofs, and are seldom encountered. Most high-grade coins are prooflike.
An anecdote: A prominent Eastern dealer, now deceased, was well known for his braggadocio and regaled me with the tale that his firm possessed a mint-sealed bag of Uncirculated dollars dated 1869. I asked to see them but was told that the coins were "in the vault" and could not be inspected. A year or two later, Edmund A. Rice, a well-known collector and dealer from Cranbury, New Jersey, was with me in this particular dealer's shop, and the dealer was endeavoring to dazzle me with stories of original mint rolls of 1955 Doubled Die cents he owned and to startle Mr. Rice by saying that he had thousands of crisp new-grade 1896 "Educational" $5 notes in his vaults; this being immediately after Rice tried to sell him one such note.
"I have had enough of your lies!" Rice exclaimed. "I will pay you one thousand dollars just to see a pack of such notes. Put up or shut up." The dealer demurred by saying he was too busy to get them from the vault, etc., and Rice departed from the store knowing he had put the wiseacre in his place.
Later, rumors surfaced that the firm with which the dealer was connected had a bag of 1871 dollars. Years later, I learned in confidence from an individual who had audited the firm's inventory that no bags of Mint State Liberty Seated dollars were ever owned by the company.

John W. Dannreuther may have heard similar comments concerning the 1869 dollar, for in an essay in John W. Highfill's Comprehensive U.S. Silver Dollar Encyclopedia he comments: "Date rumored to exist in hoards but I doubt if they exist."

The Salyards study: In The Gobrecht Journal, March 1986, Harry E. Salyards, M.D. contributed "Rarity of the 1869 Dollar," which told of his survey of 57 different coins which appeared in 128 auction sales, 1975-1985. He noted that despite the fact that 423,700 business strikes were made as opposed to just 600 Proofs, 36 Proofs appeared in comparison to only 23 business strikes. The latter broke down to eight Uncirculated coins and 14 in lesser grades. The lowest grade seen was Choice VF.

Varieties

Business strikes:

1-3. Normal Date: Breen-5481. At least three obverse die varieties are known, distinguished from each other by minor variations in the position of the date, not by date size or other dramatic differences. Cf. "1869 Seated Dollars," David H. Cohen, The Gobrecht Journal, November 1984. At least one coin seen has the reverse misaligned 15° to the right from normal. (Lawrence N. Rogak, "Rotated Reverses on Liberty Seated Dollars." Article in The Gobrecht Journal, July 1990. Also see 1859-S.)

Dies prepared: Obverse: Unknown; Reverse: Unknown

Business strike mintage: 423,700; Delivery figures by day: February 6: 4,500; February 18: 11,000; March 2: 12,000; March 5: 10,000; March 10: 14,900; March 26: 16,700; May 6: 14,800;June 24: 8,800; July 6: 12,000; July 13: 14,700; July 15: 10,400; August 27: 16,000; August 28: 9,000; September 1: 14,800; September 6: 4,300; September 22: 15,700; September 28: 7,300; October 14: 10,000; October 15: 12,000; October 18: 16,000; October 19: 11,000; October 29: 29,000; November 11: 11,000; November 13: 10,000; November 15: 10,000; November 19: 13,000; November 22: 9,000; November 29: 12,500; December 10: 4,000; December 15: 11,000; December 20: 14,900; December 28: 15,000; December 29: 15,000; December 30: 12,000; December 31: 11,400.
Estimated quantity melted: Unknown

Characteristics of striking: Varies; obverse often sharp; reverse often with slight weakness at top of shield and top of eagle's dexter wing.

Known hoards of Mint State coins: None (except for unsubstantiated boast of one Mint bag)

Commentary

1869 silver dollars are rare today despite their relatively high mintage. This date is especially elusive in Mint State.

Additional Information

Director Pollock Comments (The Mint directorships of Pollock and Linderman were intertwined during this era. Terms were as follows: James Pollock, May 1861 to September 1866; William Millward, October 1866 to April 1867 (he was not confirmed by Congress); Dr. Henry Richard Linderman, April 1867 to April 1869; Pollock again, May 1869 to March 1873; Linderman again, April 1873 to December 1878.) In the Annual Report of the Director of the Mint, 1869, Director Pollock noted that specie payments were still under suspension, and that gold and silver both traded at a premium in relation to paper notes. He then proposed the following:

"Now if we reduce the weight of our silver coins so that their intrinsic value shall be below the market rate of silver bullion, make the legal tender of small extent, and guard by express Act of Congress against an over issue, we shall have a silver currency substituted for the flimsy paper of the denominations less than one dollar."

Toward this end, he had pattern silver coins prepared in the denominations of 10-cents, 25-cents, and 50-cents, of lower weight, called Standard Silver issues, (These lightweight coins had the inscription STANDARD SILVER on the coins and are not to be confused with the generic term "standard silver" often used for regular silver dollars of the era.) but nothing became of the proposal, nor was it his intention to extend it to the dollar denomination. Pattern dollars of 1869 having STANDARD 1 DOLLAR (or STANDARD SILVER 1 DOLLAR) as the reverse denomination, listed by Adams-Woodin as their No. 863, incompletely described following R. Coulton Davis' listing, have never turned up.

"1869-S" Dollars Contemplated

Four pairs of obverse dies were shipped to San Francisco but no 1869-8 coins resulted.