1872-S $1 (Regular Strike)
Series: Liberty Seated Dollars 1840-1873
PCGS MS64
Designer:

Christian Gobrecht
Diameter:

38.10 millimeters
Metal:

90% Silver, 10% Copper
Current Auctions - PCGS Graded
Current Auctions - NGC Graded
For Sale Now at
Collectors Corner - PCGS Graded
For Sale Now at
Collectors Corner - NGC Graded
Rarity and Survival Estimates

Learn More
Survival Estimate

All Grades
750
60 or Better
15
65 or Better
Numismatic Rarity

All Grades
R-5.5
60 or Better
R-9.3
65 or Better
R-10.1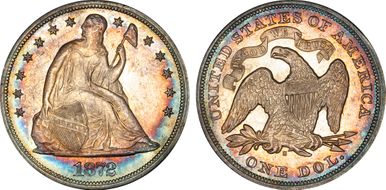 #1 MS64 PCGS grade

Legend Collection - Bruce Morelan Collection - D.L. Hansen Collection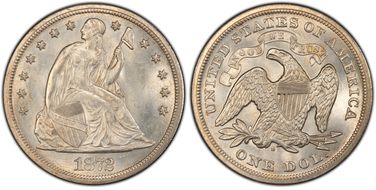 #1 MS64 PCGS grade

Heritage 5/2002:4066 - Sterling Collection - American Numismatic Rarities "Classics Sale" 3/2004:1184, $52,900 - Stack's 7/2008:4602, $149,500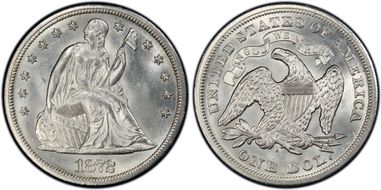 #3 MS63 PCGS grade
#3 MS63 PCGS grade

Dr. John C. Wong Collection - Bowers & Merena 11/2001:4429, $19,550
#3 MS63 PCGS grade
#3 MS63 PCGS grade
#3 MS63 estimated grade

John G. Mills Collection - S.H. & H. Chapman - John M. Clapp Collection - John H. Clapp Collection, sold intact in 1942 - Louis E. Eliasberg, Sr. Collection - Bowers & Merena 4/1997:2248, $35,200
#3 MS63 estimated grade
#9 MS62 PCGS grade
#9 MS62 estimated grade
Q. David Bowers: The following narrative, with minor editing, is from my "Silver Dollars & Trade Dollars of the United States: A Complete Encyclopedia" (Wolfeboro, NH: Bowers and Merena Galleries, Inc., 1993).

Coinage Context

Distribution: Many 1872-S silver dollars probably were held by the Treasury until at least autumn 1876, when upon the resumption of specie payments sequestered bags of earlier dates were released. I believe that most circulated in the American West through the early twentieth century. However, it is also likely that numerous coins were held at the San Francisco Mint and melted after April 1873. Still others were probably exported to the Orient in the year before the trade dollar became a reality.

Numismatic Information

Circulated grades: The 1872-S is rarer than the mintage indicates, a situation that can be laid at the doorstep of melting and exportation (see preceding text). It has been my experience that worn specimens of 1872-S are considerably scarcer than those of 1870-CC. Examples of the 1872-S are elusive in all grades and are very rare in Mint State.

Mint State grades: In Mint State the 1872-S is an extreme rarity. Neither numismatists nor members of the public saved them at the time of issue, many were melted or exported, and the survival of Uncirculated coins is a matter of chance.

I remember a particularly nice gem I was shown in the 1960s by Vincent O'Brien, who was working in a coin shop in Boston. It was satiny and prooflike and was probably originally an Assay Commission coin (Just a guess, but it was so nice that this is a possibility). Presumably, this coin has never been certified.

Some coins described as high Mint State examples in auctions years ago apparently have not resurfaced in the market since the advent of certification (in 1986). John Dannreuther has expressed the opinion that just two or three Mint State coins are known.
Estimates of rarity by others: The Gobrecht Journal has printed several commentaries concerning the rarity of 1872-S. In March 1977, Ron Severa considered the 1872-S to be relatively common in lower grades but rare Extremely Fine or better. In July 1982, Donald Vettel called the issue "scarce, but overrated." Dale Phelan stated that included in a bag of mostly Morgan dollars opened in 1963 were over 30 worn 1872-S Liberty Seated dollars, mostly averaging EF grade. (Letter to the author, May 27, 1992.) In 1978, Dr. John McCloskey had the opportunity to examine a small hoard of about 75 different 1872-S dollars. In 1992 a client of Bowers and Merena Galleries, Inc. reported owning over 65 coins of this issue. Of course, it is likely that these groups do not represent different specimens; some may have passed from one group to another.

Among students of the Liberty Seated series, opinions on this subject vary widely. Estimates have ranged from a couple hundred pieces existing in all grades, to 1,000 or more. (The 1,000+ figure is the estimate of Dale R. Phelan in a letter to the author, April 28, 1992.)

Varieties

Circulation strikes:

1. Normal Date: Breen-5492. Only one variety seen. Reverse: S punched, not hand-engraved, unlike the die for 1870-S.

Dies prepared: Obverse: 2 or more; Reverse: 1 or more

Circulation strike mintage: 9,000

Estimated quantity melted: Unknown; many probably melted at the San Francisco Mint after April 1873.

Characteristics of striking: Varies; often with slight weakness on Miss Liberty's head and stars 8 and 9 on the obverse, and the sinister leg and talons of the eagle on the reverse. Often with semi Prooflike surface.

Known hoards of Mint State coins: None

Commentary

The 1872-S is the only readily collectible San Francisco Mint Liberty Seated silver dollar of the With-Motto type.