1877-CC $20 (Regular Strike)
Series: Liberty Head $20 1850-1907
PCGS MS62
Designer:

James Barton Longacre
Diameter:

34.00 millimeters
Metal:

90% Gold, 10% Copper
Current Auctions - PCGS Graded
Current Auctions - NGC Graded
For Sale Now at
Collectors Corner - PCGS Graded
For Sale Now at
Collectors Corner - NGC Graded
Rarity and Survival Estimates

Learn More
Survival Estimate

All Grades
1,020
60 or Better
42
65 or Better
Numismatic Rarity

All Grades
R-4.9
60 or Better
R-8.6
65 or Better
R-10.1
Relative Rarity By Type

All Specs in this Type
All Grades
13 / 73 TIE
60 or Better
10 / 73 TIE
65 or Better
1 / 73
Relative Rarity By Series

All Specs in this Series
All Grades
40 / 148 TIE
60 or Better
47 / 148 TIE
65 or Better
1 / 148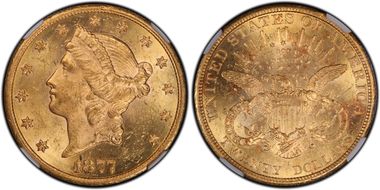 #1 MS62 PCGS grade

Doug Winter, sold privately in 2/2002 - Battle Born Collection - Stack's/Bowers 8/2012:11046, $63,250 - Hansen Collection
#1 MS62 PCGS grade

Kutasi Collection - Heritage 1/2007:3197, $32,200 - William Porter Collection - Stack's/Bowers 8/2011:7770, $41,687.50
#1 MS62 PCGS grade

William Porter Collection - Stack's/Bowers 8/2011:7770, $41,687.50
#1 MS62 PCGS grade

Renz Family Collection of $20 Gold Coins - Heritage 1/2017:6038, $64,625
#1 MS62 PCGS grade
#1 MS62 PCGS grade
#7 MS61 PCGS grade

Goldbergs 2/2007:2541, $20,125
#7 MS61 PCGS grade
#7 MS61 PCGS grade
#7 MS61 PCGS grade
Ron Guth
:
In July 2006, American Numismatic Rarities offered a cancelled obverse die from an 1872-dated Double Eagle, speculating that it may have come from the Carson City Mint because of a "C" stamped on the shank. Two other Liberty Head $20 obverse dies have appeared on the market:
1877, attributed to the Carson City Mint, sold in 2002 for $23,000
1882, attributed to the San Francisco Mint, sold in 2001 for $20,700
David Akers (1975/88): The 1877-CC ranks 11th out of 19 Carson City Mint Double Eagles in terms of overall rarity. It is rarer than the 1874-CC, 1875-CC or 1876-CC although it is not quite as difficult to find in Unc. as the 1874-CC. The majority of known 1877-CC twenties grade only VF or EF but AU examples are occasionally available. Most of the relatively few uncs around are bagmarked 60's and in choice mint state the 1877-CC is decidedly rare. In gem condition it is very rare and it is doubtful if more than a couple exist at that level.