1829 10C Large 10C (Regular Strike)
Series: Capped Bust Dimes 1809-1837
PCGS MS67
Diameter:

18.50 millimeters
Metal:

89.2% Silver, 10.8% Copper
Current Auctions - PCGS Graded
Current Auctions - NGC Graded
For Sale Now at
Collectors Corner - PCGS Graded
For Sale Now at
Collectors Corner - NGC Graded
Rarity and Survival Estimates

Learn More
Survival Estimate

All Grades
25
60 or Better
8
65 or Better
2
Numismatic Rarity

All Grades
R-9.0
60 or Better
R-9.6
65 or Better
R-9.9
Relative Rarity By Type

All Specs in this Type
All Grades
1 / 18
60 or Better
1 / 18 TIE
65 or Better
2 / 18 TIE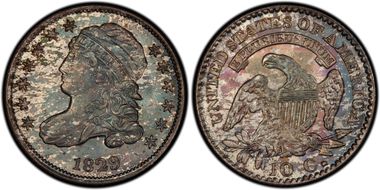 #1 MS67 PCGS grade

Heritage 6/2015:3854, $44,650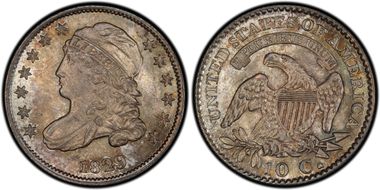 #1 MS67 PCGS grade

Louis E. Eliasberg, Sr. Collection - Bowers & Merena 5/1996:1083, $11,550 - Richard Burdick, sold privately in 6/2005 - D. Brent Pogue Collection - Stack's/Bowers & Sotheby's 2/2016:3032, $32,900
#3 MS66 PCGS grade

Joseph O'Connor, sold privately in 3/2002 - Eugene H. Gardner Collection - Heritage 5/2015:98215, $30,550
#3 MS66 PCGS grade

Reed Hawn Collection - Stack's 8/1973:692 - American Numismatic Rarities 3/2006:542 - Eugene H. Gardner Collection - Heritage 5/2015:98214, $29,375
#5 MS65 PCGS grade

Heritage 9/2006:1280, $8,050 - Larry Shapiro Collection
#6 MS64+ PCGS grade
#7 MS63+ PCGS grade
#8 MS63 PCGS grade
#8 MS63 PCGS grade
Ron Guth
:
1829 Dimes are found with several different reverses: Small 10C, Medium 10C, Large 10C, Small 10C over Large 10C, and Extra Large 10C. PCGS recognizes the first four as major varieties, the last one as a die variety (JR-1).
Though mnost price guides value the Small, Medium and Large 10C almost equally, there is a big difference in rarity among the three. The Small 10C is the most common by a factor of almost 10 to 1 (based on the November 2011 PCGS Population Report). The Large 10C is roughly twice as scarce as the Medium 10C.
PCGS has certified only eight Mint State examples of the 1829 Large 10C Dime. Of those, the finest is a single PCGS MS67.