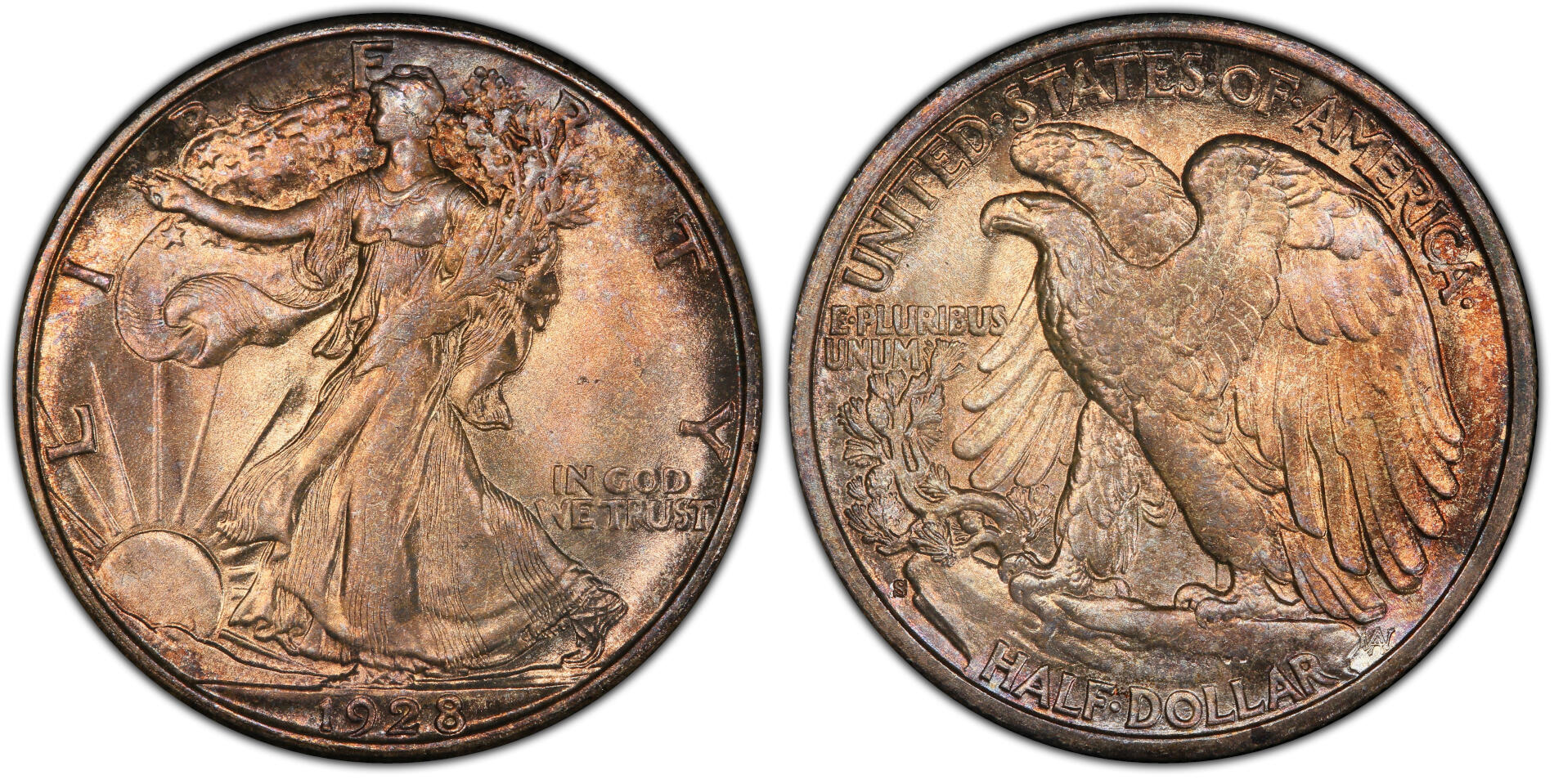 Liberty Walking Half Dollars, a popular series that is widely collected by date and mintmark, are generally subdivided into two collectible eras: 1916 through 1933, which marks roughly the first half of the series, and 1934 through 1947 denoting the latter stretch. Of the two periods, the coins from the earlier years are by far the scarcer. One of the tougher issues among those early dates is the 1928-S Liberty Walking Half Dollar.
Struck to the tune of 1,940,000 pieces, the 1928-S Liberty Walking Half Dollar is regarded as a challenging coin – and one that, as a mintmarked piece from San Francisco, can potentially confuse unseasoned Liberty Walking collectors into thinking there may be Philadelphia and Denver halves from 1928. None of either was made – all 1928 Half Dollars were struck only in San Francisco, so therefore any pieces not showing a mintmark are either heavily worn or altered to appear like a Philadelphia half dollar; any piece posing as a 1928-D is automatically altered or counterfeit. Thus, this is why it's advisable to purchase only 1928 halves that have been graded by PCGS.
Like virtually all pre-1934 Liberty Walking Half Dollars, the 1928-S has an entry price that is significantly higher than the vast majority of issues struck in 1934 or later; the 1928-S trades for around $25 in Good-4, climbs to $60 in Fine-12, and reaches $175 in VF20. It's a very scarce issue beginning at the XF40 threshold, where the coin fetches $350. Beyond the better circulated grades, the coin becomes rare. Few were saved in uncirculated grades, and strike – which heavily dictates what Mint State grade a given coin can achieve – is often pretty soft on the 1928-S.
In uncirculated grades, the 1928-S exceeds $2,200 even in MS60. In MS63, the coin takes $4,500, and above that it becomes especially rare, mainly due to the aforementioned strike issues as well as the propensity of unsightly toning on some specimens. The all-time record for the 1928-S Liberty Walking Half Dollar is $28,800 – the price fetched in 2018 for the single specimen graded PCGS MS66+.