1787 $15 Brasher, Wing Punch (Regular Strike)
Series: U.S. Colonial Issues
Parmelee Specimen - PCGS AU55
Image courtesy of Heritage Numismatic Auctions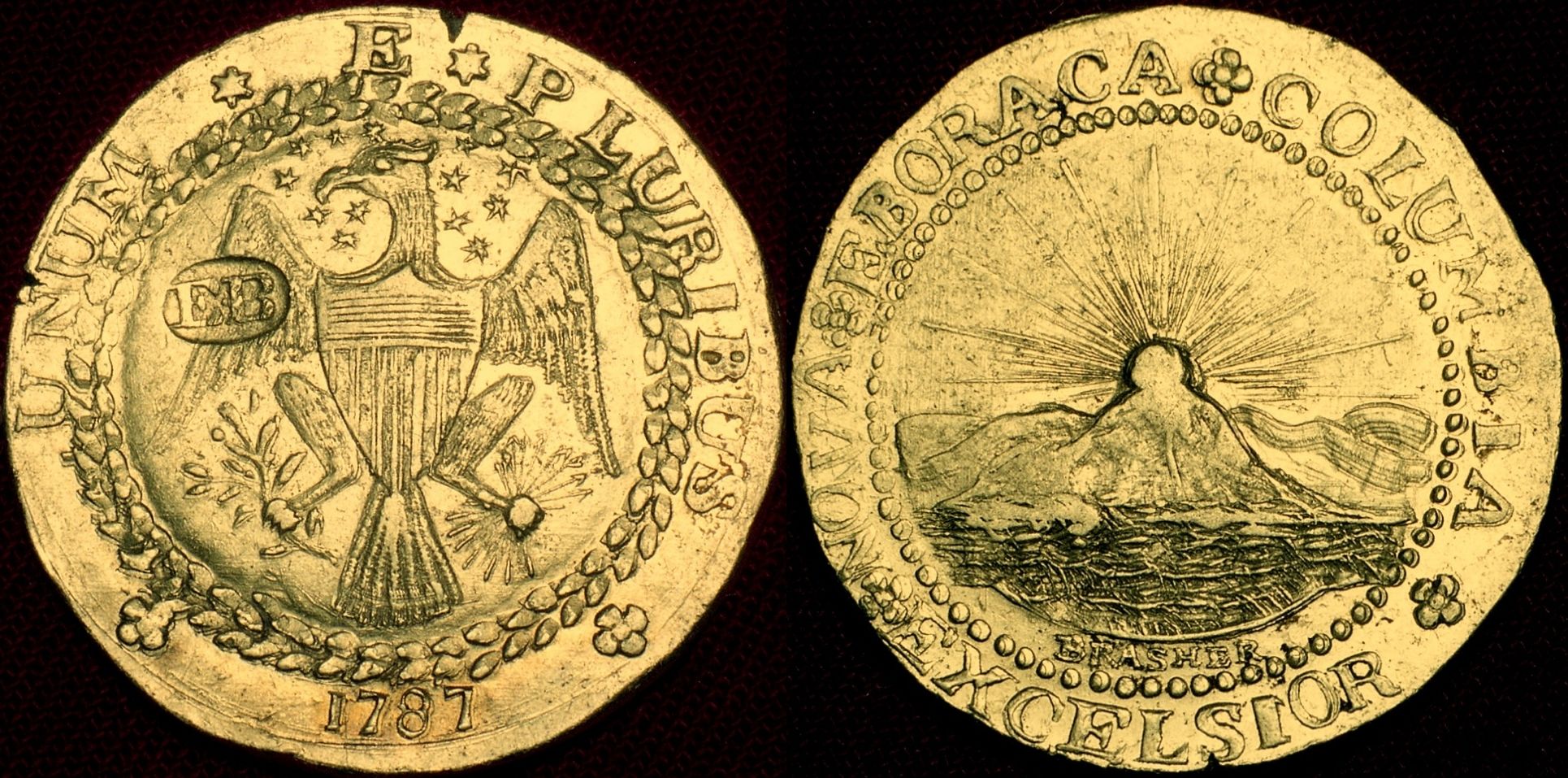 DuPont Specimen
Image courtesy of Tom Mulvaney/Coin World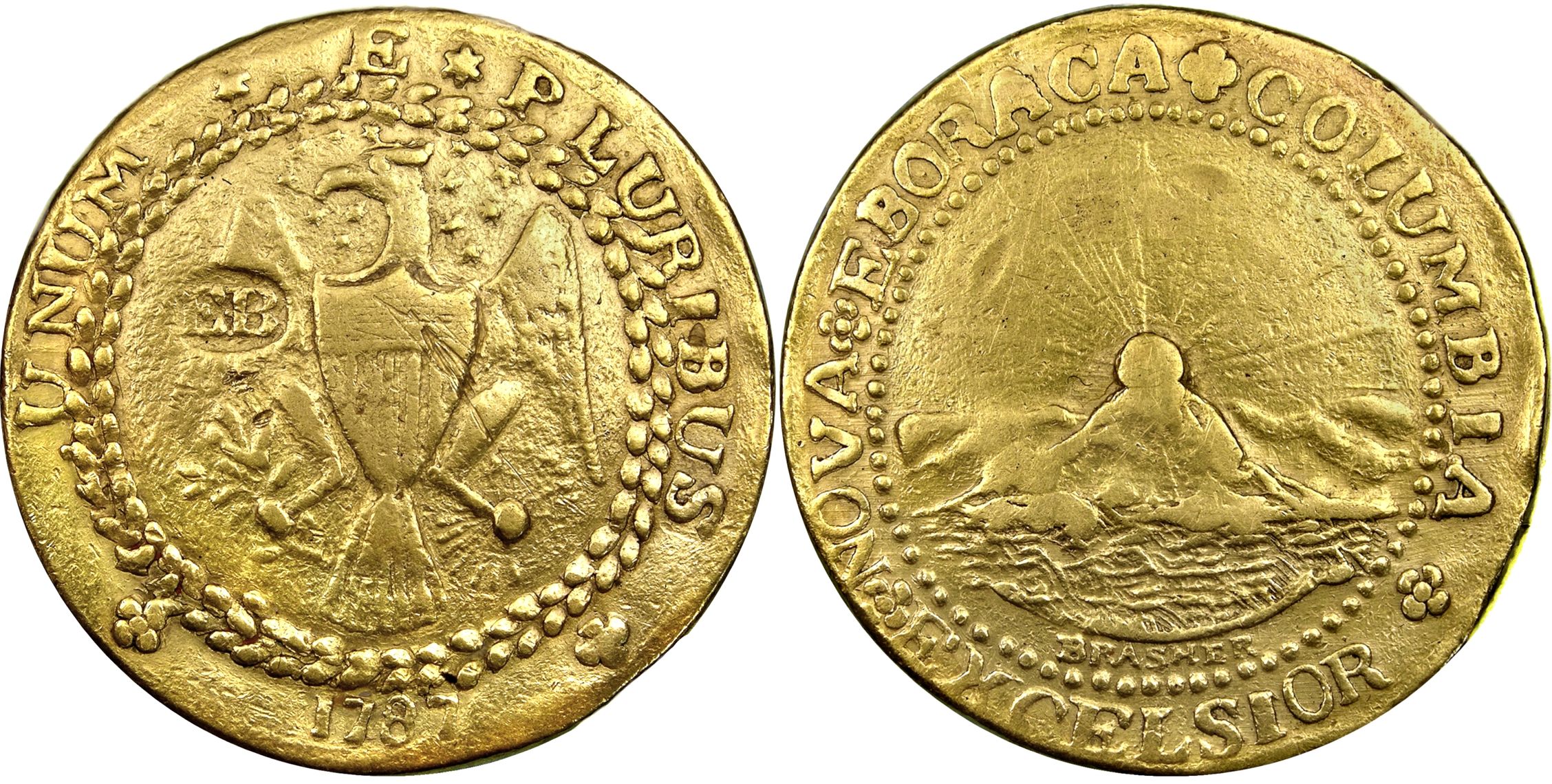 Smithsonian Specimen
Image courtesy of the National Numismatic Collection at the Smithsonian Institution
Current Auctions - PCGS Graded
Current Auctions - NGC Graded
For Sale Now at
Collectors Corner - PCGS Graded
For Sale Now at
Collectors Corner - NGC Graded
Rarity and Survival Estimates

Learn More
Survival Estimate

All Grades
6
60 or Better
2
65 or Better
Numismatic Rarity

All Grades
R-9.7
60 or Better
R-9.9
65 or Better
R-10.1
#1 MS63 estimated grade

Matthew A. Stickney Collection - Col. James W. Ellsworth Collection - M. Knoedler & Co. (New York art dealers who brokered the Ellsworth Collection) - John Work Garrett (acquired in 1923 via a joint partnership with Wayte Raymond of purchases from the Ellsworth Collection) - Garrett estate - Johns Hopkins University - Bowers & Ruddy 11/1979:607, $725,000
#2 MS62 estimated grade

Gilmor family - J.T. Raymond - Harold P. Newlin Collection - R. Coulton Davis Collection - New York Coin & Stamp Co. 1/1890:2342 - John G. Mills Collection - James Ten Eyck Collection - B. Max Mehl 5/1922:374, $3,000 - Virgil Brand Collection - Robert Friedberg - RARCOA "Auction '79" 7/1979:1433 - Walter Perschke - Heritage 1/2014:5100, $4,582,500
#3 AU55 PCGS grade

Edward Cogan Collection - John F. McCoy Collection - J.N.T. Levick Collection - W. Elliot Woodward 10/1864:1540 - Colin Lightbody Collection - W. Elliot Woodward 3/1865 - George Seavey - William H. Strobridge 1873 - Lorin G. Parmelee Collection - New York Coin & Stamp Co. 6/1890:451, $415 - Capt. Andrew C. Zabriskie Collection - Henry Chapman 6/1909 - Virgil M. Brand Collection - B.G. Johnson - F.C.C. Boyd - Rev. William H. Owen, curator of the Yale University Collection - Yale University Collection (stolen May 1965, recovered 1967) - Stack's (offered privately, 1/1981) - Stack's 1/1998:199, not sold - Donald Kagin and Jay Parrino - Gold Rush Collection - Heritage 1/2005:30016, $2,415,000
#4 AU50 estimated grade

B. Max Mehl, sold privately in 1933 - Lammont duPont - Willis H. duPont (stolen October 1967, recovered July 1968)
#5 AU50 estimated grade

Found by unidentified laborers digging a cellar in Philadelphia in 1897 - S.H. & H. Chapman, 1897 - A.W. Jackman Collection - Henry Chapman 6/1918:140 - Waldo C. Newcomer Collection (Inventory #2895, where the grade is listed as "Fine" and the cost is listed as $3,900) - Col. E.H.R. Green, via B. Max Mehl - William Randolph Hearst - B.G. Johnson - F.C.C. Boyd - New Netherlands Coin Company - Mrs. R. Henry Norweb (1969) - American Numismatic Society
#6 VF25 estimated grade

Rescued by Adam Eckfeldt from gold coins deposited at the U.S. Mint for assaying and recoinage, sometime prior to 1838 - Mint Cabinet - National Numismatic Collection at the Smithsonian Institution
David Hall
:
There are six known Brasher Doubloons with the "EB" stamped on the eagle's wing. Two of them are very nice mint state coins with the Garrett coin being the finest. The Garrett coin brought $725,000 in November, 1979. The specimen now graded AU55 by PCGS brought $2,415,000 in a January, 2005 Heritage auction.
Ron Guth
:
Tom Mulvaney is a professional numismatic photographer who has imaged some of the most important and valuable U.S. coins. Over the years, he has been called to some unusual places to photograph coins, including a trip to Ft. Knox to image the ten 1933 Doubles Eagles stored there. The following is just one more interesting story, related to me by Tom on December 6, 2013:
MY HALF HOUR WITH A BRASHER DOUBLOON by Tom Mulvaney
"In early 1992, I received a phone call from Coin World Editor, Beth Deisher, informing me that they were working on a major feature article which would include "everything that was known" about the outstandingly rare Brasher Doubloons. She informed me that author and researcher, Bill Swoger, was writing the piece and that they had actual photographs of all the known specimens which would be featured in the article -- except one! Beth said she needed images of that "missing doubloon" and wanted to know if I would be interested in photographing it! Of course, I could not turn down such a request, so a few days later, she called me back after setting up the appointment with its owner, Mr. Willis duPont."
"A day or two later, I received airline tickets to fly to Mr. duPont's office in Florida. It was an earlybird flight which got me to my destination around 9:30 AM after connecting through Atlanta. When I arrived, I took a cab to Mr. duPont's office where he and I quickly left in his Rolls Royce to go to the bank to photograph the piece. I placed my camera and supply bags in the trunk of his Rolls where I had to move his golf clubs to make room for my 'stuff.' Once arriving at his bank, two others were waiting for us: Bill Swoger and a guard hired to protect the coin while it was out of the lockbox. Mr. duPont quickly retrieved the coin from the lockbox and returned to the bank's conference room where the photography would be done. It was about 10:30 AM by now and Mr. duPont was concerned about how long this would take. He informed all of us that he had an 11:45 tee time with friends and did not want to be late."
"Bill Swoger was there to document the coin's weight and measurements for the Coin World article. While he was busy taking notes, measuring and weighing the piece, I quickly unpacked and set up my copystand, lights and camera. In the early 1990's, everything was shot on film. I brought three rolls of 35 mm film with me for the job (one each: slide, color print and black & white film). This was a 'once in a lifetime' opportunity and I could not blow it! After Bill was finished with his observations, I began shooting the coin bracketing exposures from one extreme to the other! Fifteen or twenty minutes later, I was finished and then had to quickly pack my gear so Mr. duPont could get to his golf game."
"The coin was quickly put back in the lockbox and Mr. duPont asked Bill and me when our return flights were. We informed him that both of us had late afternoon flights home. He then drove us to a restaurant near the airport where Bill and I had a leisurely lunch while passing the time waiting for our flights. It was a great opportunity for both of us to discuss what we had just seen and to realize our small part of Brasher Doubloon history."
"I never heard, but I think Mr. duPont was able to make his tee time."